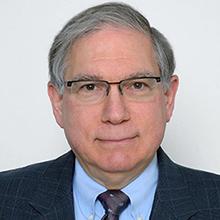 Lawrence A. Tabak, D.D.S., Ph.D.
Senior Investigator
Section on Biological Chemistry
NIDCR
Principal Deputy Director
NIH
Building 30, Room 524
30 Convent Drive
Bethesda, MD 20892
301-496-7322
Research Topics
Our laboratory studies the functions and biosynthesis of O-glycans. Mucin- glycoproteins are heavily decorated with carbohydrate side-chains, termed O-glycans, which are often clustered within repeating amino acids sequences of the protein (tandem repeats).
Functionally, membrane-bound mucins are involved in signal transduction events whereas secreted mucins contribute to the formation of extracellular matrix or to the gel-like mucus coat which envelopes mucosal surfaces of the body thereby forming the most exterior face of the innate immune system. Although it is known that O-glycans are ubiquitous among proteins, the precise nature of the "O-glycome" remains to be defined. We have approached this by both top-down and bottom-up proteomic studies as well as investigations of the substrate specificities of the multi-gene family of enzymes that are responsible for the formation of O-glycans, the UDP-GalNAc:polypeptide N-Acetylgalactosaminyltransferases (GalNAcTs). Although no consensus amino acid sequence has emerged that is both necessary and sufficient for O-glycan formation, two classes of GalNAcTs – those which readily glycosylate peptide directly ("naked" or unglycosylated peptide) and those which will only act on glycopeptide substrates (peptides previously decorated with O-glycans) have been identified. This strongly implies that there is a hierarchical acquisition of O-glycans. Why Nature requires such precision in selecting which specific amino acids will be glycosylated is not yet known, although it may have to do with the ability of surface carbohydrates to form a "polyvalent array", enabling cells or molecules to sample each other before entering into specific, long-term relationships via high affinity interactions with either carbohydrates and/or proteins.
Current Projects
Our major efforts are focused on the roles played by GalNAc-Ts during development and furthering our understanding of the mechanisms that underlie GalNAc-T function. Specific projects include:
Determination of the structural elements that guide the substrate specificity of GalNAc-Ts (in collaboration with Tom Gerken, CWRU)
Identification of the molecular mechanisms that regulate GalNAcTs transport and activity through the biosynthetic pathway
Analyzing the role(s) played by GalNAc-Ts in lipid metabolism (in collaboration with A.G. Holleboom, Jan Albert Kuivenhoven, and colleagues, University of Amsterdam), Kelly Ten Hagen, NIDCR, and Henrik Clausen, University of Copenhagen
Biography
Dr. Tabak was appointed as the principal deputy director of the NIH on August 23, 2010. Previously he served as acting principal deputy director of the NIH from November 13, 2008 through August 14, 2009. Named as the director of the National Institute of Dental and Craniofacial Research (NIDCR) in September 2000, he held that post through August 2010. Prior to joining NIH, Dr. Tabak served as the senior associate dean for research and professor of dentistry and biochemistry & biophysics in the School of Medicine and Dentistry at the University of Rochester in New York. A former NIH MERIT recipient, Dr. Tabak has received several honors and awards for his work including being elected as a member of the Institute of Medicine of the National Academies. He has also received teaching awards for his work with both graduate and medical students.
Related Scientific Focus Areas
---
This page was last updated on September 23rd, 2018