From the Deputy Director for Intramural Research
Alignment of Methods with Hoped-for Outcomes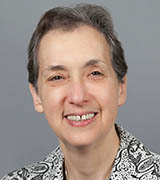 Hard as it is to believe, the new year has arrived! True, the scientific community has long been comfortable with nuance and asymptotic approaches to "Truth" with a capital "T." How one interprets results of an experiment depends on how the experiment was done. Whether or not the experimental condition is different from the control condition depends on what controls were used and whether the controls fit the question being asked. It is no surprise, then, that as a biomedical scientist, I see many of the issues with which we are faced in the NIH Intramural Research Program (IRP) as nuanced as well. But with 2023 upon us and so many extraordinary human and philosophical resources around us, we must seize the opportunity to bring these "shining stars" into alignment to make our world brighter and clearer for all people.
For example, our IRP is a home for dozens of mentors and trainees. But we have not yet given full and consistent advantage recognition to the wonderful process of teaching and learning from one another. What can we do to shine light on the full circle that has trainees maturing into mentors and mentors learning from their trainees?
The late Dr. Robert Joynt, a neurologist and once the Dean of the University of Rochester School of Medicine and Dentistry, is famous for having said, "You can't always be right; but you can always be kind." This aphorism is not bad guidance for us as laboratory and clinic mentors. There is a difference between being demanding or tough and being condescending or discouraging. We must constantly work to make it clear that the logic, the science, the experimental approach may be in question; but the value of the human being who is being mentored is not. This is not being "soft"; this is being an educator, a mentor.
We must also work to make it clear to our trainees, our faculty, and our staff that rudeness, hateful commentary, and embarrassing remarks made within earshot of others are never tolerable, whatever the impact factors of the speaker's latest publications. We have enormous intellectual freedom at the NIH. But this does not give us license to intimidate people who come here to work with us. Our objective is to train and nurture the next generation of biomedical scientists. We must demand excellence and rigor, but we must not alienate those we hope to recruit to our ranks and enchant with the wonders of science.
Another example is the richness of choice and scientific options right on our campuses. One of my passions, when I am not doing science or building biomedical programs, is making music. Among the instruments with which I do this is an electric keyboard that has many settings that allow me to make the keyboard sound like a trumpet or a violin or a steel drum or even a woodwind quintet. I have often said that there is a setting for every song and a song for every setting. For "Cabaret," the jazz trumpet works best; for "Sunrise, Sunset," it's the string orchestra. But play a song with a mismatched setting and it's either a joke or a disaster. Choosing experimental subjects for a study is a little bit like that, too, but the stakes are much higher.
For any study, we first need to ask whether the question is worth asking and answering. What will we do or do differently when we know the answer? Then we need to ask what the best subjects or systems are with which to answer the question. Animals should not be used for a study best done with induced-pluripotent stem cells or organoids. Mice should not be used for a study best done with Drosophila or people. Then, critically, we must determine the minimum number of subjects needed to arrive expediently and efficiently at a rigorous answer.
All NIH-funded studies that involve animal or human subjects must provide these calculations and justifications to the appropriate regulatory committees. Animal and human subjects must be housed and treated in a way that best ensures their health and comfort; this is important not only for the subjects but also for the integrity and rigor of the science and the believability of the results.
This approach represents an alignment of compassion, science, and cost effectiveness. Our ongoing taskforce efforts to identify and validate alternatives to the use of animals must also define the circumstances under which each kind of experimental system is the best for rigorously and expediently answering the question at hand. And our annual ceremonies of gratitude and tribute to those human families and animal subjects who do participate in our studies underscore the light they shine on the darkest of basic and clinical challenges we face.
Finally, in many institutions around the country, faculty on the tenure track have a very specifically codified set of benchmarks they must achieve and document to be ready to be proposed for tenure. This usually happens at the associate or full professor level. By contrast, for those in the research track (the rough equivalent of NIH's staff scientists and clinicians) or on the administrative staff, there are often no specific benchmarks of advancement or success. Many remain at the same level with the same skill set, responsibilities, and accountabilities throughout their careers.
It makes me very proud, indeed, to realize that NIH has already taken steps to ensure that everyone—not only tenure-track investigators, but staff scientists, clinicians, and administrative staff, too—has the opportunity to advance, grow, learn, and bring their skills to bear on a new and higher level. For the vitality, diversity, creativity, and retention of our workforce, we must continue to make strides in this area. Not for one group or the other, but for everyone whose mission-critical work and passion make the NIH IRP everything it is and can be in the future.
In this new year of challenges and triumphs, moments of despair and many months of hope, may we all enable the alignment and appreciation of all our shining stars, each with their unique contributions to continuing to illuminate our world and its people.
---
Nina F. Schor began her official tenure as DDIR on November 6, 2022, after having served in an acting capacity since August. She was previously the Deputy Director of the National Institute of Neurological Disorders and Stroke.
This page was last updated on Sunday, January 8, 2023