The Training Page
FROM THE FELLOWS COMMITTEE
Making Social Connections During COVID-19
Like many others, I started my postdoctoral training at NIH during the COVID-19 pandemic. I arrived in August 2020, after almost all NIH employees, contractors, and trainees were assigned to mandatory telework (beginning in March 2020). In June 2020, those whose could not work remotely were allowed to return to the labs. But the return was limited. Capacity limitations to ensure safe distancing meant that most trainees worked only part-time or in shifts. Trainees like myself, who can telework effectively, are still working entirely remotely.
All of these changes, while necessary for ensuring employee and trainee safety, serve to make socializing with colleagues difficult. One trainee, who chose to remain anonymous for this article, shared with me that "I quite literally haven't spoken to another postdoc" since starting in August 2020.
Most trainee events are held online nowadays including career and professional development activities, wellness webinars, and meetings of trainee groups as well as research symposiums and awards ceremonies. For many of these virtual venues, cameras-off has become the accepted norm so you often don't get to see the participants. In addition, there are few opportunities for the kind of informal chitchat that might naturally occur at in-person gatherings.
Zoom webinar formats usually do not allow for any audience interaction. Participants are held in virtual waiting rooms before events start and are unceremoniously kicked out when the presenter is finished. These types of arrangements severely limit the opportunities trainees have to socialize. Mallory Smith, a trainee in the National Institute of Child Health and Human Development, put it simply: "You could reach out via email afterwards, but frankly, you're not very likely to do that."
Having social support is, unsurprisingly, a predictor of happiness and productivity at work. A survey of 522 remote workers during COVID-19 found that more social support people have, the less likely they are to procrastinate and feel lonely (Appl Psychol 70:16–59, 2020; DOI:10.1111/apps.12290).
I asked several trainees to describe the successful social-connection strategies their institutes and centers (ICs) were using. They said that making connections was easier, and deeper conversations possible, when small virtual working groups shared a common interest and met regularly to write policy documents or organize events. Some ICs hosted outdoor activities such as hikes in which people break off naturally into conversational pairs. I personally found meaningful connections at a virtual weekly support group for women scientists run by the Office of Intramural Training and Education (OITE), where I found empathy and encouragement in abundance.
Dedicated social events held virtually were the least likely to generate meaningful connections. Trainees reported being more likely to find deep connections at events not deliberately designed for socializing, but where socializing was possible nonetheless.
One of the problems with dedicated social events is that they are often filled with small talk rather than substantial conversations. How many of us internally groan when asked to "go around and introduce ourselves"? To deepen social connections, psychologists recommend we avoid small talk. Instead, we can try some of the closeness-generating questions—such as, "Before making a call, do you ever rehearse what you're going to say? Why?", "What would constitute a perfect day for you?", or "For what in your life do you feel most grateful?"—designed by social psychologist Arthur Aron (Pers Soc Psychol Bull 23:363–377, 1997). He found that asking and answering such questions with a stranger led to feelings of closeness that approached that of longtime friends.
To encourage these kinds of deeper conversations in virtual settings, it is vital that trainees have access to private meeting spaces so they can feel free to speak honestly and candidly. Trainees who work on campus must still attend virtual trainings, but they may not have any privacy. "Attending virtual meetings while in a shared office makes it difficult to make personal connections with those on the call," explained postdoctoral fellow Tiffany Zarrella (National Cancer Institute).
While COVID-19 continues to upend our lives, we may have to accept that the way we socialize is different, but that does not mean it has to be nonexistent. To find trainee events that might interest you, subscribe to the Fellow-L LISTSERV for official events, or contact one of the FELCOM Social Committee co-chairs Antony Yerabham and Nicholas Madian, or the Health and Recreation Committee chair for other suggestions. More info on getting involved with OITE groups can be found at https://www.training.nih.gov/wellness and https://www.training.nih.gov/resources/justarrived.
---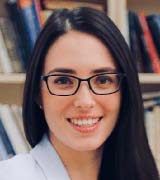 Alison Jane Martingano, who joined NIH in August 2020, is a postdoctoral fellow in the Immersive Stimulation Research Program, Social and Behavioral Research Branch, at the National Human Genome Research Institute. Her research involves using virtual reality to evaluate how providers communicate genomic concepts and show empathy during physician-patient interactions. She is the Outreach Liaison on the NIH Fellows Committee, is writing for and coordinating fellows' contributions to The NIH Catalyst Training Page, and is writing a "Postdoc Profiles" blog series for the Intramural Research Program website. Outside of work, she enjoys backyard campfires and playing board games.
This page was last updated on Friday, January 28, 2022