Beyond the Books
A Dynamic NIH Library Inspires Innovation, Bolsters Discovery
Senior radiologist Ahmed Gharib at the National Institute of Diabetes and Digestive and Kidney Diseases is a timepiece connoisseur. He had an idea: What if the popular NATO watch band—a clever nylon strap and buckle of military origin—could be adapted for use in magnetic resonance imaging (MRI)? He envisioned the utilitarian design could be used to secure coils (specialized pieces that help the MRI scanner gather images of a specific body part) to larger patients or to irregularly shaped testing devices called phantoms that act as a stand-in for human tissue. Gharib took his concept to the NIH Library, where the Tech Hub team used their 3D printer to build a supersized version of the NATO buckle. Gharib's group has continued to work with the library.
"They are an outstanding service," he said. "They go out of their way to be helpful."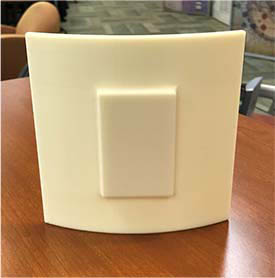 His branch has since created custom paddings to optimize liver coils that are being used to further refine testing of MRI studies. The NIH Library is supporting many scientists on their research journeys in unexpected ways—and offers much more than people realize.
Located on the first floor of the Clinical Center, the NIH Library sits just across campus from the National Library of Medicine, the largest biomedical library in the world. Far from lying in the shadow of its bigger cousin, the NIH Library's presence is unique.
"We're explicitly serving the intramural workforce at NIH, and our collection and services are based on the needs and wants of that customer base," said NIH Library Acting Director John Doyle.
The NIH Library's current collection holds over 28,000 print books and provides online access to more than 13,000 journals, 169,000 eBooks, and 10,000 educational videos. NIH staff can search 55 proprietary databases such as Scopus, Embase, and UpToDate as well as PubMed@NIH—a special version of PubMed that expedites full-text access to the NIH Library's collection. Not only does the NIH Library provide curated resources, training, and services to intramural researchers and administrators, but it also supports select offices across the Department of Health and Human Services (HHS).
Where to begin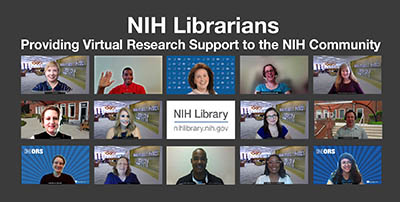 So where does an inquiring researcher begin? Reach out through the Point-of-Contact program. [https://www.nihlibrary.nih.gov/get-help/find-your-librarian#IC] Each institute, center, or office (ICO) at NIH or HHS is assigned a dedicated librarian who understands that ICO's research portfolio and serves as a gateway to NIH Library resources. These subject-matter experts pride themselves on developing one-on-one individualized relationships with their customers and tailoring a wide range of services from systematic literature reviews and manuscript editing to customizing new training classes. And although the physical space has been closed during the COVID-19 pandemic, there's been a silver lining: These services and more continue to be accessible remotely, providing a wealth of resources to NIH employees not only in Maryland, but also in Montana, North Carolina, Arizona, and elsewhere.
Bioinformatics support
Bioinformatician Li Jia defines bioinformatics as a combination of computer science, biology, statistics, and mathematics. In the age of big data, identifying the best way to sift through reams of complex information is no easy task. "Many scientists and research or clinical fellows have a science background but need assistance with data analysis—and my team helps them with that," said Jia, who is one of seven NIH Library employees listed as co-authors on papers published during the past year. Her team consults with researchers on study design, suggests appropriate data-wrangling tools, and teaches classes to improve analytical skills. Team members also provide direct support to analyze genome-sequencing results and can even generate high-quality visuals such as charts and tables to help prepare manuscripts for publication. Users have direct access to much of the NIH Library's subscription-based software (such as CLC Genomics Workbench by Qiagen) by remotely logging into one of four high-performance workstations: Three are dedicated to bioinformatics while the other caters to data science and multimedia needs.
Workshops and training
Training classes for tools supported by the NIH Library have been growing in number and variety. From learning how to use EndNote to programming in R, the NIH Library has held more than 220 virtual training sessions this past year alone, with a spike in attendance seen at the beginning of the pandemic. Staff Scientist Yixing Han manages bioinformatics-related research at her lab in the National Human Genome Research Institute and uses genomic data to understand complex childhood diseases. She recognizes the importance of keeping on top of a rapidly progressing field. "I highly recommend the NIH Library workshops to the postdocs and postbacs in my lab," said Han. "And [I] encourage them to join the bioinformatics symposium and other beneficial training." Most classes are led by in-house staff who stay abreast of the latest developments in information science. And when they can't teach a class, they'll bring in an NIH or industry expert to help.
Emerging technology and translation expertise
Need to record a podcast or produce a video for an upcoming conference? Or perhaps you'd like to learn 3D-modeling software to design (and print) a dental model to demonstrate a procedure. Emerging Technology Specialist Alicia Lillich is likely to assist. "I keep an eye on what's going on tech-wise that we should be preparing for," she said. Lillich oversees a suite of services called the Tech Hub that includes a digital production studio, 3D printers, a virtual reality headset, and even assistive hardware to allow people with visual or motor impairments to interact with the computer.
Although many of these services are on hold until the physical library reopens, Lillich reports a burgeoning interest in video production, editing, and graphic design as people continue publishing and attend conferences virtually. Customers can remotely access software such as Adobe's Creative Cloud through two of the high-performance workstations. And the Tech Hub offers training sessions that cover everything from data visualization and video editing to an introduction to artificial intelligence and machine learning.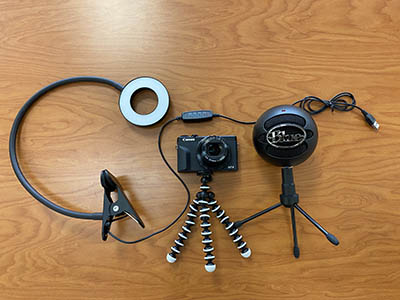 Supporting the multinational staff and scope of work at NIH is the talented Translation Team, interpreting over 2 million words per year. They have deciphered everything from an excerpt of a German book on birds' eyes at a microscopic level to scientific articles from Russia on the effects of nuclear radiation. In January 2020, they translated the first practice guidelines that China distributed for treating COVID-19 patients. More often, work involves medical records or journal articles and translators frequently process documents for administrative purposes and protocol consents. Spanish is the most translated language but the team can meet any request, either in-house or by sending documents to specialist contractors.
Customer service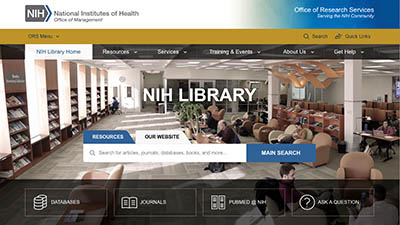 The NIH Library is a customer service organization. "We need to make sure our strategic planning and decision making for major service areas is based on evidence from our users," said Communication Librarian Kathleen McGlaughlin, who recently hosted a focus group with clients representing several ICOs. The group echoed sentiments that people like virtual classes and the ability to take focused self-guided tutorials. Moreover, they found that customers are looking for more beginner and advanced-level training classes and appreciate a space to collaborate with colleagues online after class. And what resource did users find most valuable? That honor goes to the nearly 60 individuals who make up the NIH Library staff.
Limited on-site services through contactless pickup of physical literature are set to restart this year. Simultaneously, the NIH Library is streamlining its remote services. A cloud-based approach in which customers can access individual applications and software in a more seamless remote environment may be on the horizon. The list of training classes continues to grow, and McGlaughlin hopes to develop more classes that demystify the publishing process. Also happening, the Digital Production Studio (DPS) is piloting a project called "DPS on-the-go": People can check-out a camera, tripod, and lights and make a high-quality recording at their office or lab.
In 1901, NIH, then known as the Hygienic Laboratory, was moving from Staten Island, New York, to five acres at the old Naval Observatory in Washington, D.C. Hygienic Laboratory Director Milton Rosenau asked to incorporate a room for a scientific library that would be an integral part of the laboratory to "quickly and conveniently provide research scientists with the information necessary to their work." From these origins, the ways in which the NIH Library delivers information to the NIH community has evolved, but its primary mission remains unchanged. So when the physical doors reopen, step inside and pay the staff a visit. Maybe you'll search for a journal, record a podcast, or plan your next study design. Or perhaps just find a quiet sunny corner, and read a book.
---
For more information, links to resources, trainings, and more, go to https://www.nihlibrary.nih.gov/agency/nih
NIH Library's LISTSERV: https://www.nihlibrary.nih.gov/library-email-news-signup
Training Class calendar: https://www.nihlibrary.nih.gov/training/calendar
---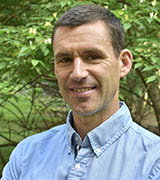 Michael Tabasko is a science writer–editor for The NIH Catalyst.
This page was last updated on Friday, January 28, 2022