News You Can Use: Construction Updates
Building for the Future
NIH Construction Updates Facilities, Affects Parking and Traffic
Are you returning to the office or lab in 2022? Major construction projects may change how you navigate the day. A new multilevel parking (MLP) garage for patients and employees is emerging along Convent Drive in the northwest corner of the Bethesda campus. Across South Drive, an expansion promises to nearly double the size of the Vaccine Research Center (VRC). With funding recently appropriated by Congress, the long-awaited Surgery, Radiology, and Laboratory Medicine (SRLM) addition will begin to take shape on the west wing of the Clinical Center (CC). And out in Hamilton, Montana, a new facility will boost Rocky Mountain Laboratories (RML) square footage by nearly 30%.
During this biomedical infrastructure growth spurt, the Office of Research Facilities (ORF) has made easing the day-to-day impact on patients and employees a top priority. A comprehensive strategy of mitigation measures aims to keep the chessboard of parking as well as vehicle and pedestrian travel in motion. ORF, the Office of Research Services (ORS), and the CC are rolling out a collaborative communications campaign to keep the NIH community informed. Over the coming months, be on the lookout for emails as well as signage and posters that will direct movement throughout campus. You can also check the NIH traffic interactive map online for real-time updates on construction, parking, and traffic changes.
Patient Parking Garage and Utility Vault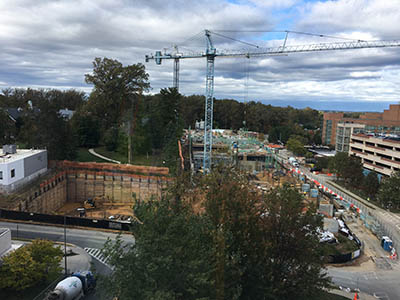 Work on the new parking garage, MLP-14—located on the west side of Convent Drive parallel to the CC—has been underway since January 2021. The structure will shift parking from the aging garage located below the CC's Ambulatory Care Research Facility (ACRF), a nearly 40-year-old building that houses outpatient facilities and clinical laboratories. Beyond 2028, the old ACRF garage will eventually close. ORF is considering options to repurpose the space: It could be used to accommodate sensitive imaging equipment, as a freezer farm for biospecimens, or to provide secure storage for hospital supplies.
Adjacent to MLP-14, upgraded electrical equipment will be installed in a new utility vault to power the growing hospital complex once the new SRLM is completed. And protecting pedestrians from weather and traffic, a tunnel under Convent Drive will link to the CC.
Construction on MLP-14 will wrap up later this year, but you won't be able to park there just yet. Access will be restricted because workers will use the garage and surrounding area to stage materials for the SRLM project. Limited parking may be offered in 2024, but the grand opening comes in summer 2028, when driveways off Center and South Drives will make all 750 spaces available to patients, visitors, and staff.
VRC expansion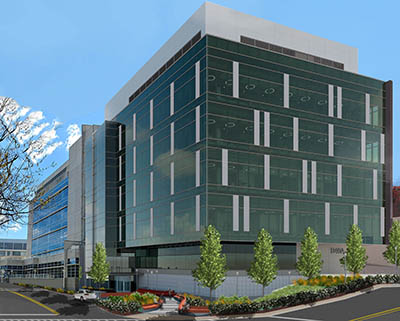 Cranes and crews have begun preparing the VRC for Building 40A: A six-story, 80,000-square-foot addition that artfully integrates with the north side of the existing structure via a central corridor and new lobby. On the north elevation, workers are installing a temporary weather barrier wall behind the building's exterior skin to shield the interior and allow research activity to continue unabated during construction. The 20-year-old VRC is currently at capacity, and the new expansion will provide dedicated space for the future of critical vaccine research. Supported by funds from the Coronavirus Aid, Relief, and Economic Security (CARES) Act, ORF awarded the construction contract in November 2021. Completion is expected in the fall of 2024. Until then, flaggers will direct construction deliveries and maintain two-way traffic on South Drive.
SRLM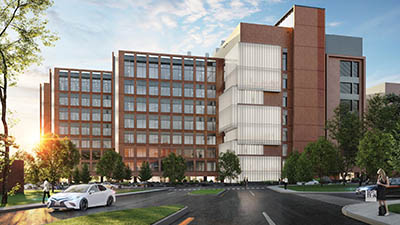 A contemporary nine-story (with one basement level) addition to the west wing of the CC will total 547,290 square feet, ensuring a future home for many of the advanced services that make the CC a world-class research facility. New space will house the General Radiology and Imaging Services, Department of Perioperative Medicine, Department of Laboratory Medicine, National Cancer Institute labs, and other medical departments. The ambitious project will also renovate 82,150 square feet of the existing CC and close 150 parking spaces in the ACRF garage and its west side P1 entrance. Construction will commence in February 2022 and last until 2028. During this time, two roads will be closed: 1) Center Drive from the gate at Old Georgetown Road to the front of the Northwest Child Care Center (the parking lot to the child care center will still be accessible); and 2) Convent Drive north of the MLP-9 garage entrance.
Rocky Mountain Laboratories Comparative Medicine Center (RCMC)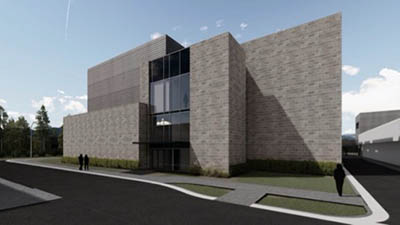 A sister project to the VRC addition, the RCMC is also supported by CARES Act funds and adds a three-story, 120,000-square-foot vivarium, or animal facility. Scientists at the National Institute of Allergy and Infectious Diseases' RML campus conduct vital research on emerging infectious diseases. They often use animal models to better understand pathogens and design therapeutic studies for treatment and prevention. The new centralized animal receiving and holding building replaces nearly 60-year-old facilities. It will support all biosafety levels of research throughout the RML campus and scores of wide-ranging research projects from the Laboratory of Virology, Laboratory of Bacteriology, and Laboratory of Persistent Viral Diseases, including work on SARS-CoV-2.
The RCMC will provide expanded capabilities for studies with exotic species (such as bats), state-of-the-art imaging systems, and a multispecies insectary to support the discovery of vector-borne diseases. Mosquitos and fleas could find a new home here, as well as ticks.
Animal requirements for scientific programs often change, and newly emerging and re-emerging infectious diseases can trigger immediate needs to shift research plans. With this in mind, each holding suite in the RCMC was designed for quick adaptation to accommodate different species. Construction is already underway, and impacts to the scientific staff should be minimal. The project is scheduled to finish in spring 2024.
---
PARKING AND TRAFFIC MITIGATION MEASURES BEGINNING IN 2022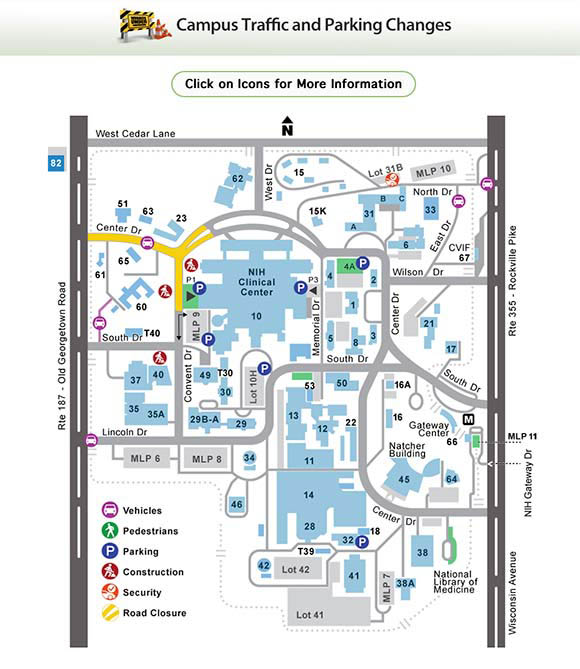 Closures (dates are subject to change)
• February 2022: Center Drive will close from the gate at Old Georgetown Road to the front of the Northwest Child Care Center (the parking lot to the child care center will still be accessible, however); Convent Drive alongside the CC will also be closed, but Building 10 employees will still have access to the MLP-9 parking garage. Both roads will reopen in 2028 once the SRLM is complete.
• February 2022: The P1 entrance (on the west side) to the ACRF parking garage will close, but the P3 entrance (on the east side) will remain open for patients, visitors, and staff. To access the P3 entrance, employee vehicles are encouraged to enter campus on North Drive off Rockville Pike (where a new inspection station is being built), and CC patients and visitors will continue to use the West Drive entrance and inspection station. Remaining unchanged are designated parking levels for patients and visitors, general parking, and red-tag holders.
Changes (dates are subject to change)
• Early 2022: The North Drive entrance will be open in the evening for exiting traffic only to allow vehicles to exit right on Rockville Pike and access points east. ORF is currently working with the NIH police to finalize signage, details, and timing.
• February 2022: The MLP-9 garage, which is now used by any NIH staff, will be only for staff who work in the Building 10/Clinical Center complex. Employees working in the surrounding buildings may park in the MLP-6 and MLP-8 garages. To minimize cross-campus traffic, all staff parking in MLP-6, -8, and -9 are encouraged to enter campus through the Lincoln Drive or South Drive gates. Staff who work in buildings near the middle of campus are encouraged to park in Lots 41 and 42.
• February 2022: The CC visitor and patient valet parking will move to lot 4A. Visitors and patients will still take their cars to the North Entrance of the CC for valet parking, and those self-parking in the ACRF will proceed to the P3 entrance.
Additions (dates are subject to change)
• March 2022: A second gate arm installed at the Lincoln Drive entrance will double the gate's capacity for vehicles to enter campus. The guard booth and exit lanes will be repositioned to improve pedestrian safety at the intersection of Old Georgetown Road.
• March 2022: A temporary road from South Drive (between Old Georgetown Road and Convent Drive) will access Building 60 and the Safra Family Lodge. The one-lane road is designed to minimize environmental impact and will include a small easement for oncoming vehicles to pull off.
• March 2022: Secured parking attendant booths installed at Lot 10H (on the south side of Building 10) will offer attendant-controlled general parking and recover 80 spaces lost from the ACRF garage.
• July 2022: Lot 18, a new visitor parking lot, will open on the south side of campus on the site of Temporary Buildings 32 and 18 (which are slated for demolition). Visitors who used to park in Lot 4A (which will become the new valet parking lot for patients) will be able to park in Lot 18. A campus shuttle will serve the new lot.
• August 2022: A remote inspection station will be set up along North Drive on parking lot 31B, replacing inspection capacity from the closed ACRF P1 entrance. Vehicles will receive a time-stamped ticket before proceeding to the ACRF P3 entrance on Memorial Drive.
---
You can also check the "Campus Traffic and Parking Changes" website for the latest on construction projects, timelines, an interactive map, and links to resources that will ease the effects of traffic on your daily commute (work schedule flexibilities, commuting alternatives; and more): https://traffic.nih.gov.
This page was last updated on Friday, January 28, 2022