Announcements
FOR A LISTING OF OTHER EVENTS AT NIH
Go to: https://www.nih.gov/news-events/events
---
IARC HANDBOOKS OF CANCER PREVENTION VOLUME 18: EVALUATION OF CERVICAL CANCER SCREENING METHODS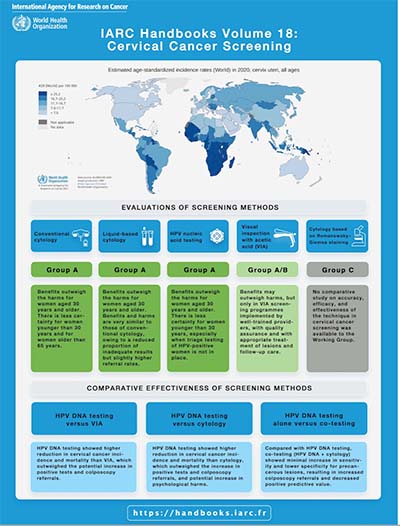 A working group of international experts, including scientists from NCI, was convened by the International Agency for Research on Cancer (IARC) to review and assess all available studies of current methods for cervical cancer screening in terms of their effect on cervical cancer incidence and mortality. A Special Report published in The New England Journal of Medicine summarizes the studies reviewed and presents the conclusions of the working Group (N Engl J Med 385:1908–1918, 2021). The detailed assessments will be published as Volume 18 of the IARC Handbooks of Cancer Prevention. For more information, click here.
---
2021 NIH DIRECTOR'S AWARDS
Please join us in congratulating the 2021 NIH Director's Awards recipients. These individuals are being recognized for their outstanding contributions to support the mission of the National Institutes of Health. To browse the 2021 recipient list and watch messages from key leaders, please visit: https://directorsawards.hr.nih.gov. Nominations for the NIH Director's Award are based on accomplishments fulfilled during the last full calendar year (January–December). Nominations can be submitted by any NIH employee with familiarity of the work performed either by an individual or group. Nominations for the 2022 NIH Director's awards must be entered through the electronic honorary awards and ranking system, e-HARTS. Contact the NIH Awards Team (nihawards@od.nih.gov) for more information on the NIH Director's Awards nomination process.
---
ORWH VIDEO SERIES COMPLEMENTS E-LEARNING COURSE ON SEX AS A BIOLOGICAL VARIABLE
The Office of Research on Women's Health (ORWH) recently released a series of supplemental videos that complement the Sex as a Biological Variable (SABV): A Primer e-Learning course. The SABV course gives users a thorough and up-to-date understanding of NIH requirements for factoring SABV into research designs. Users will be able to apply this knowledge when designing studies, conducting research, and interpreting evidence. The videos introduce SABV and the NIH policy, summarize the e-learning course and its four modules, and share insights on SABV and sex differences research from principal investigators in the Specialized Centers of Research Excellence on Sex Differences (SCORE) program. ORWH has also developed two other e-learning courses: Bench to Bedside: Integrating Sex and Gender to Improve Human Health and Introduction: Sex- and Gender-Related Differences in Health. All of the courses and videos are available at no cost to the public.
---
COVID-19 LECTURE ON JANUARY 6, 2022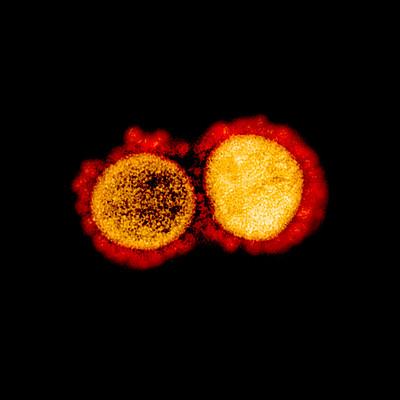 The COVID-19 Scientific Interest Group lecture series continues with a talk by Melanie Ott, M.D., Ph.D. (Gladstone Institute of Virology). Continuing Medical Education (CME) credits will be available; the code will be announced at the start of the lecture. Dr. Ott leads the Gladstone Institute of Virology and is a professor of medicine at the University of California, San Francisco. She has made seminal contributions to our understanding of how viruses such as HIV, hepatitis C, Zika, and now SARS-CoV-2 hijack and interface with host cells to replicate and propagate themselves. She has been at the forefront of pan-viral drug discovery efforts, identifying drugs that target multiple different viruses, including HIV and SARS-CoV-2. Lecture summary: Omicron is a reminder that the current pandemic requires continuous focus on innovative new tools, therapies, and testing. This lecture will discuss advances in CRISPR testing, host directed therapies, and recombinant viruses to get ahead of new variants. The COVID-19 Scientific Interest Group lecture series is held on first and third Thursdays at noon from October through June. For the evolving lecture schedule, please see https://www.niaid.nih.gov/research/covid-19-sig-lecture-series.
---
OITE MENTAL HEALTH AND WELL-BEING SEMINAR SERIES: ANXIETY AND ANXIETY DISORDERS
Monday January 10, 2022; 3:00–4:10 p.m.
Group discussions 4:15–5:15 p.m.
Register here
Announcing the second installment of the Office of Intramural Training and Education (OITE) series on the mental health and well-being of the research community. This month the focus is on anxiety with a webinar and facilitated small group discussions. In the webinar we will provide concrete tools for managing anxiety, specifically targeted for biomedical researchers. Strategies will include ways to manage physical sensations associated with anxiety and tools for healthy distraction to reduce rumination. Additionally, the seminar will explore topics of how to cope with fears (including imposter fears) in an adaptive, helpful manner. The webinar will be followed by an hour-long small-group discussion facilitated by an OITE wellness advisor. There will also be two supplemental sessions offered later in January, one focused on perfectionism and other specifically addressing social anxiety; information on the follow-up sessions will be sent to those who register for the webinar. You can use the same link to watch the webinar later, typically 12-24 hours after the live webinar. This series is open to all NIH trainees and staff as well as colleagues in the broader research community. Reach out with questions –
---
NIH DIRECTOR'S SEMINAR SERIES (2021–2022)
Fridays at noon
Seminars will be videocast on videocast.nih.gov
Friday, January 14: Michael Krashes, Ph.D. *NIDDK), "A neural basis behind the hardships of dieting"
Friday, February 18: Loncarek, Ph.D. (NCI), "Cell cycle regulators as drivers of centrosome assembly"
Friday, March 11: Niki Moutsopoulos, D.D.S, Ph.D. (NIDCR), "Mucosal Immunity at the oral barrier: from bedside to bench"
Friday, April 15: Pamela Guerrerio, M.D., Ph.D. (NIAID), "Role of TGFbeta in the pathogenesis of allergic diseases"
Friday, May 6: Kandice Tanner, Ph.D. (NCI-CCR), "Microenvironment regulation of metastasis"
Friday, June 17: Zayd Khaliq, Ph.D. (NINDS), "Inhibitory circuit control of dopamine neuron subpopulations"
Friday, July 15: Vincent Munster, Ph.D. (NIAID), "The ecology of emerging coronaviruses, from host reservoir to disease"
---
2021-2022 WEDNESDAY AFTERNOON LECTURES
The NIH Director's Wednesday Afternoon Lecture Series (WALS) is the highest-profile lecture program at the NIH. All WALS talks will be held remote-only via NIH Videocast until further notice. Lectures will be archived.
January 5, 2022: Danielle Bassett, Ph.D. (Professor of Physics and Astronomy; Associate Professor of Bioengineering, University of Pennsylvania)
January 12, 2022: "Elucidation and Pharmacological Targeting of Cellular Dependencies at the Single Cell Level," Andrea Califano, Ph.D. (Clyde and Helen Wu Professor of Chemical and Systems Biology; Chair, Department of Systems Biology; Director, JP Sulzberger Columbia Genome, Columbia University Medical Center)
January 19, 2022: "Single-Molecule Studies of Homologous Recombination," Eric Greene, Ph.D. (Professor Department of Biochemistry & Molecular Biophysics, Columbia University Medical Center)
January 26, 2022: George Khoury Lecture; "Translating Studies of HIV Immunity to SARS-CoV-2," Julie Overbaugh, Ph.D. (Professor, Human Biology Division; Professor, Public Health Sciences Division; Endowed Chair for Graduate Education; and Director, Office of Education and Training, Fred Hutch)
February 2, 2022: "Turning Genes into Medicines" Challenges in the Development of Gene Therapeutics," Katherine High, M.D. (President of Therapeutics, AskBio; Emeritus Professor of Pediatrics, Perelman School of Medicine; University of Pennsylvania)
February 9, 2022: "Reconstruction of the Pathophysiology of Chronic Pain from Genome-wide Studies," Luda Diatchenko, M.D., Ph.D. (McGill University)
February 16, 2022: "Evolving Adaptive Reproductive Capacity: A Systems Approach Using Drosophila Models," Cassandra Extavour, Ph.D. (Professor, Department of Organismic and Evolutionary Biology, Department of Molecular and Cellular Biology, Harvard University)
February 23, 2022: "Control of Embryonic Morphogenesis," Cliff Tabin, Ph.D. (George Jacob and Jacqueline Hazel Leder Professor of Genetics; Chair, Department of Genetics, Harvard Medical School)
March 2, 2022: Margaret Pittman Lecture: "Mutant p53 Activities in Mouse Tumor Models," Guillermina Lozano, Ph.D. (University of Texas MD Anderson Cancer Center)
March 9, 2022: NIH Director's Lecture; "RNA Splicing, Chromatin Modification, and the Coordinated Control of Gene Expression," Tracy Johnson, Ph.D. (University of California, Los Angeles)
March 16, 2022: "Knowing Right From Wrong (Protein Conformation): The Challenging Choices of (Molecular) Chaperones," Judith Frydman, Ph.D. (Stanford Medicine)
Lectures continue through June.
---
2022 DEMYSTIFYING MEDICINE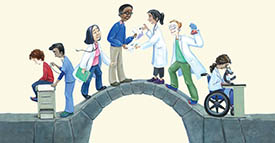 The NIH- and FAES-sponsored course "Demystifying Medicine" is designed to excite the interest of Ph.D. and M.D. students, fellows, researchers, and others in bridging the gap between amazing advances in basic science and the challenges of clinical disease. There are no formal requirements to attend as many of the weekly sessions as desired. The format involves a translational physician, a basic scientist, and usually a live patient who puts a human face on the disease.
January 4: Anthony Fauci (NIAID), "COVID: Then, Now, and the Future"; Roger Glass (FIC), "The Global Challenge: COVID and Future Pandemics"
January 11: Barry Marshall (UWA), Martin Blaser (Rutgers), "The Split Personality of Helicobacter Pylori"
January 18: Jeffrey Gordon (WUSL) "Malnutrition: The Role of the Microbiome"; Tim Gretin (NCI) "How Gut Microbiome Controls Growth of Liver Tumors"
January 25: Luba Vihkanski (Weizmann, Israel) "Innate Immunity: Elie Metchnikoff (1845-1916) and the Immunity War"; Robert Gallo (UMD) "Reflections on SARS-CoV-2 Pandemic and Innate Immunity"
February 1: Michael Lenardo (NIAID) and Helen Su (NIAID), "Defining Genes Underlying Mendelian Immunological Disorders Leads to Precision Medicine Interventions"
February 8: Lindsey Criswell (NIAMS), "Epigenetic contribution to autoimmune diseases"; Steven Holland (NIAID), "Anticytokine Autoantibodies: Important Underappreciated Cofactors in Rare and Common Conditions"
February 15: Richard Youle (NINDS), Derek Narenda (NINDS), "The Mighty Mitochondrion and its Diseases"
February 22: Dan Kastner (NHGRI), Daniela Schwartz (NIAID), and Kalpana Manthiram (NIAID), "Reimagining the Taxonomy of Autoinflammatory Disease"
March 1: Nick Lane (UCL-UK), Jennifer Lippincott Schwartz (HHMI), "Origin of Life: Viewed by Evolutionary Biologist and Cell Biologist"
March 8: Nora Volkow (NIDA), "Brain Development in Adolescents and Addiction Risks"; Branda Curtis (NIDA), "Stigma in Addiction Treatment"
March 15: Neal Young, "Somatic Mutations in 'Benign' Diseases"; Peter Grayson "Somatic Mutations in Rheumatologic Diseases: VEXAS and Beyond"
March 22 (starts at 3:00 p.m.): Special Tuesday Lecture for WALS; Sangeeta Bhatia (MIT), "Tiny Technologies and Medicine: From Hepatic Tissue Engineering to Cancer Nanotechnology"
March 29: Walter Koroshetz (NINDS), Joshua Gordon (NIMH), "Chronic COVID: Neurologic and Mental Effects"
April 5: Lyuba Varticovski (NCI), Alan Decherney (NICHD), "Endocrine Disrupters and Fertility"
April 12: John Mather (NASA), "Seeing Biology and Physics in Space"
April 19: Evelina Federenko (MIT), Nadia Biassou (CC), "How Minds and Brain Create Language"
April 26: Brigitte Widemann (NCI) and Jack Shern (NCI), "Neurofibromatosis Type 1 Tumors: Natural History to Precision Therapy"
May 3: Former NIH Director Francis Collins, "The Role of NIH in Science and Health: Quo Vadis"
This page was last updated on Friday, January 28, 2022