From the Deputy Director for Intramural Research
My Time as Deputy Director for Intramural Research: The Early Years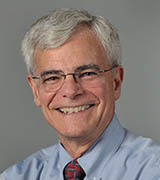 On July 15, 2021, NIH Director Francis Collins announced my decision that it was time to step aside as the deputy director for intramural research (DDIR) and make way for new leadership. This decision was made after considerable self-reflection and with the desire to do what I felt was best for the NIH intramural program (IRP), which I truly believe represents the epitome of biomedical research excellence. I will remain as DDIR until a new IRP leader is in place. Then I will return full time to the lab, where I will continue as the chief of the Laboratory of Cell Biology in the National Cancer Institute's Center for Cancer Research.
I've had a lot of time to think about the nearly 30 years that I've served as the DDIR. My philosophy of science management has led to important changes while preserving the IRP's basic conceptual underpinnings—that long-term, stable support of a diverse group of talented scientists is a formula for the extraordinary innovation and achievements of the IRP.
My willingness to take on responsibility for the IRP grew out of my involvement as co-chair of the NIH committee responding to a charge from Congress to review the "role, size, and cost" of the IRP. In 1992, Acting NIH Director Ruth Kirschstein asked me to take on this responsibility shortly after I had stepped down as acting director of the National Center for Human Genome Research (now known as the National Human Genome Research Institute). The NIH committee worked with an external committee chaired by Gail Cassell (University of Alabama at Birmingham) and Paul Marks (Memorial Sloan Kettering Cancer Center), which produced a report that has been a blueprint for the current architecture of the IRP. My reward for this involvement with the Marks-Cassell report was to be asked by then–NIH Director Harold Varmus to become acting DDIR in 1993. I became DDIR the following year after a search process.
The report itself expands on the congressional concerns that led to the review of the IRP. To quote: "The challenge of 'reinventing' the IRP requires that NIH rethink some of its practices regarding: 1) NIH-wide appointment and promotion of scientists; 2) recruitment and retention of outstanding scientists; 3) invigorating postdoctoral training programs that transcend institute lines; 4) use of patient and research facilities in the Clinical Center; 5) instituting efficient management and review practices that are more responsive to the needs of the research enterprise; and 6) exploring opportunities for increased collaboration with the extramural community, including industrial and academic laboratories."
It is my view that an ideal research environment is a very delicate flower that must be cultivated and can easily be damaged. Successful research institutions are able to balance the needs of many different personalities and talents with regulatory considerations and a healthy interaction between local and central interests. The environment for creative science requires adequate resources, opportunities for collaboration, a shared mission, and a diversity of ideas, backgrounds, and scientific orientations made available to a group of talented, diverse scientists who are eager to take advantage of this nurturing environment. I have always viewed my job as encouraging the finer impulses of our scientists, discouraging the less productive inclinations, and exercising my power to convene various groups with shared interests. I have helped to make matches between scientists and between them and their research-resource needs. I have truly enjoyed serving as a convenor, matchmaker, and good listener, perhaps my most valuable "powers," since I do not have direct supervisory authority over most of the scientists at the NIH.
A major concern raised in the report was the need for NIH to continue to attract the most diverse and talented scientists and sustain their careers in the IRP. Very early on, we established a tenure-track system at the NIH and a process for recruiting, reviewing, and rewarding excellence (the Boards of Scientific Counselors review process and the tenure process). We had a legacy of outstanding scientists who collaborated with our PIs and were essential for support and progress in our laboratories. They became staff scientists who now make up the largest population of intramural professionals. A system has been developed for their recruitment and review.
For our trainees, I wanted to assure a continuity of opportunities—from high school students to postdoctoral fellows—in the IRP. Over the years we have built the Office of Intramural Training and Education (very ably led by Sharon Milgram), which works with training directors in each of our institutes and centers (ICs) to create an uninterrupted continuum ranging from summer programs for high school and college students; to the Undergraduate Scholarship Program (UGSP) for undergraduates from diverse backgrounds; to our large postbaccalaureate program and the NIH Academy (for postbacs interested in health-disparities research); to our graduate students in the Graduate Partnership Program (GPP), and to our postdocs who make up the backbone of research activities at the NIH. In particular, I was directly involved in the formation of the postbac program, the UGSP, the NIH Academy, the GPP, and various time-off programs for medical students to learn about biomedical research (the NIH-Howard Hughes Medical Institute program and its successors, the Clinical Research Training Program and the Medical Research Scholars Program). A student can enter this continuum at any point and leave and re-enter as career aspirations dictate. In fact, some of our current PIs started at NIH as high school and college students.
None of this could have been accomplished without a dedicated, scientifically adept senior staff in the Office of Intramural Research (OIR), including many volunteers from the ICs, talented and hard-working directors of OIR programs and their staffs, and the strong support of the scientific and clinical directors and leadership in the Office of the NIH Director and in each of our ICs. We are very fortunate at the NIH to have such capable leadership at all levels and in all institutes.
In the next installment of my ruminations on the past 30 years of the IRP's history, I will consider research resource requirements, the reinvigoration of the Clinical Center and clinical research programs at the NIH, technology transfer developments, more recent changes in our IRP program, and what the future may hold.
This page was last updated on Friday, January 28, 2022