Research Briefs: Chernobyl
NCI: HIGHER CANCER RISK CONTINUES AFTER CHERNOBYL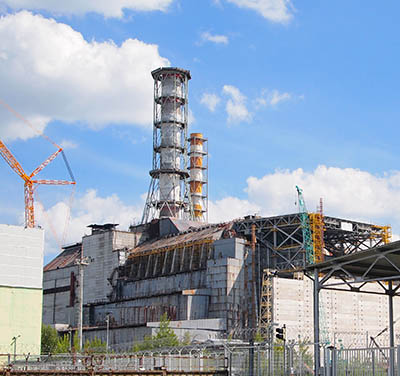 In April 1986, the Chernobyl nuclear power plant accident in northern Ukraine exposed millions of people in the surrounding region to ionizing radiation, a known carcinogen. The scope of radioactive contamination was well-documented, but the technology to study the genomic and molecular effects on those exposed did not exist at the time.
"Scientific questions about the effects of radiation on human health have been investigated since the atomic bombings of Hiroshima and Nagasaki and have been raised again by Chernobyl and by the nuclear accident that followed the tsunami in Fukushima, Japan," said Stephen Chanock, director of NCI's Division of Cancer Epidemiology and Genetics (DCEG) and senior author on two NCI-led international studies that shed new light on how radiation exposure affects human DNA. "In recent years, advances in DNA-sequencing technology have enabled us to begin to address some of the important questions." Both studies were published in Science.
The first study compared the genomes of 105 mother-father pairs who were exposed to prolonged radiation after the Chernobyl accident and their 130 adult offspring (born 1987–2002). Researchers found no increased incidence of de novo mutations (genetic changes that arise for the first time in the sperm and eggs of parents and can be passed on to future children). The findings offer reassurance that successive generations after a nuclear event do not appear to have an increase in the number or distribution of the types of de novo mutations.
In the second study, the researchers used next-generation sequencing to analyze samples from the Chernobyl Tissue Bank, a two-decades-old collection of tumor samples from residents in the contaminated area who developed thyroid cancer. They profiled genetic changes in thyroid cancer tumors of 359 people who were exposed as children or in utero to the radiation released by the Chernobyl accident and diagnosed an average of 22.4 years later, as well as 81 unexposed individuals born more than nine months after the accident. Ionizing radiation is known to damage the chemical bonds in DNA, but there are currently no established biomarkers for cancers induced by radiation. A particular type of damage known as a double-strand break (in which both strands of DNA are broken) was strongly associated with radiation dose, particularly for individuals exposed at a younger age. Furthermore, thyroid cancers in children exposed to higher radiation doses were more likely the result of gene fusions, a type of mutation in which the wrong strands of broken DNA are fused back together.
"The Cancer Genome Atlas set the standard for how to comprehensively profile tumor characteristics," said Lindsay Morton, deputy chief of NCI-DCEG's Radiation Epidemiology Branch, who led the second study. "We extended that approach to complete the first large genomic landscape study in which the potential carcinogenic exposure was well-characterized, enabling us to investigate the relationship between specific tumor characteristics and radiation dose." (Study 1: NIH authors: M. Yeager, M.J. Machiela, P. Kothiyal, M. Dean, C. Bodelon, S. Suman, M. Wang, L. Mirabello, W. Zhou, C. Palmer, B. Ballew, L.M. Colli, N.D. Freedman, C. Dagnall, A. Hutchinson, V. Vij, M. Hatch, E.K. Cahoon, P. Albert, V. Drozdovitch, M.P. Little, K. Mabuchi, A. Berrington de Gonzalez, and S.J. Chanock, Science, eabg2365, 2021; DOI:10.1126/science.abg2365. Study 2: NIH authors: L.M. Morton, D.M. Karyadi, E.T. Dawson, M.K. Steinberg, J. Dai, S.W. Hartley, S.J. Schonfeld, J.N. Sampson, V. Kapoor, M. Yeager, J.F. Boland, A. Hutchinson, B.D. Hicks, C.L. Dagnall, O. Lee, M.J. Machiela, E.K. Cahoon, K. Mabuchi, V. Drozdovitch, M. Hatch, A. Berrington de Gonzalez, and S.J. Chanock, Science, eabg2538, 2021; DOI:10.1126/science.abg2538)
This page was last updated on Monday, February 14, 2022