News You Can Use
Down the Drain
Tips for Keeping Hazardous Waste Out of the Sanitary Sewers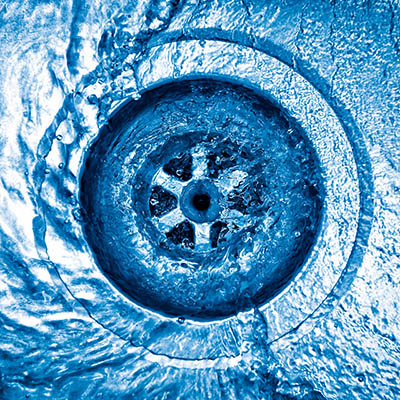 "There's not some sort of magic process that can remove everything we put down the drain." —David Sedlak, Director of the Institute for Environmental Science and Engineering at University of California, Berkeley (Berkeley, California)
The valuable research and support activities performed at NIH produce an array of waste products. Whether they are hazardous or nonhazardous, all must be managed appropriately. Submitting materials through waste-management services ensures proper disposal and prevents hazardous chemicals from being discharged into the sanitary sewer (system of pipes that carries sewage from labs, bathrooms, sinks, kitchens, etc., to wastewater treatment plants). The NIH waste-management policy requires that all waste be reduced to the greatest extent feasible to limit any potential negative environmental impacts. It's the responsibility of everyone at NIH to know what can and cannot go down the drain.
Wastewater treatment technologies have advanced over the years. As a result, we have become overly confident in our publicly owned treatment works capabilities to clean the waste we release into the sanitary sewers. Unfortunately, there are still problems: Newly introduced chemicals may interfere with the treatment process or pass through the system entirely untreated. In the 1980s, for example, some states enacted bans on phosphates in laundry detergents because they promoted harmful growth of algae in waterways.
We continue to discover new chemicals in our environment and water supply which defy treatment standards. Substances such as asbestos, PFAs (per- and polyfluoroalkyl substances), and pharmaceuticals—a chief concern as it relates to NIH operations—all pose significant challenges to our waste-management systems.
In cooperation with NIH scientific directors and the National Institute of Environmental Health Sciences, the Division of Environmental Protection (DEP) in the NIH Office of Research Facilities——has developed a Drain Discharge Guide to inform staff which chemicals can be disposed through the sanitary sewer.
Only chemicals approved for drain disposal by the DEP may be poured down the drain.
Surplus solid chemicals must be disposed of through the NIH chemical-waste services and not discharged down the sanitary sewer.
If you are unsure whether a chemical can be disposed of via the drain, or if you do not see the chemical on the list of approved chemicals for drain disposal, do not dispose of via the drain. Instead, call DEP at 301-496-7990 for further guidance.
Chemicals that are not listed on the approved disposal list within the Drain Discharge Guide may be considered for drain disposal, but you first have to complete an application requesting approval (VPN and NIH credentials required) at https://spapps.od.nih.gov/sites/DEPAuthorizations/SitePages/Home.aspx. Please note that when pursuing this option, disposal via the sanitary sewer can occur only after DEP has reviewed and approved the application.
Any questions regarding the Drain Discharge Guide should be directed to the DEP by calling 301-496-7990 or emailing depwasteresource@mail.nih.gov.
---
Craig Upson is a Chemical Waste Technical Specialist in the Waste and Resource Recovery Branch, Division of Environmental Protection.
This page was last updated on Monday, February 14, 2022