Announcements: Kudos
HARVEY ALTER WINS THE NOBEL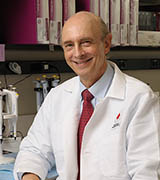 National Institutes of Health intramural researcher Harvey J. Alter, M.D., has won the 2020 Nobel Prize in Physiology or Medicine for his contributions to the discovery of the hepatitis C virus. Alter is a Senior Scholar at the NIH Clinical Center's Department of Transfusion Medicine and shares the award with Michael Houghton, Ph.D., University of Alberta, Canada, and Charles M. Rice, Ph.D., Rockefeller University, New York City. The Royal Swedish Academy of Sciences said, "Prior to their work, the discovery of the Hepatitis A and B viruses had been critical steps forward, but the majority of blood-borne hepatitis cases remained unexplained. The discovery of Hepatitis C virus revealed the cause of the remaining cases of chronic hepatitis and made possible blood tests and new medicines that have saved millions of lives."
Alter's career at NIH has spanned more than 50 years where he focused his research on the occurrence of hepatitis in patients who had received blood transfusions. In the 1970s, despite the discovery of hepatitis B, Alter saw a significant number of patients receiving blood transfusions still developed chronic hepatitis due to an unknown infectious agent. Alter and his colleagues showed that blood from these hepatitis patients could transmit the disease to chimpanzees, the only susceptible host besides humans. Subsequent studies also demonstrated that the unknown infectious agent had the characteristics of a virus. Alter's methodical investigations defined a new, distinct form of chronic viral hepatitis, which became known as "non-A, non-B" hepatitis. His work was instrumental in leading to the development of new diagnostic and therapeutic agents and providing the scientific basis for instituting blood donor screening programs that have decreased the incidence of transfusion-transmitted hepatitis to near zero.
See Michael Gottesman's essay about Harvey Alter in this issue of the NIH Catalyst.
---
RICHARD YOULE WINS BREAKTHROUGH PRIZE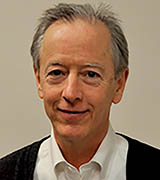 The Breakthrough Prize Foundation announced, on September 10, 2020, that Richard J. Youle, Ph.D., a senior investigator at the National Institutes of Neurological Disorders and Stroke, is one of four recipients of the 2021 Breakthrough Prize in Life Sciences. The Breakthrough Prizes were started in 2013 to "honor important, primarily recent, achievements in the categories of Fundamental Physics, Life Sciences and Mathematics." Youle will receive a $3 million award "for elucidating a quality control pathway that clears damaged mitochondria and thereby protects against Parkinson's Disease." Previously laureates were also honored with a televised, Oscar-style award show. Due to the COVID-19 pandemic, this year's ceremony has been postponed until March 2021.
Youle leads a team of researchers at NIH's National Institute of Neurological Disorders and Stroke and studies how genetic mutations may cause Parkinson disease. About 500,000 Americans are currently diagnosed with Parkinson disease. The Breakthrough Prize honors discoveries made by the Youle lab that show how certain disease-causing mutations in genes called PINK1 and PRKN may harm the brain. Their results suggest that the mutations may be linked to a breakdown in the way brain cells dispose of damaged powerplants, called mitochondria. The results have helped researchers not only understand the role the genes play in the healthy and diseased brain but also explore new treatment ideas for Parkinson disease and other disorders that are linked to damaged mitochondria.
---
New Members of the National Academy of Medicine in 2020
Congratulations to the five NIHers who were recently elected to the National Academy of Medicine (NAM). Election to the Academy is considered one of the highest honors in the fields of health and medicine and recognizes individuals who have demonstrated outstanding professional achievement and commitment to service. The NAM announced the election of 100 new member—90 of whom are regular members and 10 who are international—on October 19, 2020. For a complete list of NIH scientists elected to NAM, see https://irp.nih.gov/about-us/honors/the-national-academy-of-medicine.
Peter L. Choyke, M.D. (Senior Investigator, Molecular Imaging Program, National Cancer Institute): For pioneering advances in the imaging of prostate cancer that have enabled accurate localization of clinically significant tumors. His work has allowed more accurate and efficient biopsies as well as focal therapies that cause fewer side effects than conventional therapies.
Cynthia E. Dunbar, M.D. (NIH Distinguished Investigator and Branch Chief, National Heart, Lung, and Blood Institute): For leading pioneering genetic marking and therapy trials targeting hematopoietic stem cells, and developing uniquely predictive non-human primate models to successfully improve the safety and efficiency of various gene therapies as well as gain insights into hematopoiesis and immunology.
Heinz Feldmann, M.D. (Chief, Laboratory of Virology, Rocky Mountain Laboratories, National Institute of Allergy and Infectious Diseases): For leading the development of the vesicular stomatitis virus-based vaccine platform that resulted in the first Ebola vaccine. His mobile diagnostic laboratory for public health and biodefense emergencies is now used by the World Health Organization.
Louis M. Staudt, M.D., Ph.D. (Chief, Lymphoid Malignancies Branch, and Director, Center for Cancer Genomics, National Cancer Institute): For demonstrating that genetic profiling can distinguish lymphoma subtypes, predict patient survival, and individualize therapy, thus playing a key role in launching the era of cancer precision medicine. He devised loss-of-function genetic screens for essential cancer genes, thereby enabling effective targeted therapies for molecular subtypes of lymphoma.
Hannah A. Valantine, M.D., MRCP, FACC (Professor of Medicine, Stanford University, Stanford, California; NIH's former Chief Officer of Scientific Workforce Diversity and Senior Investigator, National Heart, Lung, and Blood Institute): For her national leadership in both scientific workforce diversity and cardiac transplantation research. Her data-driven approach in these two important areas has led to game-changing policies and new programs that enriched the nation's biomedical talent pool and have generated paradigm-shifting innovations in patient care.
Carlos Alberto Zarate Jr., M.D. (NIH Distinguished Investigator and Chief, Experimental Therapeutics and Pathophysiology Branch, National Institute of Mental Health): For demonstrating that a single ketamine infusion has rapid, robust, and relatively sustained antidepressant effects in individuals with treatment-resistant depression and bipolar depression, in addition to significant anti-suicidal and anti-anhedonic effects. Identifying ketamine as a rapid-acting antidepressant and anti-suicidal ideation agent was a paradigm shift in psychiatry.
---
SAMUEL J. HAYMAN SERVICE TO AMERICA MEDALS (SAMMIES)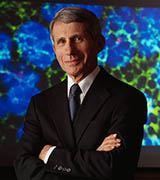 Anthony Fauci is celebrated as the Service to America Medal 2020 Federal Employee of the Year. He "served as the government's premier expert and spokesperson on infectious diseases during six presidencies, including taking a prominent role in seeking to protect the public from the highly contagious and deadly new coronavirus that swept through the country and the world in 2020."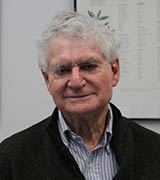 Ira Pastan is named the 2020 Winner of the Paul A. Volcker Career Achievement Award for discovering "a new class of drugs that can successfully treat a rare form of leukemia and hold promise to be effective therapies for pancreatic and lung cancer as well as mesothelioma."
The other NIH finalists were the team of John Tisdale and Griff Rodgers for their work on sickle cell disease; Nancy Sullivan, who leads a group in the development of a highly effective Ebola medication.
They are among 27 teams and individuals chosen for the honor from across the federal workforce. The award highlights excellence among federal workers and aims to inspire other talented and dedicated workers to go into public service. The award program is sponsored by the Partnership for Public Service, a non-profit, non-partisan organization whose mission is to help make our government more efficient.
This page was last updated on Monday, March 21, 2022