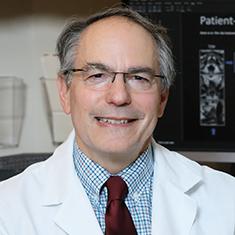 Peter L. Choyke, M.D., F.A.C.R.
Senior Investigator
Molecular Imaging Branch
NCI/CCR
Building 10, Room B3B69F Bethesda, MD 20892-1088
240-760-6093
Research Topics
The vision of the Molecular Imaging Branch is to accelerate the development of new treatments for cancer using advanced imaging methods. Dr. Choyke's research interests include the translation of molecular imaging methods, such as MRI, optical and radionuclide/PET into the clinic. His research includes novel methods of detecting ovarian cancer, prostate cancer, angiogenesis, lymphangiogenesis, cancer cell receptor imaging and treatment, cell tracking, and exploration of unique animal models of cancer.
Biography
Dr. Choyke obtained his M.D. from Jefferson Medical College and completed his residency in diagnostic radiology at Yale-New Haven Hospital. Following an imaging fellowship at the University of Pennsylvania, he joined the faculty of Georgetown University and soon thereafter the Diagnostic Radiology Department, Clinical Center, NIH. Since 2004, he has directed the Molecular Imaging Branch within the Center for Cancer Research, NCI
Related Scientific Focus Areas
---
This page was last updated on September 20th, 2022