Technology Transfer: mHealth
Mobile Technologies Revolutionize Care for People with Substance–Use Disorders
Mobile-health technology (mHealth) lets health-care providers collect data on handheld electronic devices such as cell phones or tablets and use those data to predict the optimal timing for delivering treatments and health-education messages to patients. Researchers at the National Institute on Drug Abuse (NIDA) have developed an mHealth platform for promoting psychological wellbeing in people suffering from opioid-use disorders: Mobile devices can monitor a patient's location and intermittently ask questions about their psychological status, predict psychosocial stress, and also deliver warnings and automated therapeutic messages that can help prevent a recovering addict from relapsing into drug use.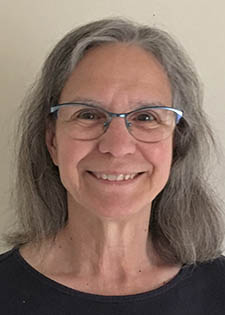 The journey to this innovation began in 2005 when NIDA Senior Investigator Kenzie L. Preston (recently made scientist emeritus) and her team began using a sort of real-time electronic diary—called ecological momentary assessment (EMA)—for 114 opioid-abusing outpatients being treated with methadone to report their activities and moods for up to 20 weeks. EMA had been used to study tobacco addiction but rarely opioid addiction. The researchers reported that the individuals used the mobile devices to provide self-reported data in their daily environments and that the data revealed behavioral patterns that led up to drug craving and use. The findings were published in 2009 in the Archives of General Psychiatry (Arch Gen Psychiatry 66:88–94, 2009).
In another study, published in 2014, Preston's team collected time-stamped Global Positioning System (GPS) data and Ecological Momentary Assessment ratings of mood, stress, and drug cravings at random times over 16 weeks of 27 urban drug misusers receiving methadone treatment. The participants were given PalmPilots that they used to answer questions about drug cravings, stress, and their location; they also carried small GPS devices. The researchers also used a novel observational environmental-assessment tool, the Neighborhood Inventory for Environmental Typology, to evaluate data in relation to environmental cues (Drug Alcohol Depend 134:22–29, 2014).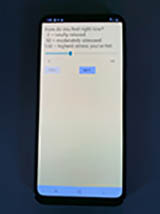 These initial experiments led to developing a tool that can unobtrusively collect data on smartphones and use them to predict drug cravings in people recovering from substance-use disorders before it's too late. In 2015, Preston along with NIDA researchers David H. Epstein, Matthew Tyburski, and Massoud Vahabzadeh developed an mHealth platform that uses machine-learning technology and smartphones to continuously collect and monitor patient-specific ambulatory data, process it in a cloud-based server, predict a user's psychological status, and deliver automated interventions when needed. Such interventions include warning a patient in recovery when they are at especially high risk of experiencing a negative event that might cause them to relapse. Through numerous repetitions of processing such information, the mHealth platform would become increasingly accurate over time. A U.S. provisional patent application and an international patent application were filed on this technology in 2015 and 2016, respectively. In 2017, a U.S. patent application was filed on the same invention.
In a recent clinical study, Preston and her team tested a prototype of this mobile app on 189 outpatients being treated for opioid-use disorders and analyzed the data using NIH's High-Performance Computing facility Biowulf. The mHealth platform accurately predicted the probability of opioid craving or stress up to 90 minutes before the craving began (NPJ Digit Med 3:26, 2020).
This mHealth technology could revolutionize the clinical care for patients diagnosed with substance-use disorders, posttraumatic stress disorder, depression, or other mental-health disorders. Preston is hopeful that this mHealth platform would drastically reduce health-care costs and improve patient outcomes. This tool could also be used to study the effect of nongenetic influences, such as environmental exposures, on human health. NIDA is seeking licensing and/or codevelopment partners to further develop and commercialize this mHealth platform.
---
To learn about technology transfer activities at NIH, go to the Office of Technology Transfer's website at https://www.ott.nih.gov. To learn about becoming a Technology Transfer Ambassador, go to techtransfer.cancer.gov/aboutttc/ambassadors. In addition, you can read the NIH Catalyst story on Tech Transfer (May–June 2019 issue).
---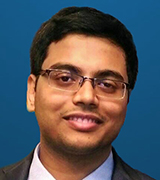 Diptadip Dattaroy, who has a Ph.D. in environmental health sciences, was previously a postdoctoral fellow in the National Institute of Diabetes and Digestive Diseases (2017–2020) and NCI Technology Transfer Ambassador. He is now a fellow in the National Cancer Institute's Technology Transfer Center, which manages the technology-transfer activities for NIDA and other institutes. Diptadip is passionate about bringing new health-care technologies from labs to patients. Outside of work, he enjoys reading fiction, hiking, gardening, and painting.
This page was last updated on Monday, March 21, 2022