Matthew Hoffman is New NIDCR Scientific Director
Commitment to Mentorship, Diversity, and Equity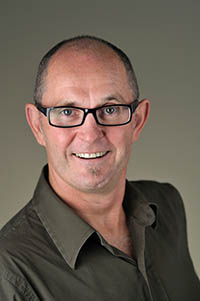 The National Institute of Dental and Craniofacial Research (NIDCR) made Matthew Hoffman's appointment as scientific director (SD) official in July 2018 after he served two years as Deputy SD.
Mentorship and increasing the diversity of NIDCR's workforce are two of Hoffman's main priorities. "I could see that [the position of] SD is an opportunity to influence how we operate and break down barriers to recruit a diverse workforce," he said.
Hoffman credits NIDCR's nonhierarchical structure, established by the previous SD Robert Angerer, as being an exceptional tool for recruiting a diverse group of investigators. In NIDCR, five small branches have been replaced with all 26 PIs operating as one branch, and administrative committees now take care of the nuts and bolts of running a smooth operation. This setup provides leadership opportunities for more investigators at all levels, especially junior and underrepresented scientists, to serve on committees.
In addition, new investigators each establish a mentoring committee made up of at least one senior NIDCR scientist, and up to four others chosen by the new investigator. This arrangement reduces the dependence on a branch chief to provide all necessary support and increases opportunities for collaboration for the new investigators.
Another invaluable recruitment tool is that the Clinical Center provides access to patients with rare diseases. For example, some new recruits have the opportunity to obtain cells from patients with rare diseases to make induced pluripotent stem cells to study the disease. This access allows investigators to study patient genetic and cellular abnormalities and develop treatment strategies accordingly. "We also have a strong human gene-therapy program," said Hoffman. "This will be a major advantage to translate discoveries in the future."
Hoffman also mentioned NIDCR's commitment to using new imaging and genomic technologies and working with the corresponding big data; these endeavors are supported by NIDCR's new imaging core and the the Genomics and Computational Biology Core, which NIDCR shares with the National Institute on Deafness and Other Communications Disorders. For new investigators, these cores provide access to technologies that often require a large financial outlay, which may be a barrier when starting a lab in some extramural academic environments.
One of Hoffman's first decisions as SD was to choose a deputy SD whom he could trust to support his endeavors to recruit a diverse and productive group of investigators at NIDCR: senior investigator Marian Young, whom he called "a strong scientist [with] great enthusiasm for mentoring."
His belief that an institute should not depend on one person to run it and his immediate desire to develop leadership skills throughout the institute speaks to his commitment to mentorship, diversity, and equity in his institute.
In addition to being an SD, Hoffman is a senior investigator in the Matrix and Morphogenesis Section and is continuing to conduct his own research. He and his lab focus on how salivary glands develop from progenitor cells to functional glands and how they are damaged in people who are treated with radiation for head and neck cancer or who have diseases such as the autoimmune disorder Sjögren syndrome. He and his team are using what they learn to figure out ways to repair and regenerate salivary glands. Lack of salivary-gland function results in severe dry mouth, which reduces a person's quality of life and can lead to serious oral-health problems.
Hoffman earned a B.D.S. from the University of Otago School of Dentistry (Dunedin, New Zealand) and was a dental house surgeon at the Wellington Hospital Board (Wellington, New Zealand). After winning a Fulbright scholarship, he pursued M.S. and Ph.D. degrees at the University of Rochester School of Medicine and Dentistry (Rochester, New York). He came to NIDCR in 1994 as a visiting fellow in the laboratory of Hynda Kleinman in the Cell Biology Section of the Laboratory of Developmental Biology. He became a staff scientist in 2000; a tenure-track investigator in 2004; and a tenured senior investigator in 2011. In his spare time, he enjoys tramping (that's New Zealand for hiking), camping, and swimming. He swims on the Masters Team for the District of Columbia Aquatics Club, where he met his partner Brady. Together they've backpacked and swum in countless countries. Hoffman's favorite adventure location is Fiordland National Park in New Zealand, but the Sierra Nevada mountains in California are "an acceptable alternative" in the United States, he said with a grin.
---
Former NIDCR Scientific Director, Robert Angerer
Strengthened the NIDCR's Intramural Research Program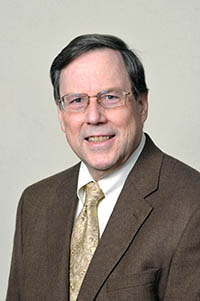 Matthew Hoffman has a tough act to follow: former NIDCR SD Robert Angerer who implemented changes to strengthen the institute's intramural research program. He introduced a more rigorous Board of Scientific Counselors (BSC) review system; enhanced training opportunities and staff diversity; and flattened the hierarchical system of governance that inhibited the advancement of younger investigators. In addition, he expanded clinical collaborations and funneled resources to newly tenured and clinically oriented investigators.
NIDCR's scientific productivity benefitted from more rigorous BSC reviews by focusing on science quality, mission relevance, mentoring, and collaboration. This new review system provided clear goals for investigators to pursue, which translated to more papers published in high-impact journals; increased collaborations between and among intramural and extramural scientists; and resulted in the proper allocation of funds to increase support for newly tenured PIs. Angerer also strove to support trainees at all career levels. For example, he sponsored an annual postdocs-only retreat to enhance communication among junior scientists. He served as the chair for the Office of Intramural Training and Education (OITE) Steering Committee and oversaw a successful clinical fellows program in NIDCR. His commitment to training was evident in his dedication to enhancing diversity—NIDCR successfully recruited five female tenure-track scientists and a female clinical director during Angerer's tenure as SD.
He also expanded NIDCR's clinical research program by hiring core staff and clinical researchers to create an academic hospital environment. Angerer promoted a NIDCR research rounds seminar open to all of NIH and merged NIDCR's Institutional Review Board (IRB) with the Combined Neurosciences IRB to enhance the development of clinical-research protocols.
Angerer is a well-known expert in the field of developmental biology. Throughout his career he collaborated with his wife, Lynne Angerer, until her death in 2013. Together they obtained Ph.D.s from Johns Hopkins University (Baltimore) in 1973; did their postdoctoral training at the California Institute of Technology (Pasadena, California); established labs at the University of Rochester (Rochester, New York); and arrived at NIH in 2004. Robert became NIDCR's scientific director and Lynne became chief of NIDCR's Developmental Mechanisms Section. They pioneered in situ hybridization to detect the expression of messenger RNA in embryonic tissue; used the sea urchin genome to develop microarray techniques to detect transcription factors and signal transduction pathways for the development of the ectoderm (neural and non-neural tissue); detected new neural precursors which arose from endoderm (gut) tissue (this finding was a challenge to the prevailing dogma that nerves develop only from other embryonic tissue); and described the signaling underlying embryo patterning. These discoveries and others were significant contributions to the understanding of early embryonic development.
This page was last updated on Tuesday, April 5, 2022