IRP Web News
New Podcast on the IRP Website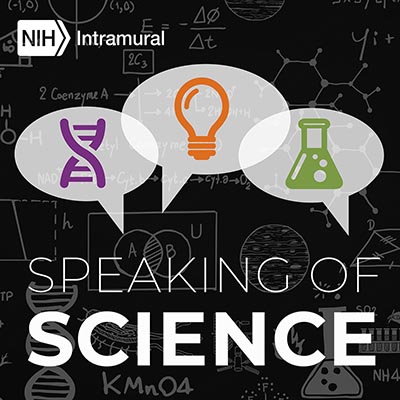 Looking for your new podcast obsession? Tune in to Speaking of Science, a new audio show featuring NIH intramural research program (IRP) scientists who are working at the cutting edge of biomedicine. In the first three episodes, hear from Nehal Mehta (a Lasker Clinical Research Scholar in the National Heart, Lung, and Blood Institute) on how treating the inflammatory skin condition psoriasis can help heal heart disease; Christine Alewine (a Lasker Clinical Research Scholar in the National Cancer Institute) on testing new immunotoxin strategies to treat pancreatic cancer; and Bill Gahl (director of the Undiagnosed Diseases Program) on inborn errors of metabolism and the Undiagnosed Diseases Network. Listen and subscribe at https://irp.nih.gov/podcast. Tell your friends about the podcast and, if you have a moment, please leave a review on your favorite podcast platforms.
---
Other Gems
Did you know that the IRP website also has news releases describing recent advances by intramural researchers; hot papers; "I Am Intramural Blog"; and events. To see what's happening, go to the "News and Events" page at https://irp.nih.gov/news-and-events.
You can also find snapshots of the IRP's accomplishments featuring the most outstanding research that helped to advance biomedical knowledge. For instance, IRP investigators at the National Institute of Dental Research (now the National Institute of Dental and Craniofacial Research) spearheaded studies in the 1940s and 1950s that showed the rate of tooth decay in children who drank fluoridated water fell more than 60 percent.
A sampling of other important NIH accomplishments:
1974: First rotavirus vaccine developed
1976: Interleukin-2 was discovered
1981: Discovery of the disease agent that causes Lyme disease
1985: First detection and screening of HIV
1994: First successful treatment of childhood schizophrenia
2001: Work leading to the production of the first commercially available vaccine against human papillomavirus
2013: Vaccine developed for all four dengue viruses
Find out more at https://irp.nih.gov/accomplishments.
This page was last updated on Tuesday, April 5, 2022