The Training Page
FROM THE FELLOWS COMMITTEE
NIH Career Symposium Broadens Its Scope
The intensity of day-to-day research can sometimes make career planning a neglected priority. Luckily, the 12th annual NIH Career Symposium, scheduled for May 10 this year, offers trainees an efficient yet extensive way to explore a wide range of career opportunities. In addition to more than a dozen panels consisting of professionals representing a diversity of career options, the symposium also offers "skill blitzes" to help attendees gather the tools and resources that are critical for job searches. And organizers are broadening the scope of the symposium this year in an effort to offer something for everyone.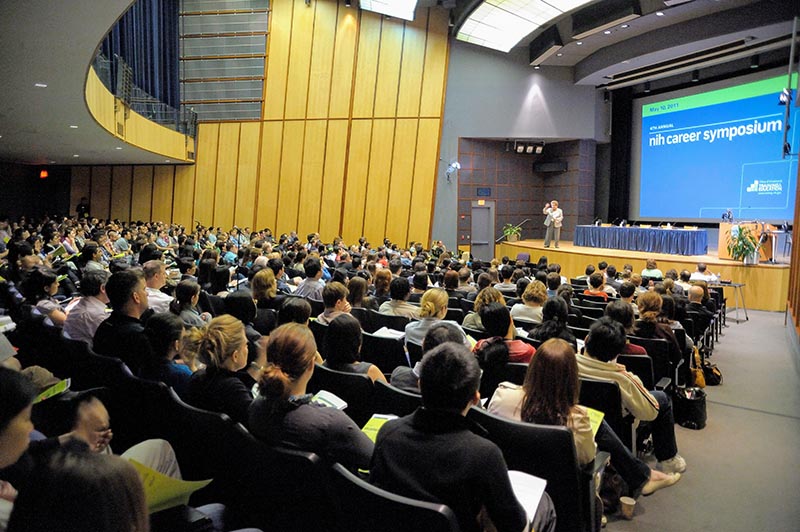 "The planning committee is expanding the idea of career-themed panels this year," said Lori Conlan, director of Postdoctoral Services and Career Services at the Office of Intramural Training and Education. "We plan to start the day with a series of broad introductory sessions aimed at capturing the current state of the field for industry, academia, and everything else." Everything else, or "E-squared" as Conlan lovingly calls it, includes careers in policy, communications, tech transfer, and other areas outside of academia and industry. According to a national survey, only 57.7 percent of U.S. postdocs plan to seek a research-focused academic career and 17.8 percent plan for a career in industry.
The 2019 Career Symposium will therefore highlight a wider range of career options. The morning introductory sessions are intended to inspire fellows to select the most-appropriate career panels to attend later in the day.
The afternoon panel sessions will cover a wide spectrum of careers including those in academia, industry, and government as well as jobs in policy, patents and tech transfer, and communications. The planning committee is carefully selecting panelists who can answer the most-pressing questions that trainees have. For example, industry panelists will draw from their first-hand experiences to describe the differences in work culture and hierarchical structure between small and large biotech companies.
For the academia sessions, panelists will provide advice on transitioning from a postdoc to a faculty position as well as offer a behind-the-scenes glimpse into how applicants are evaluated. In addition, due to popular demand—and the need for bioinformaticians and data crunchers—the "Data Science" panel will return.
Other afternoon sessions will help fellows explore career opportunities away from the bench. One panel will feature former NIH trainees who use their science skills to find success in investment and consulting. Another will highlight the careers of those engaged in education outreach to foster ties between the general public and science. And still another will have people in policy and administrative roles who are interested in shaping the future of science and society.
People who've attended these career symposiums in the past have high praise for their experience. "I learned a great deal about industry-related jobs at the [2017] symposium," said Xin Huang, a postdoctoral fellow at the National Human Genome Research Institute and a member of the Career Symposium Committee. "As a result, I decided that R&D [research and development] in industry was the career path for me—and still is."
Delany Torres Salazar (a research fellow in the National Institute of Mental Health), who recently joined the planning committee, has found that experience to be as valuable and rewarding as the symposium itself. "It was at the symposium that I first learned about part-time positions in the government that you can pursue while you are still a trainee," he said. Thanks to what he learned at the symposium, he sought and started a detail as a scientific review officer (SRO) at the National Institute of General Medical Sciences. A year later, he parlayed that experience into offers from two institutes to become a full-time SRO.
---
For more up-to-date information, visit the NIH Career Symposium website at https://www.training.nih.gov/nih_career_symposium. You will also find detailed synopses of all past career symposiums.
This page was last updated on Tuesday, April 5, 2022