Bringing a Diversity of Perspectives to NIDCR Science
First Recipient of NIDCR Diversity Fellowship Uses Biochemistry to Understand Developmental Disorders
For biochemist Jason Collins, a postdoc in the National Institute of Dental and Craniofacial Research (NIDCR), it's the promise of the scientific "aha" moments that keep him coming back to the bench every day. "There's an excitement and adrenaline rush when all the pieces finally come together," he said. "Being able to share that with others, especially when it could benefit human health, is really exciting."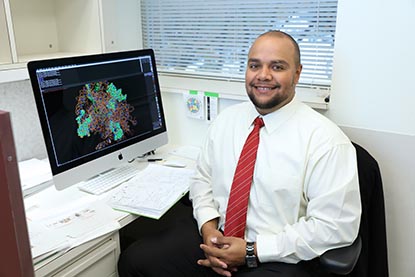 With this drive to discover, Collins became the first recipient of the NIDCR director's Postdoctoral Fellowship to Enhance Diversity in Dental, Oral, and Craniofacial Research. The award will enable Collins to work for up to five years in the Stem Cell Biochemistry lab of Achim Werner, who is exploring molecular signaling pathways that underlie craniofacial disorders.
Collins will draw on his expertise in ribosomes—the complex cellular machines that translate genetic messages into proteins—to understand cell processes that go awry during development to cause craniofacial malformations. His first insights into ribosomes emerged from his earlier postdoctoral work at the Scripps Research Institute campus in Jupiter, Florida. He studied how defects in the production of ribosomes could lead to conditions such as anemia, cancer, and craniofacial malformations. "When you bypass quality-control steps during ribosome maturation, the ribosomes have the potential to produce aberrant proteins that can cause dysfunction," Collins said. "We think this leads to disease."
Collins grew up in a military family in Germany and discovered his aptitude for biochemistry in high school. Later, at Old Dominion University in Norfolk, Virginia, one professor's influence sparked Collins's interest in the field as a career. He stayed at Old Dominion after graduation and completed his Ph.D. in biomedical sciences, and his insights into protein folding and misfolding in Alzheimer disease garnered several journal articles and a book chapter.
Collins is excited to continue his training at NIH, where he's found the collaborative environment suits him well. When he applied for the NIDCR fellowship, "what struck me was the sense of community and the many resources that are available to facilitate an interdisciplinary environment," he said. "Science isn't about doing it all yourself; it's collaboration and discussing ideas with others in order to discover new and better ways to answer important questions."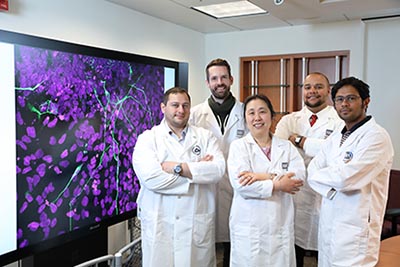 This notion strikes at the heart of the NIDCR director's diversity fellowship, which is designed to enable scientists from diverse backgrounds and life experiences to bring different perspectives, creativity, and individual enterprise to address complex scientific problems. "Taking steps to support the inclusion of early-career scientists from underrepresented groups is an investment in development of a stronger, more dynamic research environment," said NIDCR Director Martha Somerman.
"We encourage applicants with a commitment to enhancing the diversity of the biomedical field and pursuing independent, highly competitive careers in dental, oral, and craniofacial research," said Deborah Philp, director of NIDCR's Office of Education, whose own doctoral work was supported by an NIH diversity program—the Division of Minority Opportunities at the National Institute of General Medical Sciences.
This page was last updated on Tuesday, April 5, 2022