Announcements
INTEGRATIVE MEDICINE RESEARCH LECTURE SERIES
The Integrative Medicine Research Lecture Series, sponsored by the National Center for Complementary and Integrative Health, provides overviews of the current state of research and practice involving complementary health approaches, and explores perspectives on the emerging discipline of integrative medicine. "Microbes in Our Gut: Emerging Insights on Health and Disease" is the theme for Spring 2019. To find out more, go to https://nccih.nih.gov/news/events/IMlectures.
March 14: Sean F. Brady, Ph.D., The Rockefeller University, "Watch Your Step, There Is New Chemistry Everywhere"
May 9: Maria Gloria Dominguez-Bello, Ph.D., Rutgers, The State University of New Jersey, "Gut Microbes in a Disruptive Age"
June 10: Isaac Chiu, Ph.D., Harvard Medical School, "Bacteria Get on Your Nerves: How Bugs Modulate Pain and Immunity"
---
SEX, DISEASE, AND CHROMOSOME SIZE
NIGMS Early-Career Investigator Lecture
Wednesday, April 10, 2019, 10:00–11:30 a.m.
Lister Hill Auditorium (Bldg. 38A)
Videocast: https://videocast.nih.gov
For more information, click here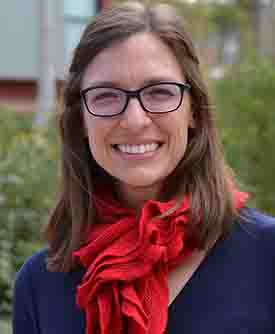 Melissa A. Wilson, assistant professor of genomics, evolution, and bioinformatics at Arizona State University (Tempe, Arizona), will present the fourth annual NIGMS Early-Career Investigator Lecture titled "Sex-Biased Genome Evolution." She will discuss insights into the evolutionary history of human sex chromosomes and what this means for understanding sex differences in disease. Human X and Y sex chromosomes both evolved from the same pair of non-sex chromosomes. Although X and Y chromosomes today differ greatly in size from each other and in most of their DNA sequences, the very tips of the two chromosomes have retained residual sequence similarities. These similarities allow the two chromosomes to exchange DNA during the formation of germ cells (eggs and sperm). Disturbances in this recombination process may increase the rates of sex-linked diseases or diseases with abnormal sex chromosome numbers. New techniques to analyze sex chromosomes can help scientists to understand such diseases. The talk aims to engage young people, so undergraduates and other students are welcome. Dr. Wilson recently published work in Genome Biology and Evolution. To request sign language interpretation or other reasonable accommodations, contact info@nccih.nih.gov or the Federal Relay Service (1-800-877-8339) by November 21.
---
NIH BIG READ 2019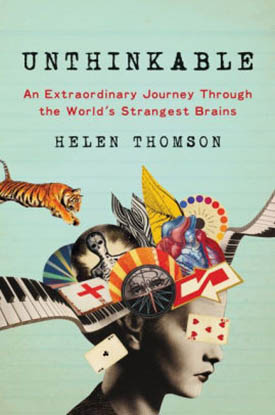 The NIH Library and the Foundation for Advanced Education in the Sciences (FAES) are pleased to announce the NIH Big Read 2019 featuring Unthinkable: An Extraordinary Journey Through the World's Strangest Brains, by science journalist Helen Thomson. Take a fascinating journey through the human mind, by way of nine extraordinary people who have rare neurological disorders. By examining stories about what can happen when the mind misbehaves, interwoven with explanations on how the brain works, we can explore and gain insights into the complexities and possibilities of all of our brains, and perhaps even better understand our sense of self.
Start reading now through the NIH Library's OverDrive platform. Unlimited online access to both the eBook and the audiobook will be available from March 14 through June 14 for NIH staff.
Book Discussions in NIH Library Training Room 1 (Building 10)
To kick off the NIH Big Read 2019, the NIH Library will host book discussions and offer training sessions for other NIH staff to run their own book discussions. Dates and links to sign up for both the book discussions and training sessions are below.
Tuesday, April 23, 11:30 a.m.–12:30 p.m.
Thursday, May 16, 12:00–1:00 p.m.
Tuesday, May 21, 1:00–2:00 p.m.
Tuesday, June 4, 1:00–2:00 p.m.
Book Discussion Training Sessions (learn how to lead your own discussion):
Thursday, May 2, 10:00–11:00 a.m.
Tuesday, May 7, 2:00–3:00 p.m.
Author Event: Helen Thomson in Conversation with NIH Director Francis Collins
On Friday, June 7, Helen Thomson visits NIH to discuss her book with NIH Director Francis Collins in an informal conversation. Afterwards, there will be a reception and meet and greet with the author on the FAES Terrace (Building 10) from 2:00 to 3:00 p.m.
For more information, contact Kathleen McGlaughlin (kathleen.mcglaughlin@nih.gov).
The NIH Big Read was created to foster collaboration and community across NIH through the discussion about a single book over several months, culminating in a special event featuring the author of the book. The program was inspired by the National Endowment for the Arts (NEA) Big Read program and is being presented at NIH by the NIH Library, the Foundation for Advanced Education in the Sciences (FAES), and the Office of the Director (OD).
Individuals with disabilities who need Sign Language Interpreters and/or reasonable accommodation to participate in this event should contact the NIH Library Information Desk at 301-496-1080 five business days in advance, and/or the Federal Relay 1-800-877-8339.
---
POSTBACCALAUREATE POSTER DAY 2019
Thursday, May 2, 2019; 10:00 a.m.–3:30 p.m.
Natcher Conference Center (Building 45)
Poster session I (10:00 a.m.–12:00 noon); Poster Session II (1:30–3:30 p.m.)
Keynote address begins at noon
For more information and to register, go to https://www.training.nih.gov/postbac_poster_day
Deadline for submission is 11:59 p.m. Friday, March 29, 2019,
Postbac Poster Day provides an opportunity for postbacs to share the research they have been conducting at the NIH and at the same time develop their scientific communication and networking skills. Posters will be reviewed by teams composed of graduate students, postdocs, and staff scientists/clinicians. The authors of the top 20 percent will receive a letter acknowledging their accomplishments. Investigators, staff scientists, and scientific administrators can make a particularly important contribution to Postbac Poster Day by visiting posters and engaging their authors in discussion. We encourage all current NIH Postbacs in the Bethesda area, Baltimore, Frederick, and Research Triangle Park (NC) to present at this event. At the poster session you will be able to share background information on your project, any data you may have collected, and a discussion of the technical problems you encountered as well as any results.
---
BUILD YOUR CAREER; SHAPE YOUR FUTURE
12th Annual NIH Career Symposium
Friday, May 10, 2019, 8:30 a.m. to 5:00 p.m.
Natcher Conference Center (Building 45)
Website (for more information and to register): https://www.training.nih.gov/
The NIH Office of Intramural Training and Education invites all NIH graduate students and postdoctoral trainees, both basic scientists and clinicians, to participate in the 12th Annual NIH Career Symposium. The symposium provides an opportunity for fellows and graduate students to learn about scientific career options and to explore factors that lead to career success. This all-day program will include more than 20 breakout sessions highlighting career opportunities available to biomedical scientists. Panel sessions cover academic, government, industry, and non-profit career paths. More than 80 speakers will provide insights into their careers: what their current job entails, its pluses and minuses, and how they got there.
---
DEMYSTIFYING MEDICINE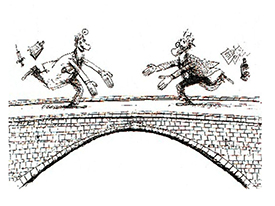 March 5: Steve Pinker, Ph.D. (Harvard), "Bridging Science and Humanities" (SPECIAL LECTURE to be held in Masur Auditorium, Building 10)
March 12: Ronald Summers, M.D., Ph.D. (CC) and Baris Turkbey, M.D. (NCI), "Machine Learning and Artificial Intelligence in Radiology"
March 19: Sharon Savage, M.D. (NCI) and Marston Linehan, M.D. (NCI), "Inheritable Cancer"
March 26: Shawn Burgess, Ph.D. (NHGRI) and Andrew Griffith, M.D., Ph.D. (NIDCD), "Regaining and Losing Hearing: from Zebrafish to Humans"
April 2: Nadia Biassou, M.D. Ph.D. (CC) and Marine Vernet, Ph.D. (NIMH), "Perception and Misperception in the Nervous System"
April 9: Roger Glass, M.D., Ph.D. (Fogarty/NIH) and John Coffin, Ph.D. (NCI/Tufts), "Global Challenges in Infection: HIV Persists"; rescheduled from January 29: Arturo Casadevall, M.D., Ph.D. (Johns Hopkins), "Fungus Infections: Neglected, Dangerous and Increasing"
April 16: Douglas Rosing, M.D. (NHLBI) and Manfred Boehman, M.D. (NHLBI), "Cardiovascular Failure and Regeneration"
April 23: Ronald Germain, M.D., Ph.D. (NIAID) and James Katz, M.D. (NIAMS), "Autoimmunity: Basic and Clinical Advances and Challenges"
April 30: Andrew Singleton, Ph.D. (NIA) and Sonja Scholz, M.D., Ph.D.(NINDS), "Dementias in the Genomic Era"
May 7: Michael Gottesman, M.D. (OD), Win Arias, M.D. (CC), Sharon Milgram, Ph.D. (OD), and others, "Future for Ph.D.s"
---
WEDNESDAY AFTERNOON LECTURE SERIES (WALS)
The NIH Director's Wednesday Afternoon Lecture Series, colloquially known as WALS, is the highest-profile lecture program at the NIH. Each season includes some of the biggest names in biomedical and behavioral research. The goal of the WALS is to keep NIH researchers abreast of the latest and most important research in the United States and beyond. An added treat is the annual J. Edward Rall Cultural Lecture, which features top authors and other cultural icons. All speakers are nominated by the NIH community. For the full list of the speakers for the current lecture season, go to https://oir.nih.gov/wals/current-lecture-season.
March 6: Sharon Walsh, Ph.D., University of Kentucky, "The Opioid Crisis: How Can We Bridge the Vast Gap Between Science and Practice?"
March 13 (Robert S. Gordon Jr. Lecture): John P.A. Ioannidis, M.D., D.Sc., Stanford University, "In Scientific Method We Don't Just Trust…Or Why Replication Has More Value Than Discovery"
March 20: No WALS Lecture
March 27: Lauren O. Bakaletz, Ph.D., The Research Institute at Nationwide Children's Hospital, "How to Bust Up Bacterial Biofilm"
April 3 (G. Burroughs Mider Lecture): Julie Segre, Ph.D., National Human Genome Research Institute, "Microbiome: Friend and Foe"
April 10: Shizuo Akira, M.D., Ph.D., Osaka University, "RNA Degradation Controls Inflammation"
April 17: No WALS Lecture
April 24: Eric Betzig, Ph.D., University of California, Berkeley, "The Secret Lives of Cells"
May 1: Squire J. Booker, Ph.D., The Pennsylvania State University, "The Biosynthesis of Lipoic Acid: A Saga of Death, Destruction, and Rebirth"
May 8 (George Khoury Lecture): Julie Pfeiffer, Ph.D., UT Southwestern Medical Center, "Getting by with a Little Help from Their Friends: How Bacteria Aid Virus Infection"
---
CREDIT FOR THUMBNAIL IMAGE: EDUCESTER, THINKSTOCK.COM
This page was last updated on Tuesday, April 5, 2022