New Methods/News You Can Use
AuthorArranger: New Tool Helps Format Manuscript Title Pages Quickly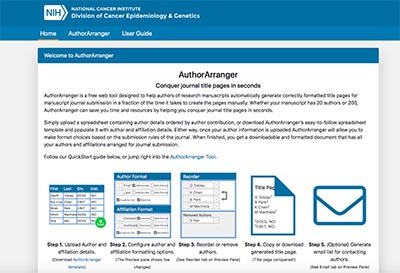 In the population sciences, as in other disciplines, it is common for large studies to have hundreds of contributors with affiliations that span the globe. For example, a physics publication set the record for number of contributors with 5,154 authors and 344 affiliations that spanned 24 pages (Phys Rev Lett 114:191803, 2015; DOI:10.1103/PhysRevLett.114.191803). Likewise, a genetics paper had 1,014 authors, indicating this trend in authorship spans scientific disciplines and is only increasing as improved methods of communication and technology propel a structural shift in scholarly publication practices [G3 (Bethesda) 5:719-40, 2015; DOI:10.1534/g3.114.015966].
When submitting manuscripts to journals, researchers are expected to arrange—in order of contribution—the author names, titles, and affiliations on the title page and format them according to a particular journal's style. It's an arduous process that can take several hours to complete. Although referencing tools and custom scripts can aid in alleviating some of the pain in generating manuscript title pages, these tools are not widely available and often require some amount of manual input.
To help speed up the submission process, our team created AuthorArranger, a freely available, easy-to-use, web tool that enables users to conquer journal title pages in a small fraction of the time it takes to create the pages manually. Simply upload a spreadsheet containing author details ordered by author contribution, or download AuthorArranger's easy-to-follow spreadsheet template and populate it with author and affiliation details. Either way, once your author information is uploaded, AuthorArranger will allow you to make format choices based on the journal's submission rules. When finished, you get a downloadable and formatted document that has all your authors and affiliations arranged for journal submission.
AuthorArranger paves the way for new and simplified approaches for generating and submitting manuscripts and supporting materials to scientific journals for rapid dissemination of research findings. As technology and web interfaces continue to evolve, our hope is that additional tools like AuthorArranger speed up the process of submitting manuscripts for publication.
---
AuthorArranger was created by Mitchell Machiela and Geoffrey Tobias (both in NCI's Division of Cancer Epidemiology and Research) in collaboration with programmers in NCI's Center for Biomedical Informatics and Information Technology. Support for AuthorArranger came from the 2018 DCEG Informatics Tool Challenge. To start using the AuthorArranger tool, go to https://authorarranger.nci.nih.gov/#/.
---
DO YOU HAVE A NEW METHOD TO SHARE?
The NIH Catalyst occasionally publishes articles about new methods developed by NIH intramural researchers. If you have recently developed a new method and would like to share the news with other readers of this publication, please contact us at catalyst@nih.gov or call 301-402-1449.
This page was last updated on Tuesday, April 5, 2022