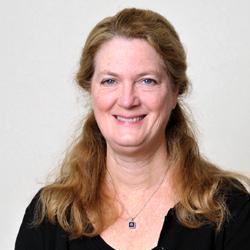 Marian F. Young, Ph.D.
Senior Investigator
Craniofacial and Skeletal Diseases Branch/Molecular Biology of Bones and Teeth Section
NIDCR
Building 30, Room 225
30 Convent Drive
Bethesda, MD 20892
301-496-8860
Research Topics
The goal of the Section is to explore the mechanisms that control the function of extracellular matrix proteins found in the skeleton. Our current strategy focuses on a subcategory of matrix components known as small leucine-rich proteoglycans (SLRPs). In the past several years, we have studied the function of three SLRPs, biglycan (bgn) decorin (dcn) and fibromodulin (fmod) and have focused on mechanistic analysis of their unique roles in bones, teeth, cartilage and tendon. Our working hypothesis is that these SLRP's control skeletal tissue function via both anabolic (through differentiation and formation) and catabolic (breakdown or resorption) mechanisms which, in some cases, work by modulating growth factor availability. Part of our goal was to uncover novel factors that synergize with the SLRPs to control their function. The ultimate purpose of this work is to develop practical applications for these SLRPs in ameliorating diseases such as osteopenia (low bone mass), osteoarthritis (loss of cartilage) and ectopic bone formation in soft tissues.
A brief summary of the major achievements in recent years are listed as follows:
An induced model of bone resorption was used to determine that bgn is important in regulating osteolysis. Co-cultures of normal and Bgn-deficient osteoblasts and osteoclasts were used to uncover the cellular basis for increased osteolysis in bgn deficiency. Our data show that increased osteoclastogenesis comes from a defect in the osteoblast that has both decreased differentiation and increased proliferation in the absence of bgn, both of which could modulate osteoclastogenesis and subsequent osteolysis.
Micro arrays using mRNA from osteoblasts derived from normal and Bgn-deficient mice were performed and uncovered that the loss of Bgn causes a vast repertoire of mRNA expression patterns to be altered. Some of these data were subsequently used to decipher mechanisms of SLRP action in osteoclast differentiation, cell proliferation, and altered BMP-responsiveness.
The overlapping roles of bgn with decorin (dcn) in regulating osteopenia were uncovered by creating mice that are deficient in both Bgn and Dcn. The cellular basis for low bone mass in this model was found to be from over-active TGF-beta 1 signaling that causes osteogenic precursors in bone marrow to undergo pre-mature apoptosis rather than osteogenesis.
Craniofacial defects that develop in the combined absence of Bgn and Dcn were uncovered and included impaired posterior frontal suture fusion manifesting with severe hypomineralization of the calvaria. One molecular basis for this abnormality may be from changes in Dlx-5 expression, a transcription factor that was found diminished in the bgn/dcn knockout mice.
Bgn and fmod were found to be abundant in the temporomandibular joint (TMJ) leading us to speculate they could control TMJ integrity. Analysis of mice deficient in Bgn and Fmod showed that the mutant TMJ's developed features of classic osteoarthritis (OA) including cell clustering and accellularity caused by increased chondrocyte proliferation and apoptosis respectively. These abnormalities accompanied redistribution of type II collagen and may be the basis for superficial clefting and premature cartilage demise observed in this animal model.
Tendons from Bgn/Fmod deficient mice were shown to develop ectopic bones leading to the hypothesis that they harbor progenitor cells sensitive to the composition of the ECM. Using classic protocols, we showed that tendon has a small population cells with stem cell features and showed that in the absence of Fmod and Bgn, these tendon stem/progenitor cells are subject to excess BMP-activity, causing them to form bone instead of tendon.
We determined the function of a protein that associates with bgn called Wnt induced secreted protein (WISP-1) in osteogenic cells. Our studies showed that WISP-1 increases proliferation and differentiation in a fashion that works in cooperation with TGF-beta and BMP-2.
Bgn was found to bind to key components of the wnt pathway including wnt3a and LRP-6 and modulate their functions. In bone, the modulation of wnt signaling controlled the fate of osteoprogenitor cells both in vitro as well as in vivo. These studies support the concept that bgn could potentially be a new biological agent valuable for therapy of Wnt-related diseases.
Biography
Marian F. Young is chief of the Molecular Biology of Bones and Teeth Section in the Craniofacial and Skeletal Diseases Branch, NIDCR. She received her B.S. from SUNY at Oneonta, NY (1976), and her Ph.D. in developmental biology from the Department of Genetics and Cell Biology at the University of Connecticut (1981). After a fellowship in the Lab of Developmental Biology and Anomalies at the NIDR (1981-1983), Dr. Young headed a group in the Mineralized Tissue Research Branch (also at the NIDR) where she began her investigations on the molecular biology and function of extracellular matrix (ECM) proteins in skeletal tissues. Her current research focuses on regulation and function of small proteoglycans in mineralized tissues and in their potential role in controlling pathological skeletal conditions such as osteoporosis, osteoarthritis and ectopic ossification. These pathologies originated by defects in stem cells whose fate was shown to be regulated by the ECM.
Dr. Young has published over 190 peer-reviewed articles, reviews and book chapters on the molecular biology of ECM in mineralizing tissue. She has organized several symposia and scientific conferences on the topic of bones and teeth, mineralization and the ECM. In the NIH community she has served on a myriad of committees, some of which she chaired for promotion and tenure action, oversight of animal facilities, and summer student research. Other NIH service includes participation in the graduate partnership program, administrative oversight, and serving as project officer for contracts awarded to the NIDCR. She has supervised dozens of research fellows and students, and considers training of future dental researchers to be a critical role as a senior investigator at the NIDCR.
Related Scientific Focus Areas

---
This page was last updated on August 27th, 2018