Announcements: Kudos
Three Intramural Researchers Elected to the National Academy of Medicine
Congratulations to the three NIHers who were elected to the National Academy of Medicine (NAM) on October 16, 2017: Christine Grady, George Koob, and John Mascola. The NAM announced the election of 70 regular members and 10 international members during its annual meeting. Election to NAM is considered one of the highest honors in the fields of health and medicine and recognizes individuals who have demonstrated outstanding professional achievement and commitment to service.
"These newly elected members represent the most exceptional scholars and leaders in science, medicine, and health in the U.S. and around the globe," said NAM President Victor J. Dzau. "Their expertise will help our organization address today's most pressing health challenges and inform the future of health and health care to benefit us all."
Christine Grady is chief of the NIH Clinical Center's Department of Bioethics. Her research focuses on international research ethics and on research-subject recruitment, incentives, and vulnerability. She has written widely in books and scholarly journals on topics in bioethics, human immunodeficiency virus (HIV) disease, and nursing.
George F. Koob is the director of the National Institute on Alcohol Abuse and Alcoholism as well as a senior investigator in the National Institute on Drug Abuse. He is recognized as one of the founders of the field of addiction research and is internationally renowned for his expertise on alcohol and stress and the neurobiology of alcohol and drug addiction.
John R. Mascola is the director of the Vaccine Research Center in the National Institute of Allergy and Infectious Diseases. His areas of research include characterizing protective immune responses against HIV-1 with a focus on B cells; studying the natural immune response to HIV-1; and developing novel strategies for vaccine design.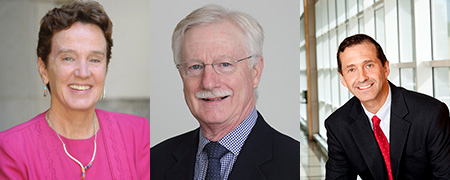 This page was last updated on Friday, April 8, 2022