News Briefs
Norman Sharpless Sworn in as New NCI Director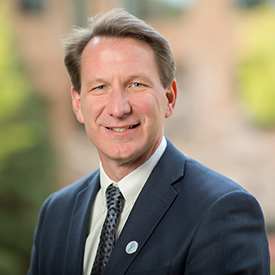 Norman E. "Ned" Sharpless took the oath of office late Tuesday, October 17, 2017, to become the 15th director of the National Cancer Institute (NCI). He succeeds Harold E. Varmus, who stepped down as director in March 2015. Douglas R. Lowy has been NCI's acting director since April 2015.
"Dr. Sharpless is an outstanding scientist, clinician, and administrator, and we are very fortunate to have him join the NIH leadership team," said NIH Director Francis S. Collins. "I look forward to his insight, influence, and partnership at NCI, as cancer research is experiencing an unprecedented era of rapid progress."
Sharpless comes to NCI from the University of North Carolina School of Medicine (Chapel Hill, North Carolina), where he served as director of the NCI-Designated Lineberger Comprehensive Cancer Center and as the Wellcome Distinguished Professor in Cancer Research. As a practicing oncologist at the North Carolina Cancer Hospital (Chapel Hill), the clinical arm of Lineberger, he specialized in the care of patients with hematologic cancers. He is the author of more than 150 original scientific papers, reviews, and book chapters and is an inventor on 10 patents. His research has focused on the molecular biology of cancer and aging.
Sharpless earned his undergraduate and medical degrees from the University of North Carolina at Chapel Hill. In 1998, he took a year off from medical school to participate in the Howard Hughes Medical Institute (HHMI)-funded NIH Research Scholars Program. After completing his M.D., he did an internal medicine residency at the Massachusetts General Hospital and a hematology/oncology fellowship at Dana-Farber/Partners Cancer Care, both of Harvard Medical School in Boston. He is a member of the American Society for Clinical Investigation and the Association of American Physicians. He co-founded two clinical-stage biotechnology companies: G1 Therapeutics and HealthSpan Diagnostics.
Lowy will resume his role as a deputy director at NCI and will continue his work as chief of the Laboratory of Cellular Oncology in NCI's Center for Cancer Research.
---
Accelerating the Development of New Cancer Immunotherapy Strategies
NIH Partners with 11 Leading Biopharmaceutical Companies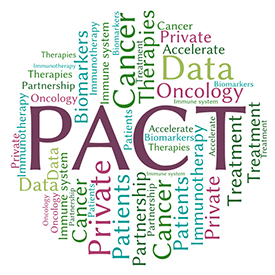 On Thursday, October 12, 2017, the NIH and 11 leading biopharmaceutical companies launched the Partnership for Accelerating Cancer Therapies (PACT), a five-year public-private research collaboration totaling $215 million as part of the Cancer Moonshot. PACT will initially focus on efforts to identify, develop, and validate robust biomarkers—standardized biological markers of disease and treatment response—to advance new immunotherapy treatments that harness the immune system to attack cancer. The partnership will be managed by the Foundation for the National Institutes of Health, with the Food and Drug Administration serving in an advisory role.
"This new public-private partnership is a significant step forward in the battle against cancer and a real boost to the potential of immunotherapy," said Acting Health and Human Services Secretary Eric Hargan. "We are excited for this partnership, which will strengthen efforts already underway across HHS."
New immunotherapies have resulted in dramatic responses in certain cancer cases. They have also been the focus of intense investment by biopharmaceutical companies seeking to provide new options for patients who do not respond to other cancer therapies, but they don't work for all patients. Development and standardization of biomarkers to understand how immunotherapies work in some patients, and to predict their response to treatment, are urgently needed for these therapies to provide benefit to the maximum number of people.
"We have seen dramatic responses from immunotherapy, often eradicating cancer completely for some cancer patients," said NIH Director Francis S. Collins. "We need to bring that kind of success—and hope—[to] more people and more types of cancers, and we need to do it quickly. A systematic approach like PACT will help us to achieve success faster."
PACT will facilitate systematic and uniform clinical testing of biomarkers to advance our understanding of the mechanisms of response and resistance to cancer therapy. The research conducted under the partnership will also integrate immune and other related oncology biomarkers into clinical trials by defining a set of standardized biomarkers to be tested across a variety of studies. This approach will allow for consistent generation of data, uniform and harmonized assays to support data reproducibility, comparability of data across trials, and discovery and validation of new biomarkers for immunotherapy and related combinations. PACT will also facilitate information sharing by all stakeholders to better coordinate clinical efforts, align investigative approaches, reduce duplication, and enable more high-quality trials to be conducted.
For more information, click here.
This page was last updated on Friday, April 8, 2022