Announcements
CHEN LECTURE ON INNOVATION AND TECHNOLOGY TRANSFER
"Cells as Anti-Cancer Drugs: Entering Mainstream Oncology"
Friday, November 17, 2017, 10:00–11:00 a.m.
Masur Auditorium (Building 10)
Videocast: http://videocast.nih.gov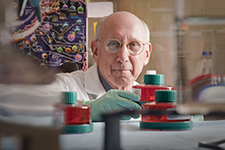 The Office of Intramural Research invites you to the 12th annual Philip S. Chen Jr. Distinguished Lecture on Innovation and Technology Transfer. The lecture will be presented by Steven A. Rosenberg. He is Branch Chief and Senior Investigator at the Surgery Branch, NCI. Individuals with disabilities who need sign language interpreters and/or reasonable accommodation to participate in this event should contact Joe Kleinman at 301-496-0472 and/or the Federal Relay (1-800-877-8339). Requests should be made at least 5 days in advance of the event.
---
DIRECTOR'S SEMINAR SERIES
The Director's Seminar Series exclusively features midcareer and recently tenured investigators from the NIH intramural research program, those who are well on their way to establishing themselves as research leaders. Speakers are nominated by their scientific directors.
December 8, 2017: Kumaran Ramamurthi (NCI), "Toward the Assembly of a Synthetic Bacterial Cell"
January 19, 2018: Sonja Best (NIAID), "Intrinsic Cellular Responses to Infection with Flaviviruses and the Viral Strategies to Counter Them"
February 23, 2018: Nihal Altan-Bonnet (NHLBI), "Vesicular Transmission of Viral Populations: Strength in Numbers"
March 9, 2018: Laufey Amundadottir (NCI), "From Germline Genetics to Function: Making Sense of Genome-Wide Association Studies for Pancreatic Cancer Risk"
April 13, 2018: Raja Jothi (NIEHS), "Uncovering Unknown Unknowns of Gene Regulation"
May 18, 2018: Li Yang (NCI) "Mechanisms of Breast Cancer Metastasis and Targeting Opportunities"
June 22, 2018: Jose Faraldo-Gomez (NHLBI), "Harnessing the Power of Computation to Elucidate the Molecular Mechanisms of Membrane Proteins"
---
DEMYSTIFYING MEDICINE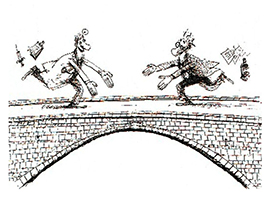 The NIH- and FAES-sponsored course "Demystifying Medicine" is designed to excite the interest of Ph.D. and M.D. students, fellows, researchers, and others in bridging the gap between amazing advances in basic science and the challenges of clinical disease. There are no formal requirements to attend as many of the weekly sessions as desired. The format involves a translational physician, a basic scientist, and usually a live patient who puts a human face on the disease.
January 9: "New Viral Diseases, Universal Vaccines, and Removing Agents from the Blood Supply" (Anthony S. Fauci, MD, NIAID; Robert Allison, MD, MPH, CC)
January 16: "Is Leukemia Curable?" (Terry Frey, MD, NCI; Nirali Shah, MD, NCI)
January 23: "Sexually Transmitted Diseases: Situation Getting Worse…and Also Better" (Thomas Quinn, MD, NIAID/Johns Hopkins Bloomberg School of Public Health; Douglas Lowy, MD, NCI)
January 30: "Why Is HIV Still a Biologic and Epidemiologic Challenge Worldwide?" (John Coffin, PhD, Tufts/NCI; John Mellors, MD, University of Pittsburgh)
February 6: "The New Frontier: Immunotherapy of Cancer" (James Gulley, MD, PhD, NCI; James Hodges, PhD, MBA, NCI) *Lecture will be held in Building 1, Wilson Hall
February 13: "Does Inflammation Cause Cardiovascular Disease? If So, How?" (Alan Remaley, MD, PhD, NHLBI; Nehal Mehta, MD, NHLBI)
February 20: "The Microbiome in Man, Animals, and Disease: Where Do We Stand?" (Yasmine Belkaid, PhD, NIAID; Barbara Rehermann, MD, NIDDK)
February 27: "Brave New World: Imaging from the Cosmos to the Molecule" (John Mather, PhD, NASA; Jennifer Lippincott-Schwartz, PhD, MS, HHMI, Janelia Research Campus)
March 6: "Diabetes and Artificial Sweeteners" (Phillip Gorden, MD, NIDDK; Kristina Rother, MD, NIDDK)
March 13: "The Great Neglected Diseases" (Alan Sher, PhD, NIAID; Thomas Nutman, MD, NIAID)
March 20: "The Challenge of Malaria: The World's Number One Killer" (Peter Crompton, MD, MPH, NIAID; Photini Sinnis, MD, Johns Hopkins Bloomberg School of Public Health)
March 27: "Amyotrophic Lateral Sclerosis (Lou Gehrig's Disease): Are We Making Progress?" (Bryan Traynor, MD, PhD, MMSc, NIA; Mary Kay Floeter, MD, PhD, NINDS)
April 3: "Compulsive Disorders: Mechanisms and Management" (Antonello Bonci, MD, NIDA; Veronica Alvarez, PhD, NIAAA)
April 10: "Use of Induced Pluripotent Stem Cells (iPSC) for Regenerative Medicine" (Kapil Bharti, PhD, NEI; Pamela Robey, PhD, NIDCR)
April 17: "The Opioid Epidemic: How, Where, and What Can Be Done?" (Nora Volkow, MD, PhD, NIDA: Walter Koroshetz, MD, NINDS)
April 24: "Prenatal Genomics and Fetal Gene Therapy" (Diana Bianchi, MD, NICHD; Alan De Cherney, MD, NICHD)
May 1: Topic to be named (Francis Collins, MD, PhD, Director, NIH)
May 8: "Bridge Building," Careers for PhD and MD Fellows (Michael Gottesman, MD, OD/NCI; Win Arias, MD, CC)
---
NIH DIRECTOR'S WEDNESDAY AFTERNOON LECTURE SERIES (WALS)
The 2017–2018 NIH Director's Wednesday Afternoon Lecture Series (WALS) is underway. WALS is the highest-profile lecture program at the NIH. Lectures occur on most Wednesdays from September through June. Each season includes some of the biggest names in biomedical and behavioral research. The goal of the WALS is to keep NIH researchers abreast of the latest and most-important research in the United States and beyond. An added treat is the annual J. Edward Rall Cultural Lecture, which features top authors and other cultural icons. All speakers are nominated by the NIH community. Be on the lookout for NIH-wide e-mails announcing each lecture. For more information and updates, check the website or contact Jacqueline Roberts (Jacqueline.Roberts@nih.gov).
---
CLINICAL CENTER GRAND ROUNDS—WEDNESDAYS AT NOON
The NIH Clinical Center Grand Rounds, which is a weekly CME activity, aims to offer its audience a wide variety of topics from a diverse group of speakers to not only help them remain current on the latest advances in medicine, but also assist them as they continue to grow professionally. All physicians, clinicians, biomedical researchers, nurses, and other health-care professionals within and outside the NIH community are welcome to attend.
---
THE NIH LEAVE BANK – BECOME A 2018 MEMBER!
The Office of Human Resources is pleased to announce open enrollment for the 2018 NIH Leave Bank. The open enrollment will run November 13 through December 11, 2017. Memberships will be effective January 7, 2018. The Leave Bank is a pooled bank of donated annual leave available to eligible members. It acts like an insurance policy for your paycheck and provides paid leave for members who experience a personal or family medical emergency and have exhausted all of their leave. To become a 2018 member, access ITAS during the open enrollment period and enroll under the "Leave Bank Membership" screen.
If you are already a 2017 Leave Bank member, your membership will automatically continue into 2018, unless you take action in ITAS during the open-enrollment period to opt-out. The annual membership contribution is only one pay period's worth of annual leave accrual (that is, four, six, or eight hours). You can still become a Leave Bank member even if you do not have annual leave to contribute—your contribution will be waived! ITAS is available at https://itas.nih.gov. Questions may be irected to the NIH Leave Bank Office at 301-443-8393 or LeaveBank@od.nih.gov.
---
THE FEDERAL BENEFITS OPEN SEASON BEGINS SOON, AND OPEN-SEASON FAIRS ANNOUNCED!
Monday, November 13 through Monday, December 11, 2017
Thursday, November 9, 2017
Federal Benefits Open Season Fair (Research Triangle Park, N.C.)
11:00 a.m.–2:00 p.m.
NIEHS/Keystone Building/Conference Rooms 1003A & B (530 Davis Drive)
Thursday, November 16, 2017
Federal Benefits Open Season Fair (Bethesda)
10:00 a.m.–2:00 p.m.
Natcher Conference Center (Building 45), Atrium Level
Tuesday, November 21, 2017
Federal Benefits Open Season Fair (Baltimore)
9:00 a.m.–12:00 p.m.
Biomedical Research Center/Atrium (251 Bayview Blvd., Suite 100)
The Benefits Open Season begins on November 13 and runs through December 11, 2017. The following three programs are participating in this year's open season for the 2018 plan year: 1) Federal Employees Health Benefits (FEHB) program; 2) Federal Employees Dental and Vision Insurance Program (FEDVIP); and 3) Flexible Spending Accounts (FSA) program. FEHB and FEDVIP enrollments will automatically continue into 2018 if no action is taken. However, FSA enrollments do not automatically continue into the new year. If you want an FSA in 2018, you must make an election during the open season.
At the Open-Season Fairs, you'll have an opportunity to speak directly with the plan experts to get answers to your questions. No registration is required. For information on the open season, visit the Benefits Newsletter at https://hr.nih.gov/about/news/benefits. Additional information will be announced in the coming weeks. Questions may also be directed to the Benefits and Payroll Liaison Branch at AskBPLB@od.nih.gov or at 301-496-2404.
---
7TH ANNUAL "IN FOCUS! SAFE WORKPLACES FOR ALL" PHOTO CONTEST

Whether photography is your passion, your hobby, or just something you occasionally dabble in, the Office of Research Services, Division of Occupational Health and Safety (DOHS), invites you to be a part of building and sustaining a positive safety culture at the NIH through photography. You can contribute to the agency's safety effort by capturing or creating up to three images depicting safe workplaces or activities—for example, laboratory workers using personal protective equipment, crossing guards on busy streets, or construction workers using safety gear—and sharing them with us.
Your photos will be shared with the NIH community through the DOHS' safety publications, pamphlets, and posters. First-, second-, and third-place photographs will be framed and prominently displayed outside the ORS director's office in Building 31 then go on permanent display in the DOHS conference room in Building 13. Winners will receive recognition and a framed certificate from NIH leadership. To learn more about the contest, the official rules, and the submission and selection process visit https://go.usa.gov/xNVmU.
This page was last updated on Friday, April 8, 2022