The Training Page
Lasker Lessons in Leadership
Experts Advise Graduate Students Not to Try to Lead Too Soon
"I never intended to be running an academic hospital and research institute like Sloan Kettering," said Craig Thompson, who has been the president and CEO of Memorial Sloan Kettering Cancer Center in New York since 2010.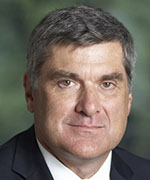 Thompson was one of several professionals sharing leadership secrets with NIH graduate students who had gathered on March 31, 2016, for the Lasker Lessons in Leadership Program.
"Don't worry about leadership now. That's not what's important," was Thompson's first piece of advice. Students should, instead, focus their energies on learning, understanding, and excelling at their discipline. "You need to know your discipline, whether it's as a translational scientist or as an M.D.-Ph.D. You need a deep understanding of whatever your lab is working on, [to] develop your own ideas about what you want to study and concentrate on. [But don't] exclude everything else in biology…be a generalist in that sense. You can worry about leadership later on."
Thompson received his undergraduate degree from Dartmouth College (Hanover, New Hampshire) and his M.D. from the University of Pennsylvania Medical School (Philadelphia). He then did clinical training in internal medicine at Harvard's Peter Bent Brigham Hospital (Boston) and in medical oncology at the Fred Hutchinson Cancer Research Center, University of Washington (Seattle). He confessed that he never even held a student-government position while he was in school. As he progressed through his career—treating patients and doing cancer research—he worked as a physician at the National Naval Medical Center (Bethesda, Maryland) and held faculty positions at various institutions, landing at the University of Pennsylvania in 1999 and becoming director of its Abramson Cancer Center in 2006.
He has followed his own advice and concentrated on excelling in his work: His lab pioneered the study of a family of cancer-related genes and how they regulate cell survival; he has made several other significant discoveries that have contributed to the understanding of immune-cell development and cancer mechanisms. Today his lab is studying the molecular-signaling pathways that regulate nutrient uptake and the role these pathways play in the regulation of cell growth and survival.
In recognition of his research in cancer biology, he was elected to the National Academy of Sciences, the Institute of Medicine, and the American Academy of Arts and Sciences. In addition to heading up Sloan Kettering, he has held several other important leadership positions, too.
Thompson shared what he has learned about leadership"
Ninety percent of leadership is common sense.
Leaders have no job description. You have to prove to everyone who works for you that you will roll up your sleeves and do everything it takes to get the job done.
As you get more and more people who report to you, you want to be second best at everything. You need understand who can do what best, then respect and follow their lead to get the best out of them.
The best leaders are player-coaches.
Challenge but don't obstruct—give your staff members the support they need once they've made a decision.
Collaboration: Medical organizations are horizontal not vertical. Mechanisms to build collaborations are more important than reporting structure.
You need a fundamental understanding that medicine is [an "art" and] not yet a science; science is the only hope for medicine's future.
You've got to make your own opportunities.
Leadership is not about management.
Expert panel

After Thompson's talk, he joined a panel of other experts: John Niederhuber, former director of NCI now at Inova Translational Medicine Institute, Inova Health Systems; Marshall Fordyce, a physician, Entrepreneur-in-Residence at a venture-capital firm in California, and member of the Lasker Foundation Board of Directors; and Christina Annunziata, an investigator in the National Cancer Institute. Together they fielded questions from the audience. Following are some highlights.
In what ways will genetics, big data, and computer science affect health care?
All: The impact will be enormous. Things will be much more challenging for today's trainees than before. Medicine will go from episodic care to real-time care and will be conducted at a more rapid pace.
How can I be a good apprentice and yet not be fast tracked?
Thompson: What matters is that you learn the discipline, not that you have a tenure-track job at a young age. I turned down a tenure-track job so I could get more training in molecular biology.
Annunziata: You need to know your profession. As you become more senior, you should have more of a leadership role.
Fordyce: Trust yourself. Take your own time to build your skills. If you think you're not ready, don't do it. Don't take a tenure-track job too soon. Fight careerism for yourself so you can work on your skills. Careerism threatens that confidence.
Niederhuber: Common sense applies to your personal life and career. It's about what's going to make you happy and are you going to be able to grow in that job.
Collaboration. How do you get doctors to buy into it?
All: For collaboration, you need to form true partnerships, understand what each other has. There's fear on both sides of the street; people have to get comfortable with each other. Maybe by the third meeting we'll begin to understand each other. You have to build a team to have all the expertise you need. The challenge for leadership is who gets the credit.
If you could rewind, what would you tell your younger self?
Thompson: You need to be more fearless. The hardest part of medicine is learning the language of medicine and the hardest part of science is its rapidly evolving nomenclature. If you don't understand a word, ask what it means.
Annunziata: Have an open mind and listen to where the data are taking you—where you're going next in your career and life.
Niederhuber: Don't be in a rush to take on leadership responsibilities. People will pick … you to take leadership jobs—when you are in your 40s. People will throw enticing things your way—chairmanships, etc. I had a mentor who reminded me of what I was going to lose if I took on leadership responsibilities too early.
Fordyce: Trust yourself. I wish I had trusted myself earlier. Challenge yourself and stay open. Don't wait until you've arrived or have your degree.
---
The Lasker Lessons in Leadership represents a collaboration among the Albert and Mary Lasker Foundation, the International Biomedical Research Alliance, and the Global Doctoral Partnerships, which includes the NIH Oxford-Cambridge Scholars Program, the M.D.-Ph.D. Partnership Training Program, and the Wellcome Trust. The Lasker Lessons in Leadership is intended to help the next generation of physicians and scientists develop the leadership skills necessary to advance scientific discovery. The curriculum spans four years and consists of two courses per year in the areas of communication; leadership in medicine and public health; entrepreneurship; international medicine and global health and policy; industry; leadership career path; and publishing. For information about all the NIH graduate partnership programs, go to https://www.training.nih.gov/programs/gpp/partnerships.
NIH graduate students interested in participating in the Lasker Lessons in Leadership program should contact Katie Soucy (skathryn@niaid.nih.gov) for enrollment information.
---
To see the videocast of the March 31 event ("Lasker Lessons in Leadership: Leadership in Medicine/Public Health"), go to https://videocast.nih.gov/launch.asp?19586.
This page was last updated on Wednesday, April 13, 2022