News Briefs
Joshua Gordon Named Director of the National Institute of Mental Health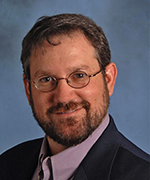 NIH Director Francis S. Collins announced in July the selection of Joshua A. Gordon as director of the National Institute of Mental Health (NIMH). Gordon is expected to join NIH in September.
"Josh is a visionary psychiatrist and neuroscientist with deep experience in mental-health research and practice," said Collins. "We're thrilled to have him join the NIH leadership team."
As NIMH director, Gordon will oversee the lead federal agency for research on mental illnesses. With an annual budget of approximately $1.5 billion, NIMH supports more than 2,000 research grants and contracts at universities and other institutions across the country and overseas. In addition, the NIMH supports approximately 300 intramural scientists.
Gordon is an associate professor of psychiatry at Columbia University Medical Center (New York), a research psychiatrist at the New York State Psychiatric Institute (New York), and an associate director of the Columbia University/New York State Psychiatric Institute Adult Psychiatry Residency Program. His research has focused on the analysis of neural activity in mice carrying genetic mutations of relevance to psychiatric disease. The lab studies genetic models of these diseases from an integrative neuroscience perspective and across multiple levels of analysis. His work has direct relevance to schizophrenia, anxiety disorders, and depression, and it has been funded by grants from NIMH and other research organizations. Gordon maintains a general psychiatric practice and cares for people who suffer from the illnesses he studies. At NIH, he will continue his research in a lab that he will establish in the National Institute of Neurological Disorders and Stroke.
Gordon pursued a combined M.D.–Ph.D. degree at the University of California at San Francisco (UCSF). Medical-school coursework in psychiatry and neuroscience convinced him that the greatest need, and greatest promise, for biomedical science was in these areas. During his Ph.D. thesis, he pioneered the methods necessary to study brain plasticity in the mouse visual system. Upon completion of the dual-degree program at UCSF, Gordon went to Columbia University for his psychiatry residency and research fellowship.
---
Diana Bianchi to Head National Institute of Child Health and Human Development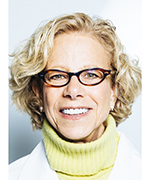 Diana W. Bianchi will be the new director of the Eunice Kennedy Shriver National Institute of Child Health and Human Development (NICHD) and is expected to join NIH on October 31, 2016.
"Diana's accomplishments as a prenatal geneticist, along with her leadership [and] clinical and research experience in both pediatrics and obstetrics, make her ideally suited to lead NICHD," said NIH Director Francis S. Collins upon announcing the appointment in August. "We are excited to have her join our team and lead this important area of research."
As NICHD director, Bianchi will oversee research on pediatric health and development, maternal health, reproductive health, and intellectual and developmental disabilities. With an annual budget of approximately $1.3 billion, NICHD supports research grants and contracts at universities and other institutions across the country and overseas and an intramural research program of scientists working at NIH.
She will join NIH from the Floating Hospital for Children and Tufts Medical Center in Boston, where she serves as the founding executive director of the Mother Infant Research Institute and vice chair for pediatric research. She is also the Natalie V. Zucker Professor of Pediatrics and professor of Obstetrics and Gynecology at Tufts University School of Medicine and the editor-in-chief of the international journal Prenatal Diagnosis.
Bianchi is a practicing medical geneticist with special expertise in reproductive genetics. Her research focuses on prenatal genomics with the goal of advancing noninvasive prenatal DNA screening and diagnosis to develop new therapies for genetic disorders that can be administered prenatally. She will continue her research at NIH in the National Human Genome Research Institute.
Bianchi earned her M.D. from Stanford University School of Medicine (Stanford, California). After medical school, she completed her residency training in pediatrics at Boston Children's Hospital and her postdoctoral fellowship training in medical genetics and neonatal-perinatal medicine at Harvard Medical School (Boston). She is board-certified in all three specialties.
From 2011 to 2015 she served on NICHD's National Advisory Council and is a past president of the International Society for Prenatal Diagnosis and the Perinatal Research Society. Bianchi is a former member of the Board of Directors of the American Society for Human Genetics and a former council member on both the Society for Pediatric Research and the American Pediatric Society. She was elected to membership in the Institute of Medicine (now the National Academy of Medicine) in 2013.
She recently received two major lifetime achievement awards: the Landmark Award in 2015 from the American Academy of Pediatrics in recognition of her research and contributions to genetics and newborn care, and the Maureen Andrew Award for Mentoring in 2016 by the Society for Pediatric Research, which recognized her commitment to mentoring the next generation of clinician-scientists.
---
Changes at the NIH Clinical Center
John Gallin, who has been the director of the NIH Clinical Center for 22 years, has accepted the newly created dual position of NIH Associate Director for Clinical Research (ADCR) and Chief Scientific Officer (CSO) for the Clinical Center. This new leadership post will report directly to NIH Director Francis Collins and have extensive interactions with the institutes and centers (ICs) and the Intramural Research Program (IRP).
Gallin will also play a major role in developing a systematic approach to distributing precious resources within the Clinical Center. Among his duties, Gallin will oversee the scientific review process for all clinical protocols conducted within the IRP; help set priorities for clinical research across ICs at the Clinical Center; oversee the independent research programs of Clinical Center investigators; oversee the strategic planning process for Intramural Clinical Research; develop strategic partnerships; and oversee clinical-research training at NIH. He will continue in his current role of director of the Clinical Center until a new CEO is in place.
In other Clinical Center news, Majid Tanas, who was recruited to NIH from the Oregon Health and Science University (Portland, Oregon), has become the new chief of pharmacy. As Michael Gottesman outlined in his essay in the July-August issue of the NIH Catalyst, Andrew Griffith, scientific director for the National Institute on Deafness and Other Communications Disorders, is overseeing the NIH Office of Research Support and Compliance (ORSC) until a permanent director is hired; Valerie Bonham, who has expertise in human-subjects protections, has been named deputy of this office; and Bruce Burnett, an expert in regulatory, quality, and preclinical Good Laboratory Practices support, joined NIH from Duke University (Durham, North Carolina) for a year to help with the ORSC.
This page was last updated on Wednesday, April 13, 2022