From the Annals of NIH History
It Came from Beneath the Dental Chair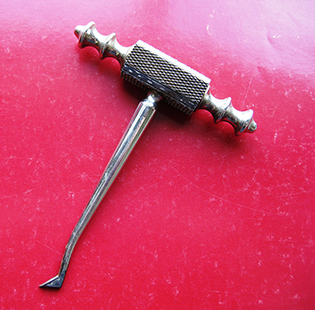 If someone thought a visit to the dentist was torture, one glance at this corkscrew-like wisdom-tooth extractor would likely confirm those fears. But this Standard Exolever, more generically called an "elevator," is much less threatening than it looks.
It was designed in the early 1900s by George B. Winter (1878–1939) and appeared in his classic 1913 textbook on the extraction of teeth, Exodontia. Winter believed the elevator was less scary to patients than dental forceps and preferred it for extractions. A dentist would grasp the Exolever's handle like one would a corkscrew's handle, place the long shaft against the mouth for leverage, guide the blade at the end of the shaft to cut roots from the surrounding tissue, and lift the tooth out.
Dental elevators are still important tools today, but they don't look like corkscrews anymore. Instead, a modern elevator has a thick, long handle with a rounded end, a short shaft, and a blade. The blades vary among elevators in size, shape, direction (which side of the mouth it is for), and angle.
The Exolever pictured here belonged to H. Trendley Dean, the first director of the National Institute of Dental Research (now the National Institute of Dental and Craniofacial Research, NIDCR). He probably purchased it when he began his private dental practice around 1916. Dean was the Public Health Service's first dental researcher even before there was an NIDCR. He studied the effect of fluoride on teeth and dental cavities and was the founding director of NIDCR from 1948 to 1953.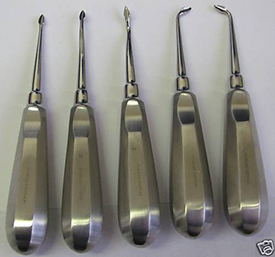 The Office of NIH History and Stetten Museum (ONHM) is preparing an exhibit on NIDCR's history that will feature Dean's toolkit and other historical items. The permanent exhibit will be installed in winter 2017 on the fifth floor of Building 30 (where NIDCR labs are located). ONHM will mark the exhibit opening with Twitter, Facebook, Tumblr, and Pinterest posts; follow ONHM now so you don't miss them. See https://history.nih.gov and click on the social media icons at the bottom of the page.
This page was last updated on Wednesday, April 13, 2022