Research Briefs
NIAID: PROMISING NEWS FOR A ZIKA VACCINE
The recent Zika virus (ZIKV) outbreak and associated birth defects have been a source of great concern in Central and South America. New research from the NIAID and extramural collaborators brings promising news for the development of a ZIKV vaccine. ZIKV strains are grouped into two genetic lineages: African and Asian (the one associated with the current outbreak). Because the two groups of viruses differ slightly in amino-acid sequence, scientists sought to confirm whether it would be possible to immunize at-risk individuals with a single vaccine. Strain variation has presented problems in the development of a vaccine against the related Dengue virus, which has four serotypes.
The researchers showed, however, that serum antibodies from ZIKV-infected individuals were equally effective at inactivating both the African and the Asian lineages of ZIKV. To further confirm this result, the scientists infected mice with different ZIKV strains and collected serum samples. All of the mouse sera were able to neutralize both African and Asian ZIKV equivalently. These results indicate that the strains of ZIKV, while genetically distinct, have sufficiently similar surface antigens to be considered the same serotype. So an individual immunized against one lineage of ZIKV would be protected from both strains. (NIH authors: K.A. Dowd, C.R. DeMaso, R.S. Pelc, S.D. Speer, A.R.Y. Smith, L. Goo, J.R. Mascola, B.S. Graham, J.E. Ledgerwood, and T.C. Pierson, Cell Rep 16:1–7, 2016. Click here to see the online version)
---
NINDS: RESEARCHERS DISCOVER NOVEL MUTATION LEADING TO LOSS OF MOTOR FUNCTION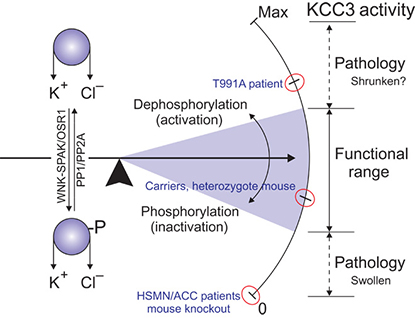 A recent NINDS study has identified a novel genetic mutation as the cause of a 10-year-old patient's progressive muscle weakness. The altered gene encodes a protein called potassium chloride cotransporter 3 (KCC3), which helps swollen cells remove excess fluid. Previously described mutations in SLC12A5, the gene that codes for KCC3, have been linked to a loss of motor and sensory function and to other brain defects that cause mental retardation and seizures. However, the new mutation the NINDS researchers discovered in their patient affected only motor neurons and did not produce changes in sensory neurons or cause behavioral or developmental abnormalities.
The NINDS researchers and their collaborators at Vanderbilt University and Yale University confirmed that the mutation is responsible for the patient's condition by creating mice with the same genetic change. These mice showed movement problems similar to the patient's. In addition, experiments in cells with the novel mutation revealed that its effect is directly opposite to that of the previously characterized ones: It interferes with the protein's "off switch" and causes KCC3 to remain active when it is no longer needed rather than reducing its activity. This continued activity leads to shriveled neurons that fail to signal properly. (NIGMS, NIMH, and NIAMS contributed funding for this study.)
Future studies will focus on identifying the precise mechanism that links overactive KCC3 to changes in motor neurons. The research also opens the door to the study of potential treatments using already approved drugs that affect fluid retention in cells by inhibiting KCC3. (NIH authors: D. Bharucha-Goebel, S. Donkervoort, and C.G. Bönnemann, Sci Signal 9:ra77, 2016; DOI:10.1126/scisignal.aae0546; http://stke.sciencemag.org/content/9/439/ra77.full)
---
NHGRI, NINDS, NCATS: TEAMWORK REVEALS NEW POTENTIAL TREATMENT FOR PARKINSON AND GAUCHER DISEASES
When the pathologies of rare diseases coincide with those of more common diseases, researchers can apply their findings to a broader slice of the population. NHGRI researchers and their collaborators at NCATS, NINDS, and other institutions identified and tested a molecule that shows promise as a possible treatment for the rare Gaucher disease and the more common Parkinson disease. Gaucher disease can cause enlargement of the spleen, frequent bleeding and bruising, weakened bones, and, in the most severe cases, neurological disease. Parkinson disease is characterized by tremors, muscular rigidity, and slowed movements. In some patients, the two diseases share a common gene—GBA1—that is mutated in both. The gene codes for the protein glucocerebrosidase, which normally helps cells dispose of certain lipids and other waste. People with even one mutated copy of GBA1 are at higher risk of developing Parkinson disease.
The scientists created pluripotent stem cells from the skin cells of Gaucher patients with and without Parkinson disease and used the stem cells to grow neurons. The study showed that the neurons from Gaucher patients who also had Parkinson disease had elevated concentrations of alpha-synuclein, the protein that accumulates in the brains of people with Parkinson disease and affects neurons controlling movement.
The researchers then looked for a molecule that would help patients with mutant GBA1 break down cellular waste. Using high-throughput drug screening, researchers at NCATS Chemical Genomics Center evaluated hundreds of thousands of different molecules and identified a promising molecule, noninhibitory chaperone of glucocerebrosidase 607 (NCGC607), which helps to "chaperone" the mutated protein so that it can still function. In the patients' stem-cell-derived neurons, NCGC607 reversed the lipid accumulation and lowered the amount of alpha-synuclein, suggesting a possible treatment strategy for Parkinson disease. The new molecule will be tested to determine whether it can be developed into a prototype drug to treat patients with Gaucher disease and Parkinson disease. (NIH authors: E. Aflaki, D.K. Borger, N. Moaven, B.K. Stubblefield, S. Patnaik, W. Westbroek, W. Zheng, P. Sullivan, Z.M. Khaliq, G.J. Lopez, D.S. Goldstein, J. Marugan, and E. Sidransky, J Neurosci 36:7441–7452, 2016, http://www.jneurosci.org/content/36/28/7441.full.pdf+html?sid=3fb698af-6e38-4e3f-9aee-1d4dd7352a05)
---
NICHD: HIGH CONCENTRATIONS OF URINARY PARACETAMOL ASSOCIATED WITH DECREASED MALE FERTILITY
A recent NIH investigation suggests that high concentrations of paracetamol (acetaminophen, Tylenol) in male urine may impair fertility. Couples in which the male partner had high concentrations of paracetamol in his urine took longer to achieve pregnancy than couples in which the male had lower concentrations of the compound. These results, in addition to previous studies in which paracetamol was implicated in harmful effects on sperm quality and testosterone secretion, suggest that paracetamol exposure may present a risk to human reproductive health.
Paracetamol is a common nonprescription drug used to treat pain and reduce fever. It is also a primary metabolic product of the breakdown of aniline, a chemical used in the production of rubber, pesticides, and coloring agents used in food, cosmetics, and clothing.
According to the researchers, the high concentrations of paracetamol in the urine of the male study participants were unlikely to result only from taking medications and were more consistent with those seen from environmental exposure to aniline, to paracetamol, or to a combination of the two. The findings could have implications for the amount of paracetamol exposure that is considered acceptable. The authors suggest, however, that the findings should be confirmed by larger studies that better characterize the sources, dose, and duration of paracetamol exposure.
This study is one of several investigations informed by analysis of data from the Longitudinal Investigation of Fertility and the Environment (LIFE) study. The NICHD LIFE study seeks to examine the effects of lifestyle and environmental chemical exposure on human fertility and reproductive health. (NIH authors: M.M. Smarr, K.L. Grantz, R. Sundaram, J.M. Maisog, and G.M. Buck Louis, Hum Reprod DOI:10.1093/humrep/dew172, http://humrep.oxfordjournals.org/content/early/2016/07/12/humrep.dew172.full.pdf+html)
---
NCI, NIDDK: UNCOVERING A NEW PRINCIPLE IN CHEMOTHERAPY RESISTANCE IN BREAST CANCER
A laboratory study by NCI and NIDDK scientists has revealed an unexpected process for acquiring drug resistance that bypasses the need to re-establish DNA-damage repair in breast cancers that have mutant BRCA1 or BRCA2 genes. In normal cells, the proteins breast cancer 1 (BRCA1) and breast cancer 2 (BRCA2) act as DNA-damage sensors, surveyors, and responders and help perform complex functions that facilitate the repair of damaged DNA.
But certain inherited mutations in the BRCA genes interfere with DNA repair and confer an increased risk of developing breast, ovarian, and other cancers. Cells with a BRCA1 or BRCA2 mutation have a reduced ability to repair breaks in DNA, making the cells sensitive to DNA-damaging drugs. However, breast cancers eventually acquire resistance to these drugs. One documented mechanism for developing chemoresistance in such tumors is through the restoration of accurate DNA-repair pathways that mend DNA breaks caused by chemotherapy.
In this study, the researchers linked the protection and stabilization of DNA replication forks (where DNA copying takes place) as a major contributory mechanism to drug resistance in BRCA1/2-mutant breast and ovarian cancers. The movement of a replication fork as it migrates along a DNA molecule can be disrupted by the presence of a diverse group of DNA structures and proteins known as replication-fork barriers. This interruption of replication-fork migration results in what is called a stalled fork. Upon replication-fork stalling, the BRCA1 and BRCA2 proteins are called upon to protect the newly synthesized strands of DNA. If these proteins are absent, the replication fork is destabilized and the newly synthesized DNA is degraded, which increases genomic instability and increases sensitivity to DNA-damaging drugs.
The investigators were able to identify other proteins that actively promote replication-fork destabilization through the recruitment of enzymes that degrade newly synthesized DNA. The absence of these proteins protected the DNA at replication forks and remarkably reversed the drug sensitivity of both cells with mutant BRCA1 and cells with mutant BRCA2, making such cells chemoresistant.
These studies also highlighted the complex ways by which tumor cells can evade chemotherapeutic interventions and acquire drug resistance. According to the researchers, a deeper knowledge of the processes that drive drug resistance in BRCA1/2-mutant tumors will lead to novel therapeutic approaches that target tumor-specific vulnerabilities. (NIH authors: A.R. Chaudhuri, E. Callen, X. Ding, J.-E. Lee, N. Wong, S. John, A. Day, A.V. Crespo, K. Ge, S.K. Sharan, and A. Nussenzweig, Nature DOI:10.1038/nature18325, http://www.nature.com/nature/journal/v535/n7612/pdf/nature18325.pdf)
---
NIAAA, NIDDK, NIMH: NEW MEDICATION SHOWS PROMISE AGAINST LIVER FIBROSIS
Liver fibrosis, a condition for which there is no current treatment, often leads to serious liver disease in people with chronic alcoholism and other common disorders. A new drug developed by scientists at NIAAA, NIDDK, and NIMH, however, limits the progression of liver fibrosis in mice and represents an important step toward an effective treatment for the condition. The NIH team chemically modified the structure of ibipinapant, a brain-penetrating cannabinoid type 1 (CB-1) receptor antagonist used in scientific research. The new medication concurrently inhibits both CB-1 receptors and inducible nitric oxide synthase (iNOS), the enzyme responsible for generating nitrogen compounds that promote inflammation. Ibipinapant was designed to have a limited ability to enter the brain in order to avoid the psychiatric side effects that limit the usefulness of currently available brain-penetrant CB-1 receptor-blocking compounds. The iNOS enzyme, which has been shown to play a fundamental role in liver-fibrosis pathology, is a potential target for fibrosis therapy.
In the current study, the scientists tested the compounds in two widely used mouse models of liver fibrosis unrelated to obesity and found that it was more effective in limiting fibrosis than compounds targeting either CB-1 receptors or iNOS alone.
In addition to its decreased ability to cause psychiatric side effects, ibipinapant has also passed preliminary screening tests for other possible side effects such as genotoxicity or interactions with other receptors or ion channels that could generate off-target effects. But, the researchers caution, the compound will require more extensive safety screening in animals before it can be approved by the FDA for studies of its therapeutic potential in humans. The researchers will collaborate with others on such studies in the near future. (NIH authors: R. Cinar, M.R. Iyer, Z. Liu, Z. Cao, T. Jourdan, K. Erdely, G. Godlewski, G. Szanda, J. Liu, J.K. Park, B. Mukhopadhyay, A.Z. Rosenberg, J.-S. Liow, P. Pacher, R.B. Innis, and G. Kunos, JCI Insight 1:e87336, https://insight.jci.org/articles/view/87336)
---
NIDDK: HOW CELL-SIGNALING MOLECULES REGULATE THE MAMMARY GENOME
An NIDDK-led team discovered superenhancers that control genetic networks in milk-producing cells in mammals. These superenhancers are cell-signaling regulatory switches that can activate gene sets more than 1,000-fold. The study demonstrated that superenhancers are established during pregnancy as hormone concentrations rise, culminating in the activation of specific gene sets and the production of milk. The findings provide insights into the regulation of cell-type-specific expression of hormone-sensing genes. (NIH authors: H.Y. Shin, M. Willi, K.H. Yoo, X. Zeng, C. Wang, G. Metser, and L. Hennighausen, Nat Gen 48:904–911, 2016, http://www.nature.com/ng/journal/v48/n8/pdf/ng.3606.pdf)
---
NIDDK, NCI: STANDARDIZED GUIDELINES FOR BROWN FAT RESEARCH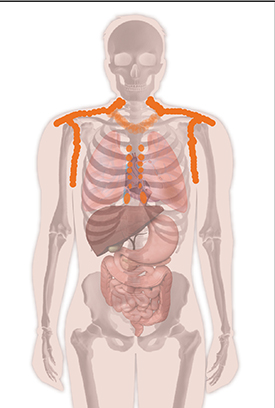 An NIDDK-led team issued first-time guidelines for conducting research and reporting on human brown adipose tissue (BAT), or brown fat. Researchers discovered functional BAT in adults in 2009. Typically, positron emission tomography (PET) combined with X-ray computed tomography (FDG-PET/CT) is used to image fluorodeoxyglucose (FDG) uptake in response to cold exposure in regions of the body expected to contain BAT. But experimental practices differ among laboratories, making it difficult to directly compare results in describing the epidemiology and biology of human BAT. In 2014, experts assembled for NIDDK-hosted international workshops that discussed minimal requirements for conducting FDG-PET/CT research involving human BAT and proposed uniform criteria for performing, analyzing, and reporting on FDG-PET/CT imaging studies of BAT in humans. These recommendations are based on available evidence and on the experts' experience. The authors seek to improve the guidelines using community input. Researchers are encouraged to send comments to barcist1.0@gmail.com, which is managed and monitored by the authors. (NIH authors: K.Y. Chen, A.M. Cypess, M.R. Laughlin, C.R. Haft, and F.I. Lin Cell Metab 24:210–222,2016)
This page was last updated on Wednesday, April 13, 2022