The SIG Beat
NEWS FROM AND ABOUT THE SCIENTIC INTEREST GROUPS
Pancreatic Cancer Scientific Interest Group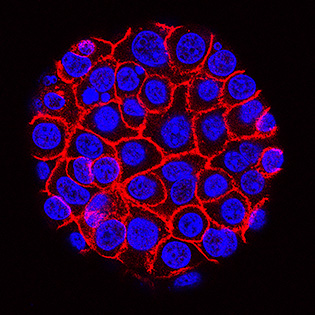 Pancreatic cancer is one of the most lethal malignancies and is the fourth leading cause of death due to cancer in the United States. There is no reliable biomarker for early detection, and the available treatments are ineffective in advanced stages of this disease. Improving the outcome for pancreatic-cancer patients requires understanding pancreatic-tumor biology better; delineating the molecular subgroups and subgroup-specific therapeutic targets in order to enable precision treatment strategies; and identifying reliable biomarkers for early detection.
Achieving these goals can be maximized through regular interactions among intramural scientists. The Pancreatic Cancer Scientific Interest Group is made up of basic researchers and clinicians who are working on various aspects of pancreatic cancer. The SIG promotes the exchange of scientific information and interactions among members of the group through monthly meetings. It also organizes a pancreatic-cancer symposium and invites extramural scientists who are world leaders in the field and whose participation maximizes the exchange of latest information and fosters collaborations. A steering committee of NIH scientists from basic, epidemiological, and clinical disciplines runs this SIG. More information and how to join it can be found at https://ccrod.cancer.gov/confluence/display/PCIG/Home. To join the LISTSERV, e-mail S. Perwez Hussain at (hussainp@mail.nih.gov). For information on the Pancreatic Cancer Symposium, September 8–9, 2016, go to https://ncifrederick.cancer.gov/events/PancreaticCancer2016/default.asp.
---
Special Populations Research Forum
The Special Populations Research Forum (SPRF) was developed in 1998 by J. Taylor Harden, the former Director of the National Institute on Aging's (NIA's) Office of Special Populations, as a means for NIH staff to share best practices and lessons learned in diversity training and the recruitment and retention of underrepresented populations into biomedical research.
The SPRF seeks to build and foster a community of intramural and extramural NIH staff who share an interest and have expertise in diversity issues. SPRF supports NIH staff who create, innovate, and implement NIH scientific and training programs that are designed to diversify the nation's research enterprise. The group provides a trans-NIH forum for sharing and examining programs, initiatives, and strategies that enhance and accelerate the development of the research careers of individuals from diverse populations. The SPRF encourages the career and professional development of its members through peer mentoring and mutual support; serves as a resource to the NIH's diversity and workforce development communities; and recommends topics and speakers for a range of events including the NIH Research Festival and Wednesday Afternoon Lecture Series. SPRF is open to all NIH and HHS staff with an interest in enhancing the diversity of the nation's research enterprise. To join the LISTSERV, go to https://list.nih.gov/cgi-bin/wa.exe?SUBED1=sprf-special-populations-res&A=1. For more information, contact Carl V. Hill, director of NIA's Office of Special Populations, at hillcv@mail.nih.gov.
This page was last updated on Wednesday, April 13, 2022