Alan Schechter and His Former Postdocs
Where Are They Now?
On July 1, 1965, Alan Schechter drove his light blue VW bug to the NIH for his very first day on the job. The car didn't last long on Maryland's roads, but the driver is showing little sign of wear. "The fact he is still here 50 years later is a testimony to him," Bob Adelstein told the crowd that had gathered for a symposium he helped organize to honor Schechter.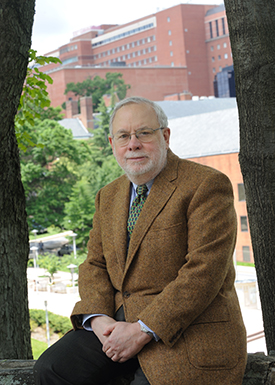 Schechter, who's a senior scientist in and chief of the Molecular Medicine Branch in the National Institute of Diabetes and Digestive and Kidney Diseases (NIDDK), has focused his research on developing treatments for genetic diseases of hemoglobin, including sickle-cell disease. He and his colleagues have contributed to the understanding of the pathophysiology of sickle-cell disease; to pioneering clinical studies that demonstrate the value of hydroxyurea in treating this disease; and, more recently, to the understanding of the role of hemoglobin in the formation and metabolism of the signaling molecule nitric oxide (NO).
Equally as impressive as his research career is his success in training and mentoring dozens of postdocs. He taught his M.D. postdocs to understand basic science and his Ph.D. postdocs to think about how their basic research would apply to health and disease. They've gone on to become distinguished scientists in their own right. Many eagerly attended the symposium, and several were invited to give presentations about their work.
"My background was in physics, so I had to learn a lot," said NIDDK senior investigator Constance Noguchi, one of Schechter's former postdocs and co-organizer of the symposium. "He had the patience [to teach me]."
Schechter credits his own mentors—notably Nobel laureate Christian Anfinsen—for teaching him how to be a good mentor. After receiving his undergraduate degree from Cornell University (Ithaca, New York) and his M.D. from Columbia University College of Physicians and Surgeons (New York) and then completing a two-year residency in internal medicine at Albert Einstein Medical College hospitals (New York), Schechter came to NIH as a research associate in the Laboratory of Chemical Biology in the National Institute of Arthritis and Metabolic Diseases (NIAMD). There he worked on protein chemistry and protein folding with Charles Epstein and Anfinsen (who was a co-recipient of the Nobel Prize in Chemistry in 1972 for his work on protein folding).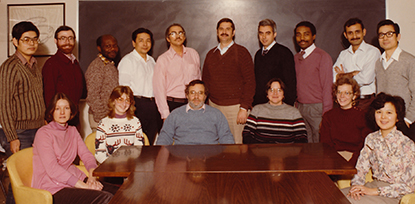 "Conducting research in molecular biology is not just work, but it is [Schechter's] passion," said Adelstein, who was also a postdoc in the Anfinsen lab in the 1960s and is now a senior investigator in the National Heart, Lung, and Blood Institute. "In addition to his passion for molecular biology, Alan, fortunately for us, has many other passions," including mentoring and serving the scientific community in many ways. He has served on the board of the Foundation for Advanced Education in the Sciences for many years, chaired the advisory committee for the Office of NIH History and was later acting NIH Historian, and served on and chaired the Council of the NIH Assembly of Scientists.
"Dr. Schechter has had a remarkable career of scientific accomplishment," said NIDDK Scientific Director Michael Krause. "Equally important have been his contributions to mentoring and his service to the NIH community in his many roles throughout the years."
Click here to get a sampling of the former postdocs and staff (the ones who gave presentations at the symposium)—where they are now, when they trained or worked with Schechter, their research interests, and what they have to say about their mentor.
---
To watch a videocast of the symposium, which was held on June 27, 2016, and titled "Yellow Berets to Gray Hair: Training Physicians for Research Careers," go to https://videocast.nih.gov/launch.asp?19773.
This page was last updated on Wednesday, April 13, 2022