The Training Page: From the Fellows Committee
Expanding Your NIH Experience: Flourishing beyond the Bench
NIH's Fellows Committee (FelCom) offers a variety of activities and useful resources for trainees, including the opportunity to participate in community-service activities through its Service and Outreach Subcommittee (SOS). Recently, the SOS partnered with fellows from the Uniformed Services University of the Health Sciences as well as with local Cub Scout and Girl Scout troops to host the annual "Safra Spring Fling" at NIH's Edmond J. Safra Family Lodge.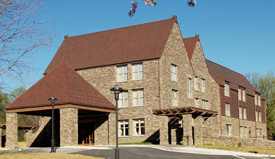 The Safra Lodge provides a homelike temporary residence for families and loved ones of adult patients being treated in the NIH Clinical Center. Although the Lodge provides free onsite housing, it is unable to offer meals beyond a free continental breakfast. Residents may choose to eat out or shop locally for groceries and prepare meals in the Lodge's communal kitchen. But every year since 2011, the SOS has hosted a luncheon that brings food, crafts, and cheer to residents.
In addition to the annual luncheon, the SOS also conducts an NIH-wide food drive to stock Safra Lodge's pantry. These items help families and caregivers who arrive late at night, who don't have time to shop during the day, or who are having financial difficulties. SOS welcomes the opportunity to give back to the NIH community by helping Clinical Center patients, their families, and other loved ones.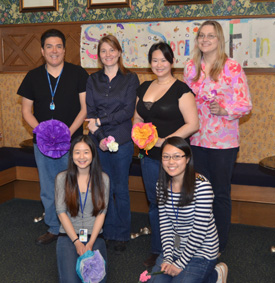 The SOS brings fellows together in other ways to give back to the NIH and Greater Washington, D.C., communities. Fellows can volunteer to participate in group-service projects throughout the region; to judge science fairs at local schools or participate in other science-related activities; or be involved in non-group-service programs.
SOS is but one of many of FelCom's activities. FelCom represents the needs and concerns of clinical and basic science fellows, advocates for fellows, provides mentoring and career-development opportunities, and has developed a fellowship network within the NIH community. The committee works closely with the Office of Intramural Training and Education, the Office of Intramural Research, and each institute's training directors.
FelCom meets monthly to discuss issues relevant to and concerns of clinical and basic research fellows; meetings are the first Thursday of every month at 4:00 p.m. in Wilson Hall (third floor, Building One). All are welcome to attend. If you would like to become involved or find out more information about Felcom, visit https://www.training.nih.gov/felcom.
---
Disclaimer: FelCom and SOS events are not NIH sponsored, nor are they endorsed by the NIH. If you attend an event you are not representing the NIH and should not represent yourself as such. Volunteering and outreach are valuable components of professional development and also help strengthen the scientific community. Fellows should weigh the importance of specific activities in their overall career development. If the event falls on a weekday and requires you to leave the NIH during normal working hours, participation depends on permission of your supervisor.
This page was last updated on Wednesday, April 27, 2022