Announcements
AWARDS
National Academy of Sciences: In April 2014, Carolina Barillas-Mury (NIAID), Marius G. Clore (NIDDK), and Shiv I. Grewal (NCI) were elected to the National Academy of Sciences, one of the highest honors a scientist can receive. The awardees will present their work at a mini symposium on Monday, June 16, 10:30 a.m.–12:30 p.m., in Masur Auditorium (Building 10)
American Academy of Arts and Sciences: Donald Lee Court (NCI), Thomas A. Kunkel (NIEHS), and Shiv I. Grewal (NCI) were elected to the American Academy of Arts and Sciences in April 2014. Other notable members of the 2014 class include actor Alfredo "Al" Pacino; New York Philharmonic Orchestra Music Director Alan Gilbert; and award-winning American author Adam Hochschild.
---
"SEX DIFFERENCES IN NEUROSCIENCE: PAST, PRESENT, AND FUTURE PERSPECTIVES"
Wednesday, May 14, 2014
2:00–4:00 p.m.
Lipsett Amphitheater (Building 10)
As part of National Women's Health Week, May 11-17, the Office of Research on Women's Health (ORWH) will present its annual scientific forum. This year's symposium will explore perspectives on the role of sex and gender in the brain and beyond. Featured speakers include: Story Landis (director, NINDS), Cheryl Bushnell (associate professor of neurology and director, Wake Forest Baptist Stroke Center), and Margaret McCarthy (professor and chair, Department of Pharmacology, Program in Neuroscience, University of Maryland School of Medicine); and Janine Austin Clayton (director, ORWH). For more information, contact Leah Miller (leah.miller@nih.gov) or visit ORWH's Web site at http://www.nih.gov/women.
---
KUAN–TEH JEANG MEMORIAL LECTURE
"KSHV and MCV: Two Views on Virus-induced Cancer"
Thursday, May 15, 2014; Noon–1:00 p.m.
Lipsett Amphitheater (Building 10)
2:00 p.m.: Dedication of Jeang Memorial Garden between Buildings 31 and 6
Open to the public; no registration required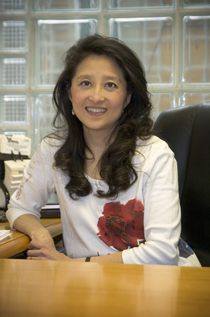 The featured speaker, Yuan Chang (University of Pittsburgh Cancer Institute), is the co-discoverer of Kaposi's sarcoma–associated herpesvirus (KSHV) and Merkel cell polyomavirus (MCV). For more information, contact Roland Owens (301-594‐7471 or owensrol@mail.nih.gov). For more about Chang go to http://www.mvm.pitt.edu/node/275.
---
FIRST ANNUAL C. EVERETT KOOP NIH MEMORIAL SYMPOSIUM ON WOMEN'S HEALTH RESEARCH
A Celebration of Patient-Centered Basic Research.
Friday, May 16, 2014
Registration 7:30–8:00 a.m.
Program: 8:00.–3:00 p.m.
Masur Auditorium (Building 10)
The theme for this event, held in conjunction with National Women's Health Week, is "Empowering Women with Uniformed Service." This symposium honors the legacy of former U.S. Surgeon General C. Everett Koop and all who advance women's health research by serving in the Uniformed Services of the U.S. Government. The symposium features more than a dozen speakers, including Acting U.S. Surgeon General Rear Admiral Boris D. Lushniak, presenting on a range of women's health issues. Topics include the epigenetic reprogramming of the female reproductive tract, community-based participatory research, and military medicine.
Presentations include: "Treating Choriocarcinoma (William E. Paul, NINDS); "Community-Based Participatory Research" (Thomas Prohaska, George Mason University); "Lessons from Military Medicine" (Rear Admiral Brian S. Pecha, USMC); panel discussion on "Community-Based Participatory Research"; "Epigenetic Reprogramming of Female Reproductive Tract Function by Neonatal Estrogen Exposure" (Carmen J. Williams, NIEHS). All are welcome. For more information, go to http://calendar.nih.gov/app/MCalInfoView.aspx?EvtID=28653
---
BUILD YOUR CAREER; SHAPE YOUR FUTURE: NIH CAREER SYMPOSIUM
May 16, 2014
8:30 a.m.–5:00 p.m. (keynote at 8:40 a.m.)
Natcher Conference Center (Building 45)
To register and for more information: http://www.training.nih.gov
The NIH Office of Intramural Training and Education invites all NIH graduate students and postdoctoral trainees, both basic scientists and clinicians, to participate in this symposium, which provides an opportunity to learn about scientific career options and explore factors that lead to career success. The keynote speaker will be Gail Cassell, former vice president of Eli Lilly. Panel sessions cover academic, government, industry, and nonprofit career paths. More than 80 speakers will provide insights into their careers: what their current jobs entail, the pluses and minuses, and how they got there.\
---
NINR DIRECTOR'S LECTURE WITH UCSF'S BARBARA DREW
"Electrocardiographic Monitoring: Two Decades of Discovery"
Tuesday, May 20, 2014
10:30–11:30 a.m.
Natcher Conference Center (Building 45), Balcony C
Barbara Drew (University of California, San Francisco) has taught clinical electrocardiography (ECG) to medical students, residents, and graduate nursing students for more than 30 years. She founded the ECG Monitoring Research Lab at the UCSF School of Nursing and mentored numerous graduate students pursuing studies in the field. Drew will discuss her research, which aims to improve cardiac-monitoring techniques and clinical practices in hospital and prehospital settings for more accurate diagnosis of cardiac arrhythmias, myocardial ischemia, and drug-induced long QT syndrome. The lecture will be videocast (http://videocast.nih.gov). For more information, visit http://www.ninr.nih.gov/directorslecture. For reasonable accommodation (sign language interpretation will be provided), e-mail info@ninr.nih.gov or call 301-594-8011.
---
WEDNESDAY AFTERNOON LECTURE SERIES (WALS)
Wednesdays 3:00–4:00 p.m.
Masur Auditorium (Building 10)
May 7: Ulrike Heberlein (HHMI Janelia Farm), "Sex, Flies and Videotape: How Social Experience Shapes Behavior"
May 14: The Annual R. E. Dyer Lecture: Akiko Iwasaki (Yale), "Antiviral Defense Mechanisms at the Mucosal Surfaces"
May 21: Ron Kahn (Harvard), "Interplay between Genes and Environment in Insulin Resistance and Metabolic Syndrome: The Unique Role of the Gut Microbiome"
May 28: Kaspar Locher (Eidgenössische Technische Hochschule Zürich), "ABC Transporters: Structures, Functions, and Reaction Mechanisms"
June 4: Karina Walters (University of Washington), "Innovation of Methods and Measures of Historical Trauma and Micro Aggression"
June 11: The Annual Marshall W. Nirenberg Lecture: Karl Deisseroth (Stanford), "Optical Deconstruction of Fully-assembled Biological Systems"
June 18: Donald Ingber (Wyss Institute and Harvard), "Human Organs on Chips and programmable Nanotherapeutics"
June 25: Jorge Galán (Yale Medical School), "Typhoid Toxin: A Window into the Unique Biology of Salmonella typhi"
For a complete WALS schedule, go to http://wals.od.nih.gov.
---
LIPID MEDIATORS AND THE REGULATION OF INFLAMMATION AND DISEASE
The Cytokine Interest Group is sponsoring this daylong symposium. Confirmed outside speakers are Charles N. Serhan (Harvard Medical School), Edward A. Dennis (University of California, San Diego), Maziar Divangahi (McGill University), and Bruce D. Levy (Harvard Medical School). This meeting will also highlight intramural work in this exciting area; send abstracts for oral presentations to Katrin Mayer-Barber (mayerk@niaid.nih.gov) or Marta Catalfamo (catalfam@niaid.nih.gov).
---
HISTORY OF MEDICINE LECTURES FOR 2014
Tuesdays, 2:00–3:00 p.m.
NLM Lister Hill Auditorium (Building 38A)
The lecture series of NLM's History of Medicine Division promotes awareness and use of NLM and other historical collections for research, education, and public service in biomedicine, the social sciences, and the humanities. The series also supports the commitment of the NLM to recognizing and celebrating diversity.
All lectures are free and open to the public and are held in the Lister Hill Auditorium or NLM Visitor Center at the National Library of Medicine on the NIH campus in Bethesda, Maryland. For directions and more information please go to Visit Us. (http://www.nlm.nih.gov/hmd/about/visitus.html)
Tuesday, June 17: "Losing The Miracle? Agriculture, the FDA, and the Controversy Over Farm Antibiotics"
Maryn McKenna, MSJ, Senior Fellow, Schuster Institute for Investigative Journalism, Brandeis University
The discovery that antibiotics could improve yield in livestock production was made in 1948, at the start of the antibiotic era, and within a decade, the drugs' administration became routine. By 1969, the first alarms had been raised that antibiotic resistance was moving off farms to undermine the drugs' usefulness to society, and in 1977, the US Food and Drug Administration proposed withdrawing its approval for farm use. It was never successful; agricultural antibiotic use continued. Fifty years later, non-therapeutic use of antibiotics remains common in US agriculture; meanwhile, public health and medical, and even Congressional, opposition have risen—and so has the rate of emergence of antibiotic resistance worldwide. Will the dispute ever be resolved?
Tuesday, July 15, 2014: The 2014 James H. Cassedy Memorial Lecture
"Anatomy Acts and the Shaping of the American Medical Profession's Social Contract"
Dale Smith, PhD, Uniformed Services University of the Health Sciences
A profession is a self-regulating community of experts given special privileges by a society in return for meeting special obligations, the members do socially significant work that the average person cannot do for themselves. This relationship has often been called a social contract. Great physician leaders since the time of the Hippocratics had been offering society a profession—a community of practitioners committed to patient care, high moral values, and lifelong learning—but societies across the ancient world and early modern Europe were reluctant to set physicians apart, only doing so in very limited ways and, commonly, only for the well to do.
---
NIH COMMON FUND 10-YEAR COMMEMORATION SYMPOSIUM
Thursday, June 19, 2014
8:30 a.m.–5:00 p.m.
Masur Auditorium (Building 10)
The Office of the Director will host a symposium celebrating 10 years of achievement by the NIH Roadmap/Common Fund. Join us as we look back over a decade of discovery and celebrate the extraordinary achievements of this unique set of programs. Featured speakers include NIH Director Francis Collins, former NIH Director Elias Zerhouni, and Common Fund grantees from multiple scientific disciplines. The symposium will also feature award-winning videos and a song from Common Fund grantees. Details and agenda coming soon on the Common Fund Web site (http://commonfund.nih.gov/), or contact Rachel Britt (Rachel.britt@nih.gov) for more information.
---
NIH GRADUATE AND PROFESSIONAL SCHOOL FAIR
Wednesday, July 16
9:00 a.m.–3:30 p.m.
Exhibits will be open 10:00 a.m.–2:15 p.m.
Natcher Conference Center (Building 45)
Register at https://www.training.nih.gov/gp_fair
The fair provides an opportunity for NIH summer interns (especially those in college) and postbacs, as well as other college students in the D.C. area, to prepare for the next step in their careers by exploring educational programs leading to the Ph.D., M.D., D.D.S., M.D.–Ph.D., and other graduate and professional degrees. More than 150 outstanding colleges and universities from across the United States will be sending representatives from their graduate schools, medical and dental schools, schools of public health, and other biomedically relevant programs to the fair in the hopes of recruiting NIH trainees. The day will also include workshops on getting into graduate and professional school, M.D.–Ph.D. programs, interviewing, and careers in public health, psychology, and dentistry. New this year: a diversity discussion series. A list of participating institutions can be found at the registration Web site.
---
TRANSDISCIPLINARY NIEHS POSTDOCTORAL POSITIONS AT NIEHS
Specialty Focus: Epigenetics or Stem-Cell Research
Applications due by the end of May
NIEHS, in Research Triangle Park, N.C., is seeking applicants for two new unique postdoctoral fellowship positions that provide transdisciplinary training across scientific and administrative areas. Both positions will last up to five years. Trainees will gain extensive laboratory training in either epigenetics research or stem-cell research in the NIEHS Division of Intramural Research (DIR). DIR is also partnering with the Division of Extramural Research and Training and the Division of the National Toxicology Program to broaden the fellows' experience in grants administration, data analysis, environmental-health policy, and toxicology. Individuals will be mentored by faculty from each of the three divisions and will get broad-based experiences in environmental health–focused basic-laboratory research; grant preparation; program development, review, and analysis; and applied toxicological research and testing. Trainees at NIH are eligible to apply. Applicants should possess a Ph.D. in biology or chemistry, an M.D., or the equivalent, and have either graduate or postdoctoral experience in stem-cell or epigenetic research. For more information contact Rajendara S. Chhabra at chhabrar@niehs.nih.gov or 919-541-3386; or go to http://www.niehs.nih.gov/careers/research/.
---
2014 BENCH-TO-BEDSIDE AWARDS
Letters of Intent Due June 18, 2014
The Bench-to-Bedside program is soliciting proposals for the FY2014 award cycle. Up to $135,000 per year for two years is available to support clinical-research intramural-extramural partnerships. All NIH intramural investigators are eligible to serve as project leaders on proposals that require a partnership between a basic and a clinical scientist. The proposals can involve only intramural investigators, but priority will be given to proposals with intramural and extramural partners. Extramural partners need to have an existing NIH grant, which will be supplemented for successful applications. Extramural investigators are also invited to initiate proposals and serve as project leaders with an intramural partner who will be responsible for coordination of proposal submissions. For more information visit http://www.cc.nih.gov/ccc/btb/awards.shtml or e-mail BenchtoBedside@mail.nih.gov.
---
THE NIH VOLUNTARY LEAVE BANK: BECOME A 2014 MEMBER!
The Office of Human Resources is pleased to announce a second open enrollment for the NIH Voluntary Leave Bank. The Leave Bank is a pooled bank of donated annual and restored leave available to eligible members. It offers income protection and amounts to paid leave for members who have exhausted all their leave and are affected by a personal or family medical emergency or condition. The Leave Bank differs from the Voluntary Leave Transfer Program (VLTP) in that the bank is a depository of leave, and leave is distributed to members who are approved to be leave recipients; whereas the VLTP requires a direct donation from a donor to a recipient. An advantage of the Leave Bank is that eligible members may receive leave from the bank to cover time out of the office without awaiting donations. If you missed the first open enrollment, now is the final opportunity to become a 2014 member. Enrollment is open to all NIH federal employees. The open enrollment will run May 1–30. The membership period will begin June 29, 2014. To elect to become a member, access ITAS during the open enrollment and enroll under "Leave Bank Membership." The membership contribution is one pay period's worth of annual leave accrual. ITAS is available at https://itas.nih.gov. For more information, visit http://hr.od.nih.gov/benefits/leave/vlbp/default.htm. For questions, call or e-mail the NIH Leave Bank Office (301-443-8393 or LeaveBank@od.nih.gov).
---
NIH SUPPLY CENTER: MAKE IT YOUR FIRST CHOICE FOR SUPPLIES
The NIH Supply Center (NIH-SC), located in Gaithersburg, Md., provides medical, laboratory, and general supplies to the NIH community, often at better prices than what can be obtained by going directly to a vendor. In addition, there are no state taxes; no delivery charges; and no minimum-order quantity or dollar limit; it often takes less time to order supplies than when using a government purchase card.
Self-Service Store (SSS): Store hours have changed for the two SSSs in Buildings 10 and 31; the stores are now open 9:00 a.m.–4:00 p.m. and remain open through lunch. For questions, e-mail nihsupplycenter@od.nih.gov; call the customer service representative at 301-496-3517; or visit NIH-SC's Web site at https://nihsc.od.nih.gov.
---
NIH INFORMATION SECURITY AND PRIVACY AWARENESS TRAINING
Combined into One Course
The Information Security and Privacy Awareness Refresher courses have been combined into one course. The new format includes Information Security and Privacy modules and provides a bookmarking feature that allows you to return to the location where you left the course. This course is different from the NIH HIPAA General Awareness course, which you may have already been instructed to complete. Completion of the FY14 Annual Refresher will provide you with valuable information about your responsibilities to secure NIH resources and protect all forms of personal information, whether it belongs to you, NIH staff, member of the public, or a research-study participant. As you complete both modules, you will also hear about what you can do in the event NIH equipment is lost, or protected health information is transmitted unencrypted, to mitigate the risk of harm to the individuals whose information has been compromised.
You will be notified by your institute's or center's (IC) Information Systems Security Officer (ISSO) and/or Privacy Coordinator to take the training within a specified timeframe.
To complete the FY14 Annual Refresher by the deadline set by your IC, click here to visit the NIH Information Security and Privacy Awareness Training Website. [http://irtsectraining.nih.gov]
For questions, contact Karen Plá (301-402-6201 or plak@mail.nih.gov) or Cheryl Ann Seaman (301-402-4461 or cheryl.seaman@nih.gov
This page was last updated on Wednesday, April 27, 2022