Preparing for Dental School
Deaf College Grad Wins Spot in NIH Lab
Marian Young was bowled over when a recent college graduate e-mailed saying he wanted to help with her temporomandibular joint (TMJ) osteoarthritis research before he entered dental school. Although she gets many requests from students wanting to intern in her lab in the National Institute of Dental and Craniofacial Research (NIDCR), "it's very rare to get a student with a specific interest in an area in which you're working," she said. The postbac—Andrew Donald—said that Young's work on jaw joints was related to a clinical case study he had done as an undergraduate.
Young wasted no time in inviting Donald to her lab in Building 30 for an interview. What she didn't know yet was that Donald could only communicate through American Sign Language or written or typed text.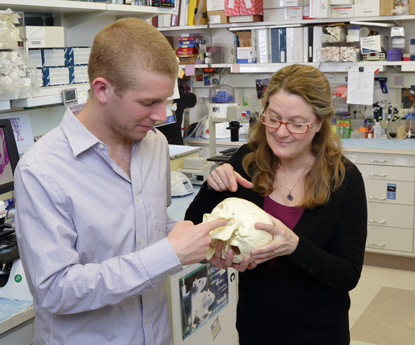 "I hadn't said anything about being deaf in the e-mail," the aspiring dentist admitted later. "I really didn't realize that I hadn't mentioned it."
But his deafness didn't faze Young, and she was eager to begin the interview. Rather than wait for a sign-language interpreter, they took turns typing on a laptop. Donald seemed so grounded and confident that Young immediately realized he'd be a great addition to her lab and "hired" him as soon as he got funding via a postbac Intramural Research Training Award (IRTA). Now they routinely use an iPad tablet computer to communicate by typing their conversation. They often bring in sign-language interpreters from Access Interpreting, Inc. (Washington, D.C.), too.
"They come often, and they are extremely helpful," said Young. "They are with us at least twice a week for our branch seminar and our extended lab meeting and for other occasions [such as] the matrix club I manage or for extra help with discuss[ions] with a special guest to explain how we work with the TMJ."
Young, who is chief of NIDCR's Molecular Biology of Teeth and Bones Section in the Craniofacial and Skeletal Diseases Branch, investigates extracellular matrix (ECM) proteins in skeletal tissue. She focuses on how small proteoglycans may play a role in controlling pathological skeletal conditions such as osteoporosis and osteoarthritis. In her TMJ research, her lab is working with genetically modified mice that are deficient in genes for two proteoglycans—biglycan and fibromodulin—that are normally abundant in the TMJ. Mice with both mutant genes develop features of classic osteoarthritis, a degenerative disease that is marked by permanent cartilage destruction and loss of ECM, in their TMJs.
Donald wanted to be part of a scientific investigation so he could better understand how research provides evidence that can be translated into the clinical practice of dentistry. His contributions to Young's research included mastering the tricky three-dimensional imaging of bone with microcomputed tomographic (micro-CT) methods and writing standard operating procedures.
Although researchers already use micro-CT to image spinal vertebrae, the femur bone in the leg, and other noncraniofacial bones, Donald had to figure out how to use it to analyze the bony tissue in the complex TMJ. Donald's images will enable an examination of the effects that knocking out biglycan and fibromodulin genes have on TMJ bone erosion. He also had to master the software that manages the resulting data.
He was surprised by how long it takes to do real research. In school, students typically do a lab once and they're done. In a research lab, "you do things over and over again in order to become proficient," he said. Nevertheless, he grew to appreciate that the lab procedures helped him to understand "what is happening with the bone, with teeth movement, and how the mandible is involved."
Research "takes great patience," said Young. "You have to be willing to accept failure and not take it personally."
Before working in Young's lab, Donald earned a B.S. degree in biomedical sciences from the Rochester Institute of Technology (Rochester, N.Y.). In addition to being a postbac IRTA, he participated in the NIH Academy to advance his knowledge about health disparities. He is particularly interested in ensuring that deaf people have access to dental care. He's also developing a blog and videos that explain dental terms in sign language so deaf people have the opportunity to be more educated about dental care before they go to the dentist.
This summer Donald begins the four-year program at the University of Maryland School of Dentistry (Baltimore). In 2018, he plans to begin working in his dentist's thriving practice in Maryland and hopes one day to have a practice of his own. His dentist is also deaf.
"I am really happy [at NIH] conducting a dental research project," he said. "And I definitely feel more comfortable and ready to go to dental school."
---
For more information on the NIH Academy, which trains postbacs to do research on health disparities, visit https://www.training.nih.gov/new_nih_academy_home or contact Shauna Clark (clarkshauna@od.nih.gov)
This page was last updated on Wednesday, April 27, 2022