News Briefs
HIPPOCRATES TREE RETURNS TO NIH
NIH celebrated Arbor Day and DNA Day in one fell swoop on Friday, April 25, by hosting a ceremony to plant a clone (cutting) of the original "Tree of Hippocrates" on the lawn next to the National Library of Medicine (NLM). Special guest Greek Ambassador Christos P. Panagopoulos joined the festivities, too. The tree replaced one that the Greek Embassy had presented to NIH in 1961.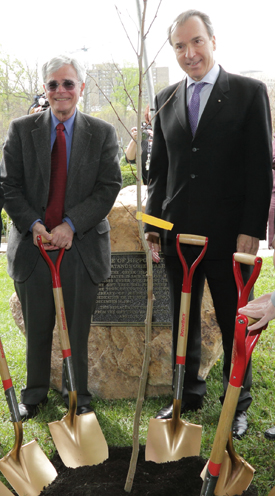 Hippocrates, regarded as the father of modern medicine, was born on the Greek island of Cos around 460 B.C.E. According to legend, he taught medical students in the shade of an Oriental plane tree, or Platanus orientalis. Members of the genus Platanus are known for their long life.
Two thousand plus years after Hippocrates, the "Tree of Hippocrates" became rooted in the history of NIH. In 1961, then Greek Ambassador Alexis Liatis presented the NLM with a cutting from a plane tree in Cos to mark the dedication of the library's new building on the NIH campus. Although only 500 years old, this plane tree may be a descendent of the one under which Hippocrates taught.
The tree at NIH grew and thrived. But in the 1980s, its health declined because of a fungal disease. NIH landscape architect Lynn Mueller spent decades trying to restore the tree's health while simultaneously exploring a clone. Eventually, he connected with the nonprofit Champion Tree Project, now known as the Archangel Ancient Tree Archive, which successfully cloned the historic tree. A second clone was also planted near the NIH Clinical Research Center on April 25.
The Smithsonian's Laboratories of Analytical Biology identified the genetic fingerprint of the Hippocrates Tree, too. Researchers extracted DNA from the bark of NIH's dead clone to produce the DNA sequence.
Lynn Mueller, NIH chief landscape architect, explains what a plant clone is:
In plant terminology, a clone is a cutting of the parent tree. The cutting is taken at a particular time of year, various rooting hormones are applied to the stem, and the branch placed into a sterile, high humidity environment. Rooting takes place in a couple of months. It is then placed in a more exposed environment to "harden off'" and eventually taken outdoors to face the real world. So it's an actual clone of the parent tree, exact same DNA, but not created from stem cells.
---
NIH CENTER FOR REGENERATIVE MEDICINE (CRM)
The report in Nature that the NIH CRM is being closed was mistaken (Nature 508:157, 2014). Although it's true that CRM Director Mahendra Rao—who was appointed to that post in 2011—resigned in March 2014, the CRM continues, albeit in a new direction. According to its Web site, CRM "is at a transition point." To learn more go to http://commonfund.nih.gov/stemcells.
---
HANNAH VALANTINE, M.D., NIH CHIEF OFFICER FOR SCIENTIFIC WORKFORCE DIVERSITY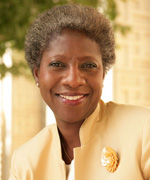 Welcome to Hannah Valantine, NIH's first chief officer for Scientific Workforce Diversity. She will lead NIH's efforts to diversify the biomedical research workforce by developing a vision and a comprehensive strategy to expand recruitment and retention and promote inclusiveness and equity throughout the biomedical-research enterprise. Before coming to NIH, Valantine was the senior associate dean for diversity and leadership at the Stanford University School of Medicine (Stanford, Calif.) and professor of cardiovascular medicine at Stanford University Medical Center. Stay tuned for an in-depth article on Valantine in the near future.
---
SEBELIUS RESIGNS
Kathleen Sebelius announced her resignation as Health and Human Services (HHS) Secretary on Friday, April 11, 2014. A former governor of Kansas (2003–2009), Sebelius had served as HHS secretary since April 28, 2009. President Barack Obama has nominated Sylvia Mathews Burwell, director of the Office of Management and Budget, to replace her. Burwell's appointment is awaiting Senate approval.
---
TECHNICAL SALES ASSOCIATION RESEARCH FESTIVAL EXHIBIT TENT SHOW

The Technical Sales Association Research Festival Exhibit Tent Show, postponed from October when the government shut down, took place on
Wednesday, April 23, and Thursday, April 24, in the parking lot south of Building 10. Many leading regional and national biomedical research suppliers displayed state-of-the-art equipment, supplies, and services. There were even a couple of giant mobile "laboratories"—such as this Beckman Coulter Discovery in Motion Tour bus—in which company representatives demonstrated instruments, equipment, and software,
This page was last updated on Wednesday, April 27, 2022