From the Deputy Director for Intramural Research
Foundations at NIH: To Help NIH When It Cannot Help Itself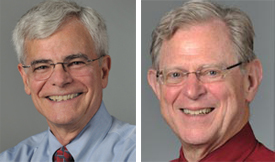 Many folks have been asking us recently about the roles of two foundations associated with the NIH: essentially, what they fund and how. These organizations—the Foundation for NIH (FNIH) and the Foundation for Advanced Education in the Sciences (FAES)—indeed have helped fund many important priorities at NIH. They are important partners in improving the scientific and training environment because NIHers are not allowed to ask anyone outside the NIH for money.
Foundation for the National Institutes of Health
In 1990, the U.S. Congress created the FNIH as a 501(c)(3) nonprofit charitable organization and authorized it to raise private-sector funds in support of the mission and work of the NIH. FNIH also facilitates public-private partnerships for biomedical research and training. FNIH, which began its work in 1996, has raised almost $700 million to support a broad portfolio of unique programs that complement and enhance NIH priorities and activities.
Some of the past and present FNIH-supported projects include:
Grand Challenges for Global Health through the Bill and Melinda Gates Foundation to address issues of global health
The NIH Medical Research Scholars Program, which provides a mentored research-training experience to medical, dental, and veterinary students at NIH
Construction of the Edmond J. Safra Family Lodge on the NIH campus as a home away from home for families of patients taking part in clinical trials at NIH
The Biomarkers Consortium, a collaboration among NIH, pharmaceutical companies, and the FDA to develop and qualify biological markers to support new drug development and enhance clinical care
The establishment of the Norman P. Salzman Memorial Award and Symposium to honor an NIH pioneer in molecular virology
New procedures have recently been introduced that direct all "requests for collaboration" to proceed only with the approval of an institute or center (IC) director, endorsement by an NIH steering committee, and final consideration and approval by the FNIH Board of Directors. This process assures that the proposed collaborations support the mutual interests of both the NIH and the FNIH.
Maria Freire was recently appointed as the new FNIH executive director. She brings enthusiasm and excitement to the FNIH and is familiar with the NIH: She served as director of the Office of Technology Transfer from 1995 to 2001. She also understands the foundation world and most recently was president of the esteemed Lasker Foundation in New York. FNIH's board of directors, which meets regularly, is made up of talented and well-known academic, corporate, and philanthropic leaders from around the country.
Foundation for Advanced Education in the Sciences
The FAES was founded in 1959 by NIH scientists to serve selected needs of the NIH Intramural Research Program. In contrast to the FNIH, it lacks specific Congressional authorization and thus operates as an independent nonprofit organization in cooperation with FNIH. It does not typically solicit donations from outside sources but holds assets and conducts special programs that serve the intramural community.
NIH programs that wish to develop partnerships with FAES should create a memorandum of understanding, which must be reviewed by the originating IC and approved by the Office of Intramural Research before it can be sent to the FAES for consideration. Selected examples of FAES programs include:
Graduate educational program that includes evening classes as well as specialized instruction in biotechniques (Bio-Trac)
A health-insurance program for NIH fellows who are not eligible for federal employee benefits
A variety of other enterprises and activities, including a bookstore, a chamber music series, and housing opportunities
Most recently, FAES has funded the construction of an FAES Academic Center (FAC) that includes new classrooms, a graduate student lounge, a coffee shop and bookstore, and FAES administrative offices. The FAC is located in the former Visitor Information Center in the heart of Building 10. FAC, scheduled to open this summer, is expected to become a focal point for FAES classes, scientific lectures and conferences, and even the 2013 NIH Research Festival this fall. The NIH is grateful to FAES for its generosity in creating this highly useful, attractive addition that will meet NIH needs for meeting and gathering space. (See https://irp.nih.gov/catalyst/v21i3/faes-opens-new-academic-center)
The FAES is a membership organization governed by a board of directors. The board president is Earl Laurence (retired NIDDK executive officer) and the president-elect is Angela Gronenborn (former chief of structural biology at NIDDK and now at the University of Pittsburgh School of Medicine). FAES executive director is Christina Farias who was formerly at the Georgetown University Law School in Washington, D.C.
---
We welcome your comments about the roles that FNIH and FAES have played and might play in the future in helping NIH scientists. For more information about FNIH and FAES, visit http://www.fnih.org and https://faes.org/.
This page was last updated on Thursday, April 28, 2022