Announcements
GENOME EXHIBIT COMING TO THE SMITHSONIAN: VOLUNTEERS NEEDED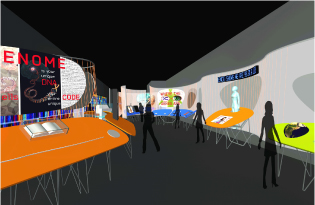 In a year marking the 10th anniversary of the completion of the Human Genome Project, as well as the 60th anniversary of Francis Crick and James Watson's elucidation of DNA's double-helix structure, the Smithsonian Institution joins forces with the National Human Genome Research Institute to explore what the genome is, what it tells us, and how this information may revolutionize health care and our understanding of the natural world. A new exhibition, "Genome: Unlocking Life's Code," will run June 14, 2013, through September 1, 2014, at the Smithsonian's National Museum of Natural History (http://www.mnh.si.edu). Hands-on activities, videos, specimens, artifacts, and engaging educational resources will acquaint visitors with the role of genomic science through displays on the natural world, cancer, genetic testing, personalized medicine, comparative genomics, human ancestry, and genomics' ethical, legal, and social implications. After its stay at the Smithsonian, the show will travel to other North American museums for an additional four years. Nature magazine has already identified this exciting exhibition as a "Hot ticket for 2013 in Science and Art."
Volunteers (with or without scientific backgrounds) with an interest in human genomics are welcome to participate in informal education programs associated with the exhibit. "The Scientist Is In" will select volunteers from among senior investigators and clinicians, staff scientists, and extramural staff. A second program, "Genomic Nerds," is available to graduate students, research and clinical fellows, and postdocs. A third opportunity, open to all NIH staff with good communication skills, is for "Hands-on Activity Guides" to lead activities such as visitors isolating their own DNA. Volunteers will receive training. A previous deep knowledge of genetics and genomics is not required. For more information, contact Belen Hurle at bhurle@mail.nih.gov or NMNHVolunteer@si.edu.
---
THE NIH DIRECTOR'S AWARDS CEREMONY
Wednesday, June 12, 2013
2:00 p.m.
Ruth L. Kirschstein Auditorium
Natcher Building (Building 45)
All employees are invited to attend the 2013 NIH Director's Awards Ceremony. Each year, we come together to honor NIH employees for the outstanding way they support the mission of the NIH. Awards will be presented in six categories: Director's Awards (Scientific/Medical, Administrative, and Technical/Clerical/Support); Common Fund Leadership Awards; Ruth L. Kirschstein Mentoring Awards; Alan S. Rabson Award for Clinical Care; Commissioned Corps Awards; and Equal Employment Opportunity Awards. A reception will be held after the ceremony in the Natcher dining room. Sign language interpreters will be provided. Individuals with disabilities who need reasonable accommodations to participate in the event should contact Moniqua Roberts at 301-496-6211 or nihawards@od.nih.gov. To watch the live videocast, visit http://videocast.nih.gov.
---
NIH GRADUATE AND PROFESSIONAL SCHOOL FAIR
Wednesday, July 17, 2013
9:00 a.m.–3:00 p.m.
Natcher Conference Center (Building 45)
The fair provides an opportunity for NIH summer interns (especially those in college) and postbacs, as well as other college students in the D.C. area, to prepare for the next step in their careers by exploring educational programs leading to the Ph.D., M.D., D.D.S., M.D.-Ph.D., and other graduate and professional degrees. More than 100 outstanding colleges and universities from across the United States will be sending representatives of their graduate schools, medical and dental schools, schools of public health, and other biomedicine-related programs to the fair in hopes of recruiting NIH trainees. The day will also include workshops on getting to graduate and professional school, M.D.-Ph.D. programs, interviewing, and careers in public health, psychology, and dentistry. Exhibits will be open from 10:00 a.m. to 1:45 p.m. A list of participating institutions planning to attend and registration information can be found at https://www.training.nih.gov/gp_fair.
---
LABORATORY SAFETY TRAINING
NIH's Division of Occupational Health and Safety (DOHS) is dedicated to preserving a safe and healthful workplace for all NIH personnel. Training is essential for achieving consistent safe operations in the workplace as well as reducing injuries and illnesses. The Occupational Safety and Health Administration (OSHA) stresses safety training in their regulations to ensure that personnel understand their responsibility and accountability for a safe and healthful work place. DOHS provides training to comply with Federal, State and local laws, policies and regulations. Further training on Standard Operating Procedures in the laboratory is also required to ensure safety for personnel. As technologies in the laboratory evolve, training must match the situations. Contact the DOHS office for assistance with your concerns or questions regarding safety and health at work (call 301-496-2346). For more information and a list of laboratory safety training courses, visit https://www.safetytraining.nih.gov.
---
REMINDER: TAKE THE SECURITY AND PRIVACY REFRESHER TRAINING!
All NIH staff must complete the FY13 annual "Information Security and Privacy Awareness Training" refresher courses, which were launched in April. Completion of the courses will provide you with valuable information about your responsibilities to secure NIH resources and protect all forms of personal information, whether it belongs to you, members of the public, grant applicants, research-study participants, or patients of the NIH Clinical Center. To meet your annual training requirement, visit http://irtsectraining.nih.gov.
---
AWARDS
Harvey Alter Wins 2013 Gairdner Award
Harvey Alter, chief of clinical studies and associate director of research in the Clinical Center's Department of Transfusion Medicine, has been selected to receive the 2013 prestigious Canada Gairdner International Award at the conclusion of the Gairdner National Program events on October 24, 2013, in Toronto. Alter will share the award with Daniel Bradley, a consultant at the Centers for Disease Control and Prevention, and Michael Houghton, a researcher and professor at the University of Alberta (Edmonton, Canada) in recognition of their critical contributions to the discovery and isolation of the hepatitis C virus, which has led to development of new diagnostic and therapeutic agents. The announcement was made on March 20, 2013.
Thirty years ago, about a third of transfused people received tainted blood, which later inflamed their livers, producing hepatitis (also called viral hepatitis), the leading cause of cirrhosis and liver cancer and the most common reason for liver transplantation. Alter was the principal investigator on studies that identified non-A, non-B hepatitis, now called hepatitis C. Alter's work was instrumental in providing the scientific basis for instituting blood-donor screening programs, which have decreased the incidence of transfusion-transmitted hepatitis to near zero. To view a video of Alter describing his work in hepatitis research, visit the NIH YouTube channel at https://www.youtube.com/watch?v=R2GBXuSYnWk. The Canada Gairdner International Award is given to individuals who have demonstrated outstanding leadership in medicine and medical science and whose work has contributed significantly to improving the quality of human life. To date there have been 313 awardees, of whom 80 have gone on to win a Nobel prize in physiology or medicine.
---
Louis Staudt and Wei Yang Elected to NAS
Lou Staudt and Wei Yang have been elected into the National Academy of Sciences, according to an announcement on April 30, 2013. They are among 84 new members. Members are elected to the National Academy of Sciences in recognition of their distinguished and continuing achievements in original research. Yang is the section chief of NIDDK's Laboratory of Molecular Biology. Her lab studies mismatch repair, a process that corrects replication errors, and translesion DNA synthesis, which completes DNA replication when normal polymerases are stalled by damaged bases and V(D)J recombination. The researchers also use sequence-specific nuclease recombination activating genes 1 and 2 and nonhomologous end joining to assemble millions of antigen receptor genes for lymphocyte maturation.
Staudt is deputy chief of NCI CCR's Metabolism Branch. His laboratory studies the molecular pathogenesis of human lymphoid malignancies and has three primary goals: to establish a new molecular diagnosis of human lymphoid malignancies using gene-expression profiling, to elucidate the oncogenic pathways that result in malignant transformation of normal B lymphocytes, and to identify molecular targets for development of novel therapeutics for these cancers.
This page was last updated on Thursday, April 28, 2022