The Perils of Nipah Virus and Ischemic Stroke
NIH's Women Postdocs Are Tackling Challenging Diseases
Nipah virus and stroke were featured at a recent seminar that recognized the achievements of two of NIH's female postdocs: Emmie de Wit and Zhifei Wang, who presented their research at the Women Scientist Advisors (WSA) Scholars Seminar on March 29, 2013.
Emmie de Wit studies virus pathogenesis and transmission in Heinz Feldmann's Laboratory of Virology at the National Institute of Allergy and Infectious Diseases' (NIAID's) Rocky Mountain Labs in Hamilton, Montana. In 2012, she received a Fellows Award for Research Excellence (FARE) for her research on modeling the transmission cycle of the deadly Nipah virus.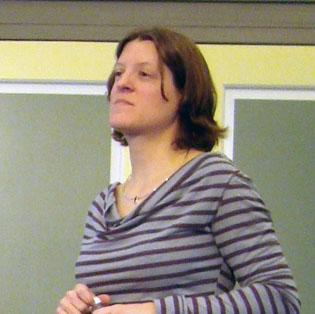 Outbreaks of Nipah virus, which causes severe disease such as encephalitis, occur almost yearly in Bangladesh. The virus is thought to be transmitted from infected fruit bats to humans who consume the raw sap from a date palm tree that has been contaminated by bat urine or saliva. Humans can spread the virus to each other through close physical contact. There is no vaccine or treatment for Nipah virus, and, in Bangladesh, it kills up to 90 percent of the people who become infected, according to de Wit.
To model the transmission cycle of Nipah virus, de Wit exposed Syrian hamsters to artificial date palm sap containing Nipah virus. About 63 percent of the hamsters that drank the contaminated sap developed neurological disease, and the infected animals transmitted the virus to eight percent of their uninfected cage mates (unpublished research).
"Understanding the Nipah virus transmission cycle is essential for mitigating Nipah virus outbreaks," said de Wit. "The limited potential for medical intervention in resource-poor outbreak areas highlights the need for pre-emptive strategies focused on preventing transmission."
De Wit earned her Ph.D. in 2006 from Erasmus University Rotterdam (Rotterdam, The Netherlands) and did her postdoctoral research at Erasmus Medical Center in Rotterdam, studying zoonotic and human-to-human transmission of the influenza A virus. In 2009, she was part of the team that provided the first data on the pathogenesis and transmission of the new H1N1 influenza A virus. Later that year, she became a visiting fellow at the Rocky Mountain Labs in Hamilton, Mont. She has published over 30 manuscripts in peer-reviewed journals, including Science and the New England Journal of Medicine.
Zhifei Wang, who's a postdoc in De-Maw Chuang's laboratory in the National Institute of Mental Health (NIMH), does research on novel therapeutic applications of mood-stabilizing drugs to treat ischemic stroke. She received a FARE award in 2012 for her work showing that treatment with the drug valproate (VPA) enhances post-ischemic angiogenesis in a rat model of ischemic stroke (Stroke 43:2430–2436, 2012). VPA is an FDA-approved product used to treat seizures and bipolar disorder.
Stroke is the second leading cause of death worldwide; 87 percent of strokes are ischemic and caused by a clot in a vessel that supplies blood to the brain. Angiogenesis, the formation of new blood vessels, is known to promote recovery after a stroke. Wang's work demonstrated that in a rat model of middle cerebral artery occlusion, post-ischemic VPA treatment enhances angiogenesis and also improves coordinated locomotor performance, reduces brain infarction, enhances microvessel density, facilitates endothelial cell proliferation, and increases cerebral blood flow in part of the cortex.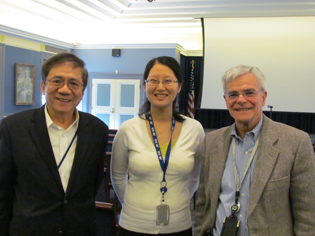 "Combined with its long history of safe use in humans to treat bipolar disorder," said Wang, "these findings may pave the way for clinical trials using valproate to treat stroke."
After receiving her Ph.D. in 2007 from Shanghai Institute of Materia Medica, Chinese Academy of Sciences (Shanghai), Wang began her postdoctoral training at NIMH. In 2011, she received the NIMH Richard J. Wyatt Memorial Fellowship Training Award and was promoted to research fellow in January 2013. She has published over 20 manuscripts in peer-reviewed journals, including Stroke and Journal of Cerebral Blood Flow and Metabolism.
---
The NIH WSA Scholars Seminar was sponsored by WSA and the NIH Office of Research on Women's Health. The WSA committee, formed in 1993 under then–NIH Director Bernadine Healy, aims to advance the scientific careers and scientific contributions of women at NIH. Each year, the WSA selects two awardees from the pool of female FARE winners for this special recognition and gives them the opportunity to present their research to the NIH community. To learn more about the history and activities of the WSA, visit https://sigs.nih.gov/wsa/.
This page was last updated on Thursday, April 28, 2022