Talk Science to Me
IRP Researchers Leave Jargon Behind for Three-Minute Talks Competition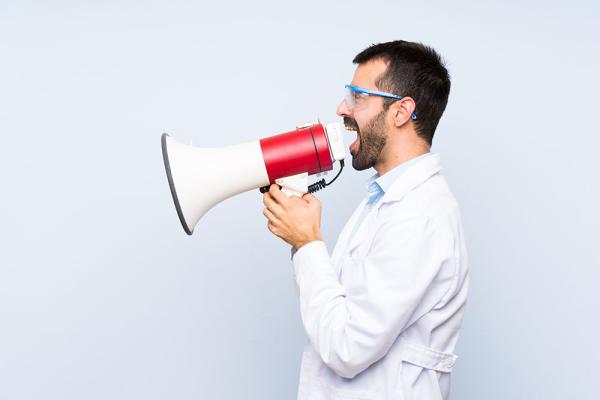 Scientific research is often said to take place in an "ivory tower" — not exactly an image associated with accessibility, trust, or empathy. Yet it is essential that members of the public be able to understand the work that researchers devote their lives to.
In recognition of that need, dozens of IRP postbacs, graduate students, and postdocs participate each year in NIH's Three Minute Talks (TmT) competition. On June 22, this year's eleven finalists offered clear and concise descriptions of their efforts to unfold the mysteries of proteins' shapes, discover the lethal role of inflammation in infections, repackage cancer therapies to enhance their effectiveness, and much more.
The contest's finalists receive assistance from public speaking coach Scott Morgan, who once again moderated the competition this year. The competitors were also assessed by three judges, including the winner of last year's TmT competition, IRP postdoctoral fellow Karim Mouzannar, Ph.D. But before the competition began, NIH's Deputy Director for Intramural Research, Nina Schor, M.D. Ph.D., offered some words of encouragement to the contestants that also effectively highlighted the reason for the TmT competition's existence.
"Communication has always been the heart of science — not only communication within the scientific community, but communication with the public," Dr. Schor said. "Nowadays, we have so many modes of communication that limit the length of that communication, that make it critically important that you get to your point as concisely and in as ear-catching a way as possible."
"This is a learned skill," she continued. "This isn't something anyone is born knowing how to do, and so the whole essence of this competition is to give you practice developing the skill of getting complex, nuanced information across in as brief and as clear and as compelling a way as possible."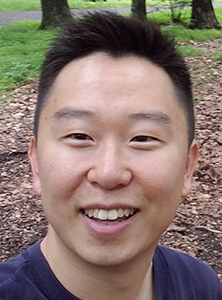 The contestant who the judges found the most clear and compelling this year was Jong Park, Ph.D., a postdoctoral fellow in the Eunice Kennedy Shriver National Institute of Child Health and Human Development (NICHD). After consecutive first-place finishes by researchers from the National Institute of Diabetes and Digestive and Kidney Diseases (NIDDK) in the 2021 and 2022 events, Jong returned the TmT crown to the NIH Institute that organized the IRP's very first TmT competition back in 2014.
"It felt great and it was an enriching experience," Jong says of his first-place finish. "I was very humbled to have been selected as the winner amongst so many other amazing presentations and speakers."
Jong's presentation focused on aerocytes, a newly discovered type of cell found in the lungs of mice and humans. The study that first identified aerocytes, published in 2020, found evidence suggesting that they are somehow involved in moving oxygen and carbon dioxide between the lungs and blood, a process known as 'gas exchange.' However, because their discovery was so recent, aerocytes remain mysterious.
"We currently do not understand the functions of aerocytes due to the difficulty of observing and experimentally manipulating cells in the lungs of living mammalian organisms," Jong explains.
To solve that problem, Jong decided to search for aerocytes in the gills of zebrafish. Now that he has established that zebrafish gills do indeed contain aerocytes — or at least cells that appear very similar to aerocytes — he wants to create genetically altered zebrafish in which the cells glow so that they are more easily examined. From there, he plans to track how these cells develop and end up situated in the gills, all of which will be easier in zebrafish than it would be in a mammal like a mouse or rat.
"Gills and lungs are both efficient gas exchange organs and they share many different cell types, including aerocytes," Jong says. "However, unlike the mammalian lungs, the zebrafish gills are optically clear and external, which allows for easy access for experimental manipulation and live imaging. This advantage of the zebrafish gill allows us to investigate the development and functions of aerocytes in a living organism, which can help us better understand respiratory diseases."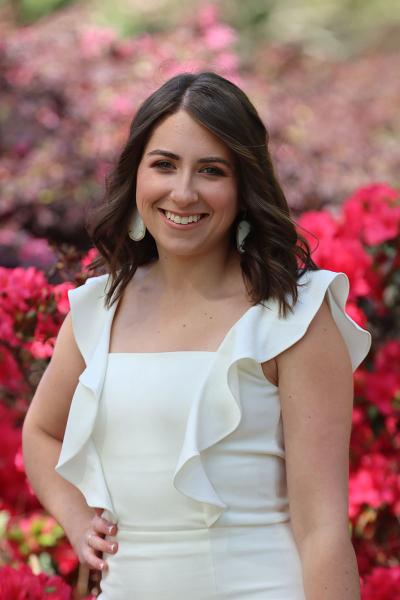 Second place this year went to Jordan Jarvis, a postbaccalaureate fellow at the National Institute of Arthritis and Musculoskeletal and Skin Diseases (NIAMS), who described how "small but mighty cancer warriors" called nanoparticles could improve treatment for a rare and aggressive skin cancer called Merkel cell carcinoma (MCC). Right now, the standard treatment for MCC is an immunotherapy that can cost more than $12,000 per month. Not only is that cost prohibitive for some patients, but not every patient is eligible for immunotherapy or responds well to it.
A drug called disulfiram, on the other hand, has shown a promising knack for killing cancer cells, including those found in MCC patients. Unfortunately, the body rapidly breaks the drug down when it is delivered by mouth, as is done currently. Jordan's lab turned to nanoparticles, tiny medicine-delivering capsules, as a solution to this problem.
"Disulfiram is encapsulated within the nanoparticle, allowing for a controlled breakdown and release of the drug throughout the body," Jordan explains. "This method helps disulfiram bypass processing by the liver, giving it time to reach the tumor site."
Although Jordan had not done any kind of science communication or outreach with the public prior to entering the TmT competition, her second-place finish has encouraged her to look for future opportunities to do so.
"It felt amazing to place second amongst so many other great presentations," Jordan says. "You could really tell how much time and energy was put into each presentation. I was especially proud of myself as I have just completed my first year as a postbaccalaureate fellow and many of the competitors were postdocs with years of experience and knowledge."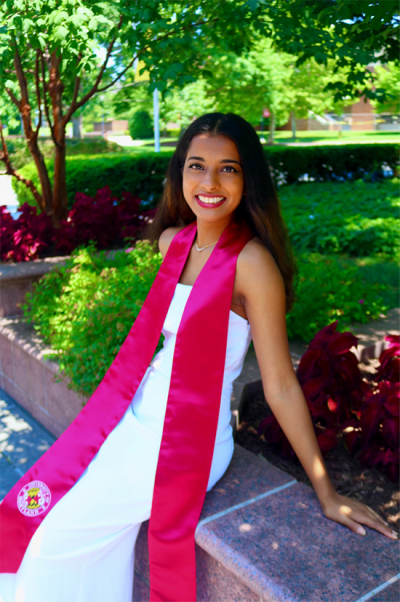 The contest's third place winner was also a postbaccalaureate fellow. Ami Thaivalappil has been working with her labmates at the National Human Genome Research Institute (NHGRI) to figure out new biological measurements, or 'biomarkers,' that could be used to assess the effectiveness of treatments for a rare disease known as Hutchinson-Gilford Progeria Syndrome (HGPS). Specifically, Ami is looking to cell-free DNA, short fragments of DNA circulating in the blood that are released when cells break down. Not only can cell-free DNA be easily isolated from blood samples, but it can also be traced back to its source, allowing scientists to gauge the health of specific organs in a patient's body without performing invasive biopsy procedures.
"Drug development is generally a rigorous and lengthy process — with good reason." Ami explains. "We want drug candidates to meet standards for safety and efficacy, but we also want promising drugs to reach patients as quickly as possible. With rare diseases, it's difficult to move drug candidates from preclinical experiments to clinical trials with such a small and medically fragile patient population. Biomarkers help expedite this process by enabling determination of treatment effects earlier than clinical endpoints like overall survival, and they minimize strain on fragile patients by providing responsive measures of treatment efficacy."
Ami decided to enter the TmT competition after a science communication and policy workshop organized by NIH's Office of Intramural Training and Education (OITE) inspired her to get more experience communicating about science with people outside the academic bubble of scientific conferences, seminars, and poster presentations. She says she is "extremely honored" to be a member of the contest's top three.
"TmT gave me the chance to practice speaking to a wider audience — to people who might not be aware of HGPS or even non-scientists in the community," Ami says. "I think science communication is an incredibly valuable skill to have, especially to bridge the disconnect between scientists and the broader public."
Indeed, public trust in science withers when scientists stay sequestered in the lab or only talk about their work with their colleagues. Programs like the IRP's TmT competition encourage researchers to think about how their work affects, and is perceived by, people who don't spend their days working with restriction enzymes, cell lines, and MRI scanners. Investing in connections with non-scientists not only helps the public appreciate the research done at NIH and other institutions, but it also enables scientists to see how their research changes lives.
Subscribe to our weekly newsletter to stay up-to-date on the latest breakthroughs in the NIH Intramural Research Program.
---
Related Blog Posts
This page was last updated on Thursday, July 6, 2023