A One-Stop Shop for Pain Research
NIH Pain Research Center Shines Light on a Common and Complex Ailment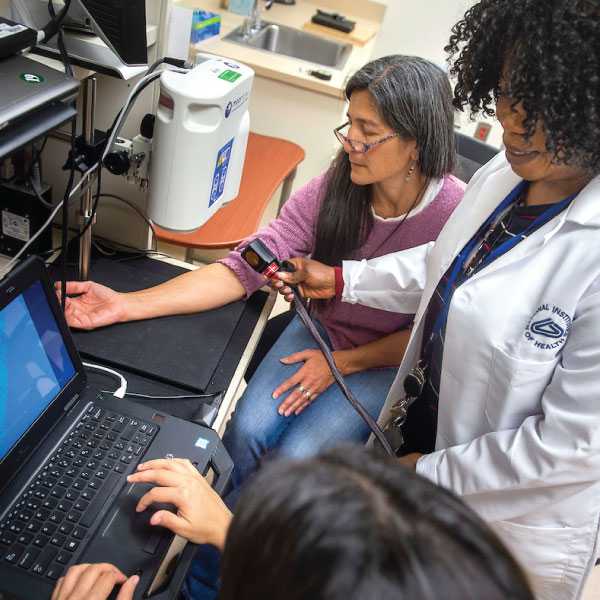 At one time or another, practically everyone has had a headache, stubbed their toe, or scorched their mouth on a hot slice of pizza, making pain one of the few experiences that essentially all people share. Despite its everyday nature, however, pain remains extremely mysterious. Even more enigmatic is chronic pain, which may not even stem from a clearly defined source yet affects more than a fifth of American adults.
Given the near-universality of pain and its huge social and economic burden, it's no surprise that many researchers at NIH study it. Yet, prior to 2019, there was no central, shared entity in the NIH's Intramural Research Program that united the many scientists performing this important work. That was the year NIH's Pain Research Center was established, with the help of funding from the NIH Director's Challenge Innovation Awards.
"There is no pain Institute or Center at the NIH as there is for cancer and mental health, for example," says David Shurtleff, Ph.D., Deputy Director and acting Scientific Director of NIH's National Center for Complementary and Integrative Health (NCCIH) and acting Director of the Pain Research Center. "The Pain Research Center offers a pain research hub to foster collaboration and accelerate pain research in the IRP."
On March 31 and April 1, NCCIH hosted a two-day virtual symposium titled "Tackling Pain at the National Institutes of Health: Updates From the Bench, the Clinic, and the New NIH Pain Research Center," which brought together scientists from all across the IRP to discuss the state of pain research at NIH and how they are utilizing the Pain Research Center. Next week, the "I Am Intramural" blog will highlight some of the research going on in the Pain Research Center, but for now, read on to learn a bit about how the Center's goals and how it is helping IRP researchers unravel the mysteries of pain.
An Introduction to the Pain Research Center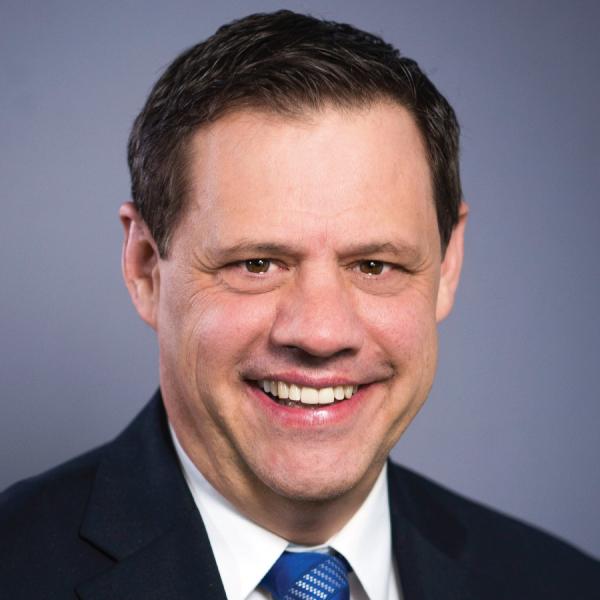 Ultimately, the goal of the Pain Research Center is to glean insights about pain from a variety of conditions in which it plays a role and use that knowledge to help researchers develop more effective therapies to alleviate it. Researchers are particularly interested in finding alternatives to opioid-based painkillers like oxycodone and morphine, which can be addictive and have been responsible for tens of thousands of overdose deaths in recent years. Moreover, learning more about the specific causes of pain in people with different diseases or genetic variants could yield personalized pain therapies, which would likely be more effective and trigger fewer side effects than one-size-fits-all treatments.
"Our ability to better study and understand pain and develop better treatments for pain is a public health priority," Dr. Shurtleff says.
To help make that aspiration a reality as quickly as possible, the Pain Research Center provides world-leading expertise and cutting-edge technology that can help IRP researchers probe the specific causes and unique properties of pain in its many forms. These resources include dedicated testing rooms; tools to assess study participants' pain tolerance and ability to feel various sensations from heat and cold to pressure and vibration; instruments that record the body's stress response; and devices that allow researchers to observe and even influence brain activity, such as functional magnetic resonance imaging (fMRI), which measures the firing of neurons in the brain, and transcranial magnetic stimulation (TMS), which can inhibit or stimulate neurons. The Pain Research Center can also provide chemicals that, when applied to the skin, trigger itch or cause even a light touch to feel painful, a phenomenon known as mechanical allodynia.
In addition, the Pain Research Center has a handful of staff members who both run the Centers' own studies and consult with other IRP research groups to help them design their experiments and refine their methods of collecting data. That staff includes the Center's Lead Scientific Officer, Eleni Frangos, Ph.D., who was involved with its creation when she was a postdoctoral fellow at NCCIH, as well as a sensory testing technician and study coordinator, a neurologist who is an expert in pain, a postdoctoral fellow, a staff scientist, and five recent college graduates participating in NIH's Postbaccalaureate IRTA Program.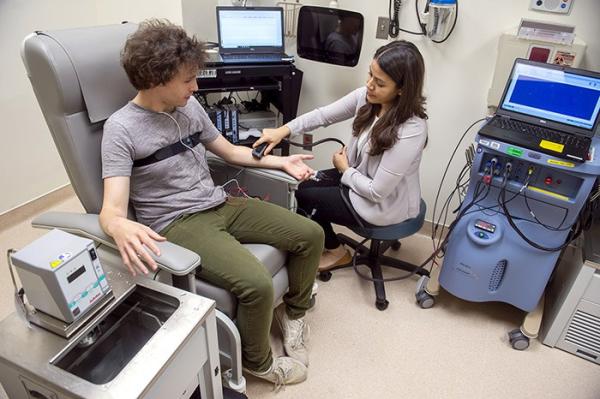 "We sort of run as a center to provide resources to the NIH community, but we also run as a lab and do our own work as well," Dr. Frangos says. "It definitely helps to have all the resources that we have and the collaborators. It's really the collaborators that bring the most to the table because everybody brings a slightly different perspective, and of course we have the tools and resources to help them execute the questions that they're interested in answering in whichever population they're studying."
Now that the Pain Research Center is up and running, it is providing vital assistance to a number of IRP research efforts. Check back next week to learn about some of the specific projects that are utilizing the expertise and technology provided by the Pain Research Center, including efforts examining pain in patients with rare diseases, early-phase clinical trials of a new pain treatment, and investigations of how psychological factors can affect the way people experience pain. For now, you can learn more about the Pain Research Center by visiting its website.
Subscribe to our weekly newsletter to stay up-to-date on the latest breakthroughs in the NIH Intramural Research Program.
---
Related Blog Posts
This page was last updated on Wednesday, May 24, 2023