Technology Incubators and Imaging at NIH Research Festival
When it comes to medicine, seeing really does mean believing. And yet, until quite recently, visualizing many of the processes underlying human diseases had been almost impossible.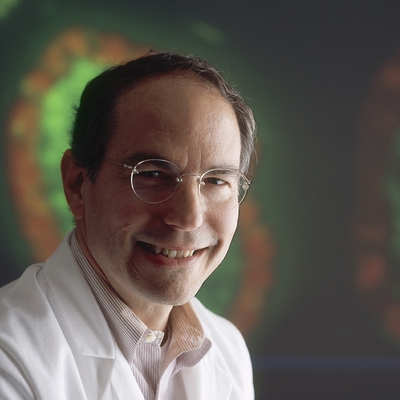 "The prostate gland is the only organ in the body that is biopsied blind," said Dr. Peter Choyke, Senior Investigator at the NCI Center for Cancer Research (CCR), as he opened the NIH Research Festival's first plenary session, "Creating NIH Technology Incubators." The NIH IRP's role in developing technologies that can peer into human organs and cells is a key component of the Long-Term Intramural Research Program (LT-IRP) Planning Report that formed the basis of workshops and sessions during this year's #ResearchFest.
Dr. Choyke described his team of experts in radiology, anatomy, oncology, and 3D printing who pioneered a novel prostate cancer diagnostic tool that fuses three conventional technologies into one real-time procedure—MRI-TRUS (magnetic resonance imaging transrectal ultrasound). Their technique is patented, licensed, and now benefitting thousands of patients around the world. Dr. Choyke credits the team's success to the IRP's ability to "ask the big questions and tackle the big challenges."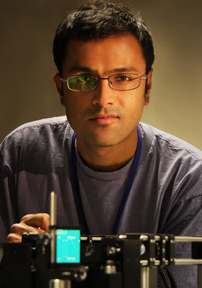 In a similar spirit, Dr. Hari Shroff, Investigator at NIBIB, next introduced the audience to the challenge of building an accurate, high-resolution, Google Earth-like map of C. elegans, the tiny worm widely used as a model organism in studying biological processes. Typical light microscopes cause damage to specimens, so mapping the inside of a live, developing worm embryo posed a host of obstacles— until selective plane illumination microscopy (SPIM), a groundbreaking technique developed by Dr. Shroff and his multidisciplinary team, allowed real-time optical microscopy of individual cells within a live worm. SPIM has the potential to revolutionize light microscopy, but only if it is made available. Therefore, NIH provides access to SPIM and other NIH-built microscopes in a trans-IRP facility.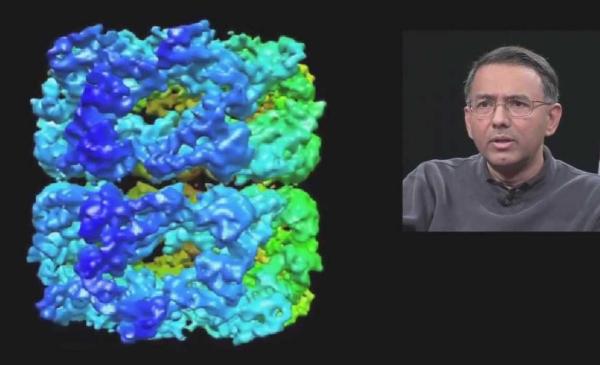 Another successful imaging technology benefiting from the IRP incubator is cryo-electron microscopy (cryo-EM), an enhanced imaging technique advanced by the final speaker of the session, Dr. Sriram Subramaniam, Senior Investigator at NCI CCR. More than a decade ago, Dr. Subramaniam identified critical biological problems in cryo-EM and has since followed a determined path to fixing them. But even he was surprised at cryo-EM's ability to help answer some of biology's most persistent questions, such as how HIV enters into a T-cell. The answer to that one is beautifully illustrated on the front of this year's Research Festival program—a cryo-EM-generated image of HIV living in the folds of a dendritic cell, ready to transfer to an unsuspecting T-cell.
The first #ResearchFest plenary session celebrated the value of the IRP's incubator-like environment. By supporting the development of emerging technologies, the IRP guarantees researchers access to the latest tools, thereby ensuring they work at the leading edge of scientific discovery and develop new ways to see what nobody has before.
In case you missed attending the event in person, you can watch the full plenary session with IRP investigators in the video below:
Up next: Plenary Session 2 – "Responding to Public Health Emergencies."
---
Related Blog Posts
This page was last updated on Wednesday, July 5, 2023