Keep the Body Fit for a Healthy Mind
Working in the lab requires a very active brain, every day. You need to be ready to face challenges, such as troubleshooting a single experiment or looking at the big picture of a collaborative project. Remembering to keep our bodies healthy helps keep our minds in a healthy state as well. At NIH's Bayview campus in Baltimore, Maryland, we have many opportunities to engage in physical activities. What are some of the options?
Running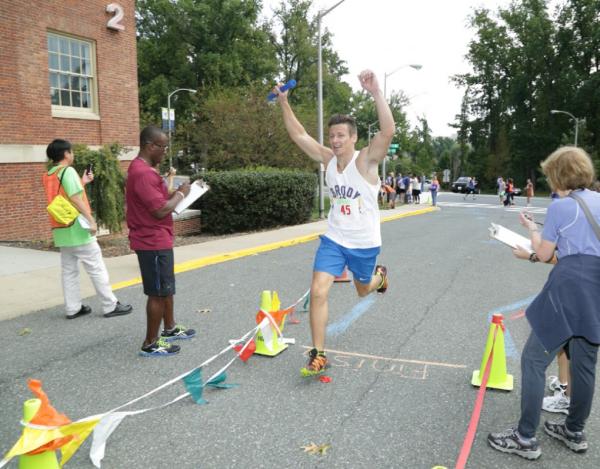 Every year in September, the annual NIH Relay Race brings teams from across the NIH's Institutes and Centers to compete in a baton race on the main campus in Bethesda, Md. During the summer months, Dr. Mark Mattson at the National Institute on Aging (NIA)'s Laboratory of Neuroscience organizes training sessions twice a week for anyone at the IRP who would like to participate in the race. Even if you do not wish to enter the race, you can still join in the training sessions to have fun and enjoy a nice run outdoors. Dr. Mattson's good work has resulted in numerous teams participating with several distinctions in the last two years. This year's race is September 15.
Exercise at the Gym
On the 3rd floor of the Biological Research Center (BRC), there is a gym just for NIH staff. If you cannot stand the cold and snow during the winter months, as myself, or you want to avoid the heat in the summer, you can join the gym at a very inexpensive cost and exercise on the treadmill, bicycle, machines, or free weights to keep your heart and body healthy. The gym also has locker rooms and showers.
Soccer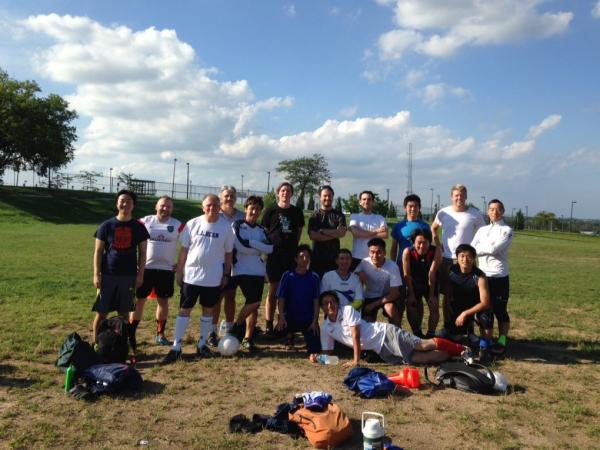 Within walking distance of the Bayview campus, the Joseph E. Lee Park provides a playground and a large area of green grass with a soccer field. From March to November, as daylight allows, postdocs, postbacs, staff members, and PIs from NIH and Johns Hopkins have the opportunity to gather every Tuesday right after work and share their passion for soccer.
I have been participating in the group for over two years, and I am very happy to have the opportunity to come closer to my coworkers and make new friends. Occasionally, we will also talk about science after the game is over and even start collaborations. This activity helps me turn my thoughts away from science for a bit and come back to work freshened up. During the winter, we play in an indoor field to keep the fun going.
Other Opportunities
From time to time, other opportunities for exercising occur around the campus. The NIA/IRP Human Relations Committee (HRC) sponsors events for Healthier Feds every year. One of them is "Salad Day," when we order and enjoy a healthy salad lunch. On different occasions, there are classes offered for yoga, Zumba, or aerobics. My personal favorite is the "Stair Challenge," which encourages us to take the stairs instead of the elevator for a week. The participants with the most floors climbed receive a recognition award.
It is up to each one of us to keep our bodies and minds healthy. Exercising and taking good care of our health is part of the work-life balance. And being part of the NIH IRP in Baltimore gives us plenty of opportunities to be "Healthier Feds."
September is NIA's Go4Life Month, a celebration of physical activity and exercise as you age. And stay tuned for next summer's annual NIH Take A Hike Day!
---
Related Blog Posts
This page was last updated on Wednesday, July 5, 2023