From the Acting Deputy Director for Intramural Research
Charting the Future of the Intramural Research Program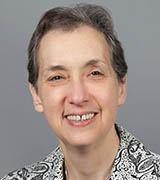 I am excited to write this, my first essay for The NIH Catalyst. As the new Acting NIH Deputy Director for Intramural Research (DDIR), I have incredibly big shoes to fill. My predecessor, Michael Gottesman, held the position of DDIR for 29 years and launched and nurtured many initiatives that enhanced biomedical workforce diversity, created NIH-wide core facilities, and established the laboratories of extraordinarily talented new scientists on the NIH campus. I am so grateful, not only for the immense foundation he has laid for the future, but also especially for his gracious welcome, encouragement, and mentorship as I assume this position.
I came to science from an upbringing in Queens, New York, and schooling in the New York City public school system. My father was a scientist–engineer and a very quantitative person; he definitely shaped my love for and approach to science. My mother was an avocational actress and singer who spent many years earning a living in the garment district and the fashion industry. She shaped my approach to people and my passion for music and poetry. My early schooling and the availability of arts and sciences cultural activities and a biology research class in high school definitely reinforced what my parents instilled in me.
I earned my B.S. in molecular biophysics and biochemistry at Yale University (New Haven, Connecticut) as a Scholar of the House in Chemistry Research, a designation that afforded me a dedicated year in the laboratory of the late Julian Sturtevant, a pioneer in collecting thermodynamic and kinetic data for important biochemical reactions; I earned my Ph.D. in medical biochemistry from The Rockefeller University (New York) in the laboratory of Anthony Cerami, who has led research programs in genetic, metabolic, and infectious diseases, with the goal of translating scientific discovery into drugs and diagnostic tests.
I received my M.D. from Cornell University Medical College (New York), which was renamed Weill Cornell Medicine in 2015, and completed residency training in pediatrics and child neurology at Boston Children's Hospital (Boston) and Harvard's Longwood Area Neurology Program (Boston). I then rose through the academic ranks at the University of Pittsburgh (Pittsburgh), where, over 20 years' time, I became chief of the Division of Child Neurology and associate dean for Medical Student Research. I left Pittsburgh for the University of Rochester (Rochester, New York) in 2006 to become chair of the Department of Pediatrics and pediatrician-in-chief of Golisano Children's Hospital (Rochester, New York).
Through all of this, my passions and the substance of my career have been laboratory-based research and the nurturing of the next generation of biomedical scientists. During 20 years in Pittsburgh and 11 years in Rochester, the dual privilege of creating new knowledge by challenging dogma and seeing my trainees become my colleagues made all the hard work worthwhile.
In January 2018, when I left Rochester to become deputy director of the National Institute of Neurological Disorders and Stroke (NINDS), I did so partly to apply all I had learned in institutional leadership across a national platform and partly to repay my enormous debt of 27 years of NIH funding for research and for training programs.
With NIH funding, my laboratory had defined the role of the p75 neurotrophic receptor in cellular life-and-death decision-making in the neural crest and the importance of protein methylation in the virulence of a childhood tumor, neuroblastoma; and hosted more than 80 students and trainees, most of whom went on to careers in science and medicine. I fervently wanted to give back to the system that nurtured and sustained me.
Since coming to NIH, I have had the privilege of leading the NINDS strategic-planning and career-development programs in its Office of the Director; spearheading the Ultra-Rare GENe Therapeutics Network in its extramural enterprise; and leading the NINDS Division of Intramural Research as acting scientific director. These experiences have given me a 30,000-foot view of the entire, matrixed, multifaceted institute and afforded me the opportunity to work with diverse and dedicated colleagues to build synergies and create initiatives that make a whole greater than the sum of its parts. I think this experience and this approach have equipped me well for the exciting opportunity to serve NIH and its intramural community as acting DDIR.
Now, unencumbered yet by sufficient data to be definitive, I am hoping to build on the incredibly robust foundation Michael Gottesman and his colleagues in the Office of Intramural Research have created. Think, for example, of the ways in which we can synergize as the NIH intramural research program (IRP) to bring the individual approaches and talents of each of the institutes and centers to bear on solving the messy, interdisciplinary and multidisciplinary health problems that face real people. Think of the recruitment power of making mentors and trainees in the extramural biomedical community more aware of our collective resources and capabilities. And think of how we can better prepare our trainees not for science as it is at this moment, but for science as it will be long into the future.
I am so looking forward to working with all my NIH colleagues to chart the future of the NIH IRP.
This page was last updated on Monday, September 19, 2022