The Training Page: Communities
What Community Can Do for You
Over a year ago, I secured a postbaccalaureate research training position at the National Institute of Allergy and Infectious Diseases (NIAID). I had been accepted to the Intramural NIAID Research Opportunities (INRO) Program, and I felt overjoyed at the prospect of conducting research at the nexus of biomedical research and learning more about science. At the same time, I was plagued with worries about housing, potential roommates, taxes, transportation, climate, and leaving the community I had at the University of Wisconsin at Madison (Madison, Wisconsin). This was all new, unfamiliar territory.
There is never just one answer for every anxiety, and many things must be figured out slowly as you acclimate. However, I must admit that having an INRO research cohort made all the difference and made my journey that much more fulfilling. Through the INRO Program, I had the opportunity to meet frequently with other research trainees in my institute. Through them, I had the support of a community of people who had either already gone through a similar transition or were about to go through one. My cohort members were people with whom I could discuss my evolving career goals. They became trusted sounding boards, increased my resilience, kept me accountable, and helped me make the most of my experience. They also expanded my perspectives and my network beyond my own lab, exposing me to the multitude of research projects being conducted at NIH, which is both humbling and inspiring.
My program cohort was my community. As more and more trainees return to the workplace, I encourage you to seek out new communities, connecting with others who are at a similar training stage or who share your social or research interests. An opportunity to learn from the people you meet at NIH can transform your career in more ways than any laboratory techniques that may quickly become outdated. Science moves fast. As research trainees, we not only learn to keep up with it, but to continue advancing it beyond what we have inherited from those who came before us and trained us. Building your community or cohort can expand your support network and access to diverse perspectives and create tangible connections with people in fields outside of your own. This can in turn increase collaborations, scientific networks, and interdisciplinary mindsets, which are key to scientific progress and positive impacts on human health.
There are many communities available to you at NIH. Scientific Interest Groups welcome investigators and trainees at all levels to build on shared research interests. The Office of Intramural Training and Education (OITE) facilitates affinity groups through which you can find people with similar backgrounds to yours. Finally, there are many leadership and involvement opportunities: Summer interns can join a summer journal club; postbacs can connect through the Postbac Committee; and graduate students can participate in the Graduate Student Council, which includes a social committee option. Postdoctoral fellows can get involved with the Fellows Committee (FelCom), which includes a Visiting Fellows Sub-Committee. Trainees at all levels can join a variety of other activities and workshops listed on the OITE website.
Joining a new community during your time at the NIH can be a game changer, as it was for me. Whatever your training or career stage, I encourage you to find and build your own community and experience the many benefits that are sure to follow.
Where to find groups mentioned in this article:
---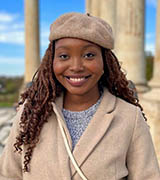 Maïsha Kasole joined NIH in 2021 as a postbac in the Neuroimmunological Diseases Unit of the National Institute of Allergy and Infectious Diseases. Her research included investigating the phenotypes of multiple sclerosis using machine-learning tools and validating patient autonomous disability measurements via smartphones. She completed her training in 2022 and is headed to graduate school. Outside of work, she enjoys baking and learning languages.
This page was last updated on Thursday, June 30, 2022