Announcements
ANNIVERSARY OF NCI'S PEDIATRIC PROGRAM IN CAR-T-CELL THERAPY
July 13, 2012, marks the beginning of NIH's pediatric program in CAR-T-cell therapy in leukemia—NCI physicians infused their very first patient with CD19 CAR-T cells. Although this patient is no longer with us, his legacy lives on through the work that NCI does. He enrolled in a several NCI studies and was able to live long enough to meet his younger brother who was born while he was actively receiving therapy on one of the studies. So much has happened since, including four new trials (and two others under review) and solid-tumor trials that were subsequently opened.
CAR-T cell therapy is a treatment in which a patient's T cells are changed in the laboratory so they will bind to cancer cells and kill them. Blood from a vein in the patient's arm flows through a tube to an apheresis machine (not shown), which removes the white blood cells, including the T cells, and sends the rest of the blood back to the patient. Then, the gene for a special receptor called a chimeric antigen receptor (CAR) is inserted into the T cells in the laboratory. Millions of the CAR-T cells are grown in the laboratory and then given to the patient by infusion. The CAR-T cells are able to bind to an antigen on the cancer cells and kill them.
---
OFFICE OF TECHNOLOGY TRANSFER HAS A NEW WEBSITE
The Office of Technology Transfer (OTT) has a new website: www.techtransfer.nih.gov. Please plan to use this new URL in your communication efforts and bookmarks. The old OTT URL will continue to work and bring you to the same site but we hope this new name will be easier for our inventors as well as our outside partners to use when they want to contact our community or find information about NIH tech transfer.
---
VIVIAN W. PINN SYMPOSIUM NOW AVAILABLE ON VIDEOCAST

On May 12, 2022, the NIH Office of Research on Women's Health (ORWH) hosted the 6th Annual Vivian W. Pinn Symposium. Convened during National Women's Health Week, this event honored the first full-time director of ORWH, Vivian W. Pinn, M.D. In line with ORWH's mission to put science to work for the health of women, this event served as a critical forum for experts across sectors to communicate and collaborate for the advancement of women's health and the careers of women in science. This year's symposium featured Tara Schwetz, Ph.D., the acting principal deputy director of NIH, who shared the results of NIH-conducted surveys of extramural researchers and administrators to assess the impact of COVID-19 on the research community. A keynote presentation by Reshma Jagsi, M.D., D.Phil., of the University of Michigan, addressed the nature and causes of gender inequity—such as unconscious biases, gendered expectations of society, and harassmen—in academic medicine; how the pandemic has exacerbated these challenges; and how it can provide a disruptive opportunity to implement interventions to promote equity in a "new normal." For more information on the symposium, a link to the videocast, and a complete list of speakers, visit this ORWH webpage.
---
VIRTUAL POSTER DAY: SUMMER INTERNSHIP PROGRAM
If you are a summer intern, Summer Poster Day is your time to share the research and creative projects you have been conducting at the NIH with the broader NIH community and your family and friends. At the same time, you will develop your communication and networking skills.
Any student (high school, college, medical/dental, or graduate) working in an intramural research group this summer may present. You might not have results, but you can still present background information on your project, any data you may have collected, or a discussion of the technical problems you encountered. You can present ideas on and approaches to a project. Although your presentation will be virtual, we hope you will receive questions and comments about your work, just as you would at an in-person poster session. You will also have a chance to practice communicating your scientific ideas and results with broader audiences. We hope this event will bring our community closer during this time of social distancing.
The event will be hosted on Fourwaves. All visitors and participants must register on the event website to attend.
---
OFFICE OF INTRAMURAL TRAINING AND EDUCATION
IMPORTANT NOTE: The events listed on the website are sponsored by the NIH Office of Intramural Training & Education (OITE), often in collaboration with the NIH Fellows Committee or the Graduate Student Council and with support from other NIH offices. Be certain to check the Web site of your Institute/Center Training Office for additional IC-sponsored events. This will be especially important if you are a trainee at a campus other than the main campus in Bethesda.
---
EVENTS AT NIH
There are so many interesting lectures, many of them virtual and/or videocast. If you miss the live presentations, you can usually watch them later. There are more than 11,000 videos in the archive.
---
THE NIH LIBRARY OFFERS TRAININGS AND RESOURCES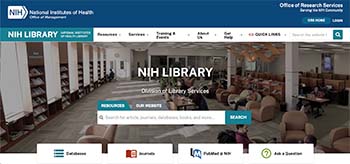 Check out what the NIH Library (in Building 10) has to offer in the way of resources, services, and online classes. The library has re-opened so you can visit in person, too.
This page was last updated on Thursday, June 30, 2022