COVID-19 Timeline at NIH (May–June 2022)
COVID-19 Research and Activities at NIH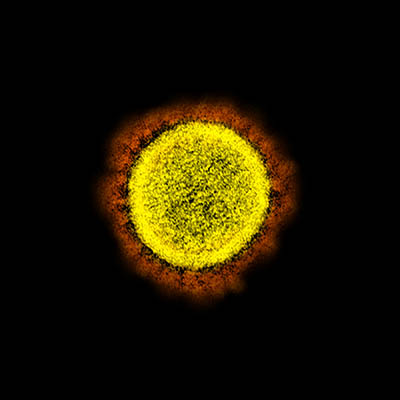 May 5: The FDA limits the authorized use of the Janssen COVID-19 vaccine to certain individuals, citing an elevated risk of thrombosis with thrombocytopenia syndrome.
May 11: An NICHD-led study finds that, unlike other SARS-CoV-2 variants, the delta variant can attach to copies of itself, forming larger clumps of viral particles. The researchers theorize that this linking property may have played a role in the ability of the delta variant to spread more rapidly than the variants that preceded it. (Viruses 14:1024, 2022; DOI:10.3390/v14051024)
May 11: An NIH-funded study finds that proteins designed to confer resistance to new SARS-CoV-2 variants protected mice against infection when given through the nose. The researchers developed synthetic miniproteins that block all three binding domains of SARS-CoV-2's spike protein. With further testing, the antiviral proteins might be used as a nasal spray to prevent or treat COVID-19. (Sci Transl Med 2022; DOI:10.1126/scitranslmed.abn1252)
May 13: Acting NIH Director Lawrence Tabak emails staff with a coronavirus update and notes that the United States has surpassed one million deaths from COVID-19. Montgomery County and Baltimore, Maryland, move from the low to the medium COVID-19 community transmission level as evaluated by the CDC. Beginning May 16, NIH will implement mitigation measures, including requiring 6 feet of physical distancing in all buildings and testing for NIH personnel who are not fully vaccinated and will be entering an NIH facility.
May 16: An NIH-supported research team identifies characteristics of people with long COVID and those likely to have it by using machine-learning techniques on a large database of electronic health records available for COVID-19 research. (Lancet Digital Health 4:E532–E541, 2022; DOI:10.1016/S2589-7500(22)00048-6)
May 18: NIAID awards approximately $577 million to establish nine Antiviral Drug Discovery (AViDD) Centers. The AViDD Centers will conduct innovative, multidisciplinary research to develop candidate COVID-19 antivirals, especially those that can be taken in an outpatient setting, as well as antivirals targeting specific viral families with high potential to cause a pandemic in the future.
May 19: An NIH-funded study finds that people who reported feeling worried, depressed, or lonely had a greater chance of being hospitalized after a COVID-19 diagnosis. The findings suggest that psychological risk factors may increase hospitalization risk as much as physical risk factors. (Psychol Med 2022; DOI:10.1017/S0033291722000691)
May 20: The CDC updates the COVID-19 community levels on which NIH mitigation strategies are based. Research Triangle Park, North Carolina, changes from low to medium community level. Framingham, Massachusetts, and Detroit, Michigan, remain at high. Both Montgomery County and Baltimore, Maryland, remain at medium. All other counties with NIH facilities remain low.
May 23: The NIH Gateway Vehicle Inspection Station for visitors resumes normal operations. The COVID-19 car-line testing, which is by appointment only, will be relocated to the B-3 lower level of the MLP-7 parking garage. The B-3 level only will not be available for parking until further notice.
May 24: Baseline data from an ongoing NIAID-led longitudinal study at the NIH Clinical Center shows that people with post-acute sequelae of SARS-CoV-2 infection (PASC) experience a high burden of persistent symptoms compared with a control group. In most cases, extensive diagnostic evaluation revealed no specific cause for reported symptoms. Female gender and self-reported history of anxiety disorder were significantly associated with an increased risk for PASC. (Ann Intern Med 2022; DOI:10.7326/M21-4905)
May 24: The CDC updates its definition of what is considered up to date on COVID-19 vaccination as someone who has received all doses in the primary series and all boosters recommended for that individual, when eligible.
May 27: Acting NIH Director Lawrence Tabak emails staff with a coronavirus update. He reports this week's CDC recommendation that children ages 5–17 years should get one booster after completing their COVID-19 vaccine primary series. COVID-19 cases and hospitalizations continue to rise nationwide; however, there has been a subtle decrease in deaths. Another NIH location, Frederick, Maryland, moves from low into the medium COVID-19 community risk level. Baltimore City, Maryland, and Durham County, North Carolina, move from medium into high.
May 30: NIH announces an additional opportunity for staff working onsite to participate in the voluntary At-Home Antigen Testing Pilot Program. A limited quantity of rapid COVID-19 tests will be available for eligible staff to order online. To date, more than 350 NIH staff have tested positive using the at-home antigen test kits and stay home, helping to keep the workplace safer for others.
June 1: An NIH-funded study finds that people with food allergies are less likely to become infected with SARS-CoV-2 than people without them. The new study also identifies obesity and high body mass index as associated with increased risk for SARS-CoV-2 infection and determined that asthma does not increase risk for infection. (J Allergy Clin Immunol 2022; DOI:10.1016/j.jaci.2022.05.014)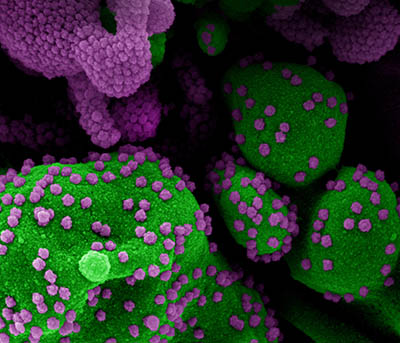 June 1: NIH leadership hosts a Return to the Physical Workplace and Workplace Flexibilities Town Hall. More than 2,000 staff attend virtually to discuss the latest on workplace flexibilities, safety in the workplace, and updates on key initiatives.
June 2: Preliminary results from an NIH-led study show that treating adults hospitalized with COVID-19 with infliximab or abatacept—drugs widely used to treat certain autoimmune diseases—substantially improved clinical status and reduced deaths. The full report on these data is expected to be published in a peer-reviewed scientific journal later this year.
June 3: The CDC moves Frederick County, Maryland, from the medium COVID-19 community risk level back to low. All other NIH locations remain unchanged.
June 3: The Safer Federal Workforce Taskforce and the CDC updates their travel guidance and requirements. All staff, regardless of their vaccination status, are eligible for official government travel, both domestically and internationally.
June 10: Acting NIH Director Lawrence Tabak emails staff with a coronavirus update. He directs staff to the CDC's new online tool to help individuals determine whether they are up to date on COVID-19 vaccination. Tabak notes that Phoenix, Arizona, and Hamilton, Montana, moved from low to medium COVID-19 community level. The remainder of NIH locations held steady at their community level from the previous week. He reviews promising research results from one of the Accelerating COVID-19 Therapeutic Interventions and Vaccines (ACTIV) clinical trials as well as the preliminary results of the ACTIV-1 Immune Modulators clinical trial released on June 2.
June 12: The CDC no longer requires air passengers traveling from a foreign country to the United States to show a negative COVID-19 viral test or documentation of recovery from COVID-19 before they board their flight.
June 13: NIND's Avindra Nath co-authors a paper released as a preprint in Cell. The investigators show a neuroinflammatory mechanism in humans and mice that occurs after mild respiratory SARS CoV-2 infection that may contribute to the neurocognitive symptoms experienced in patients with long COVID. These findings share similarities to cancer therapy-related cognitive impairment, a neuroinflammatory condition that patients often experience after radiation or chemotherapy. (journal preproof: Cell 2022; DOI:10.1016/j.cell.2022.06.020)
June 15: NIAID Director Anthony Fauci, who is up to date on his vaccinations, tests positive for COVID-19. He is experiencing mild symptoms and will isolate and continue to work from home.
June 15: An FDA panel recommends the emergency use authorization of Moderna's and Pfizer's COVID-19 vaccines for children between the ages of 6 months and 5 years old. Both companies have reported that their vaccines are safe and produce a good immune response in this age group.
June 17: The CDC moves Baltimore's Bayview Research Center, Framingham, Massachusetts, and Detroit, Michigan, from high to low COVID-19 community risk level. The remainder of NIH locations remain at their community level from the previous week.
June 17: The FDA authorizes Pfizer's three-dose vaccine for children 6 months to 4 years old, and Moderna's two-dose vaccine for children 6 months to 5 years old.
June 18: The CDC recommends that all children aged 6 months through 5 years of age should receive a COVID-19 vaccine. This expands eligibility for vaccination to nearly 20 million additional children and means that all Americans ages 6 months and older are now eligible for vaccination.
June 24: Acting NIH Director Lawrence Tabak emails staff to announce that NIH expects to implement the NIH COVID-19 Vaccination Policy for Healthcare Workers as required by HHS policy in the coming weeks. He reviews travel guidance updates announced by the CDC earlier this month, as well as last week's authorization of COVID-19 vaccines for young children. Additionally, contact tracing at NIH will now be limited to staff who work in Building 10 or serve critical functions.
June 29: An NIH-funded research team reports that it has developed a fast, cost-effective method to detect the circulation of SARS-CoV-2 variants. The team's customizable genotyping approach can augment current surveillance methods that use comprehensive next-generation sequencing of virus samples, helping to focus sequencing efforts on samples representing unknown and emerging variants. (J Clin Microbiol 2022; DOI:10.1128/jcm.00342-22)
This page was last updated on Thursday, June 30, 2022