Research Briefs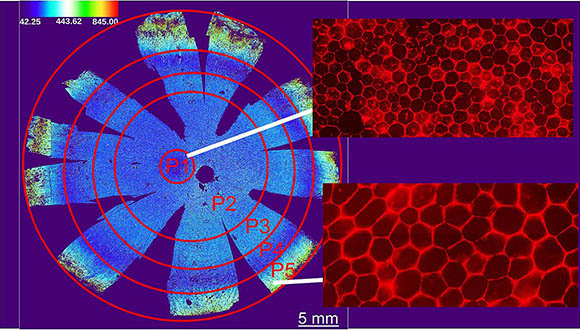 A recent discovery by NIH researchers has shed light on tissue targeted by age-related macular degeneration (AMD) and other diseases. NEI scientists identified distinct differences among the cells comprising a tissue in the retina that is vital to human visual perception. They discovered five subpopulations of retinal pigment epithelium (RPE)—a layer of tissue that nourishes and supports the retina's light-sensing photoreceptors. Using artificial intelligence, the researchers analyzed images of RPE at single-cell resolution to create a reference map that locates each subpopulation within the eye.
Age and disease can cause metabolic changes in RPE cells that can lead to photoreceptor degeneration. The impact on vision from these RPE changes varies dramatically by severity and where the RPE cells reside within the retina. For example, late-onset retinal degeneration affects mostly peripheral retina and, therefore, peripheral vision. AMD, a leading cause of vision loss, primarily affects RPE cells in the macula, which is crucial for central vision.
"The findings will help us develop more precise cell and gene therapies for specific degenerative eye diseases," said the study's lead investigator, Kapil Bharti. (NIH authors: D. Ortolan, R. Sharma, A. Volkov, A. Maminishkis, N.A. Hotaling, L.A. Huryn, C. Cukras, and K. Bharti, Proc Natl Acad Sci U S A 119: e2117553119, 2022)
[BY KATHRYN DEMOTT, NEI]
---
An NCI-led team of investigators found that mortality rates due to uterine cancer are rising in the United States and are highest among non-Hispanic Black women. The death rates among all women has risen 1.8% annually from 2010 to 2017.
Uterine cancer is among the most common types of cancer affecting women. The subtype endometrioid carcinoma, which accounts for nearly 75% of all cases, is often diagnosed early and has a good prognosis. Non-endometrioid uterine cancers account for approximately 15% to 20% of cases and are typically diagnosed in later stages with a poor prognosis.
The scientists analyzed data from 208,587 women diagnosed with uterine cancer, from 2000 to 2017, across different races and ethnicities. The results revealed that Black women experienced the highest mortality rates at twice that of women in other racial and ethnic groups. Deaths from the more aggressive non-endometrioid subtype increased 2.7% annually for all women. In contrast, mortality rates for endometrioid cancers remained stable.
The authors noted that these findings suggest limited progress in the treatment of uterine cancers. Moreover, the mechanisms behind the substantial disparities of mortality rates among Black women require more investigation. (NIH authors: M.A. Clarke, S.S. Devesa, and N. Wentzensen, JAMA Oncol 8:895–903, 2022; DOI:10.1001/jamaoncol.2022.0009)
[BY SATABDI NANDI, NIA]
---
Suicide rates among veterans are higher than those of other adults in the United States. Scientists at the Department of Veterans Affairs and their NIMH collaborator, Michael Schoenbaum, found that a Veterans Health Administration (VHA) program that uses a special algorithm to identify suicide risk has reduced the number of suicides and suicide attempts.
The research team assessed the impact of the Recovery Engagement and Coordination for Health–Veterans Enhanced Treatment (REACH-VET) program. REACH VET, which was rolled out in 2017, is the nation's first clinical use of a validated algorithm to help predict suicide risk. Patients in the top 0.1% level of risk died from suicide at a rate 30-fold higher than the overall VHA patient population. The REACH VET program coordinators provide information that prompts a patient's clinicians to re-evaluate treatment strategies and augment patient care.
Using VHA mental health visit and safety-plan documentation, the authors compared the six-month changes in outcomes of more than 170,000 individuals with the highest predicted suicide risk who used VHA services before and after the implementation of the REACH VET program. The program was associated with patients having more outpatient appointments and fewer inpatient mental health admissions and emergency-department visits. REACH VET was also associated with a 5% reduction in documented suicide attempts. These findings suggest that the program is a promising intervention to enhance care for veterans at high risk for suicide. (NIH author: M. Schoenbaum, JAMA Netw Open 10:e2129900, 2022; DOI:10.1001/jamanetworkopen.2021.29900)
[BY VICTORIA TONG, OD]
---
NICHD, NIAAA, NINR: GENES THAT REGULATE BIRTHWEIGHT IDENTIFIED IN THE PLACENTA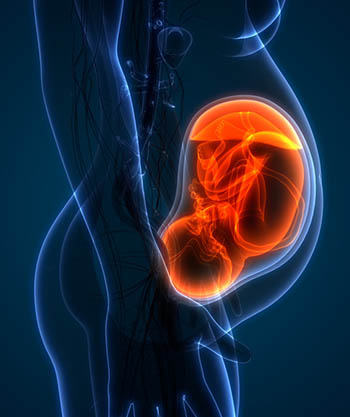 A fetus develops and grows in the womb for nearly 10 months, and the environment in which that occurs can set the stage for a person's future health. Although this concept of fetal programming is not new, scientists are still uncovering precisely how it happens. A baby's birthweight is important—low birthweight affects survival during the newborn period, and high birthweight can elevate a person's future risk for cardiovascular and metabolic diseases.
In a study led by Earl Stadtman Investigator Fasil Tekola-Ayele, NICHD researchers and their colleagues studied multiple layers of molecular information to identify genes in the placenta that regulate birthweight. Their analyses identified functional gene pathways in an important organ that is often excluded from tissue-specific gene-expression resources.
The researchers discovered that, in the placenta, 23 genetic regions associated with birthweight were a target for gene-expression and epigenetic processes such as DNA methylation—a mechanism by which genetic expression for certain traits can be influenced by the environment. The target genes shared common functions in influencing cardiometabolic, immune response, and hormonal pathways. Follow-up studies, particularly those examining the maternal-placenta-fetal interface, could help identify therapeutic targets to improve fetal-growth outcomes and future health. (NIH authors: F. Tekola-Ayele, X. Zeng, S. Chatterjee, M. Ouidir, and M. Tesfaye, Nat Commun 13:2384, 2022; DOI:10.1038/s41467-022-30007-1)
[BY LINDA HUYNH, NICHD]
---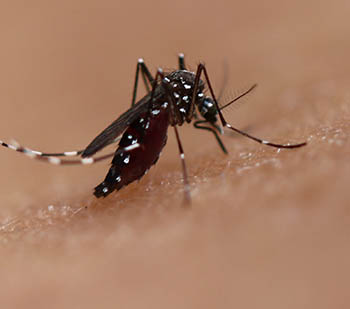 In a study published in The Lancet Infectious Diseases, scientists at NIAID's Vaccine Research Center and their colleagues found that a new viruslike particle vaccine intended to protect against western, eastern (EEEV), and Venezuelan equine encephalitis viruses was safe and immunogenic. Although these mosquito-transmitted viruses are rare, they have been linked to several outbreaks, including a 2019 EEEV outbreak across the northeastern United States that resulted in 38 confirmed cases and 19 deaths.
Researchers began conducting a phase 1 clinical trial of the vaccine after favorable preclinical results. Thirty healthy adult volunteers between the ages of 18 and 50 years received a 6-, 30-, or 60-microgram dose of the vaccine with or without an adjuvant, which is an ingredient that helps create a stronger immune response. Participants then received a booster dose eight weeks later.
Neutralizing antibodies were detected in all study groups at 12 weeks after initial vaccination, and the strongest immune responses were observed in those receiving the 30-microgram dose with adjuvant and the 60-microgram dose without adjuvant. Immune response was found to be durable to 32 weeks, the final time point tested in the study. The vaccine was delivered by intramuscular injection and well-tolerated with only two adverse events, both of which resolved. Although further research is needed to establish dosing and administration of the vaccine, NIAID has executed a commercialization license for development of the vaccine to Emergent BioSolutions in Gaithersburg, Maryland. (NIH authors: E.E. Coates, G.L. Chen, M. Happe, L. Strom, A. Widge, M.B. Florez, J.H. Cox, I. Gordon, S. Plummer, A. Ola, G. Yamschikov, C. Andrews, P. Morgan, T. Nguyen, J. Stein, C.L. Case, F. Kaltovich, D. Wycuff, C.J. Liang, K. Carlton, S. Vasquez, J.R. Mascola, J.E. Ledgerwood, and the VRC 313 Study Team, Lancet Infect Dis 2022; DOI:10.1016/S1473-3099(22)00052-4)
[BY JALEN BROWN, NCI-DCEG]
---
NCI, CC: VIRTUAL CT SCANS REDUCE RADIATION EXPOSURE
When being diagnosed for cancer and throughout treatment, patients undergo several positron emission tomography and computed tomography (PET-CT) scans as well as other imaging studies that expose them to low-dose radiation. But some of that radiation may be unnecessary. NCI and CC researchers have developed an artificial intelligence (AI) method that produces high-quality images and significantly reduces the radiation exposure during PET-CT scan studies. The method and findings were presented at the Society of Nuclear Medicine and Molecular Imaging (SNMMI) annual meeting in June.
To develop the AI model, researchers included more than 300 PET-CT studies, each containing three scans: non-attenuation-corrected PET (NAC-PET), attenuation-corrected PET (AC-PET), and low-dose CT. Those scans were divided into three subsets for training (183), validation(60), and independent testing(60). A machine-learning model was then used to generate new images from the original NAC-PET scans to create synthetic attenuation-corrected PET scans (gen-PET).
Two nuclear medicine physicians, working independently, reviewed 40 of the PET-CT studies in the testing set, blinded as to whether the image was from original AC-PET or gen-PET. Each expert was able to successfully detect lesions on the gen-PET images with 0.7 sensitivity, meaning that they correctly identified 70% of lesions and missed 30% (false negatives). Approximately 85% of lesions detected on the gen-PET images were actually cancer (positive predictive value) and 15% were false positives. "If we can avoid doing low-dose CT scans we can lower patients' exposure to radiation, especially benefitting pediatric patients," said study co-author Kevin Ma, who is a postdoctoral fellow at NCI's Molecular Imaging Branch. (NIH authors: K. Ma, E. Mena, L. Lindenberg, D. Citrin, P.A. Pinto, B.J. Wood, W. Dahut, J.L. Gulley, R.A. Madan, P.L. Choyke, B. Turkbey, and S. Harmon; abstract presentation at SNMMI Annual Meeting in 2022)
[BY VICTORIA TONG, OD]
---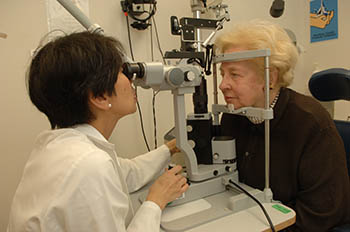 Dietary supplements can slow the progression of age-related macular degeneration (AMD), but one of the supplements—beta carotene—increases the risk of lung cancer in people who smoke. A new study led by NEI scientists analyzed 10 years of data in the Age-Related Eye Disease Studies (AREDS/AREDS2) and found that replacing beta-carotene with the antioxidants lutein and zeaxanthin in a dietary supplement slowed the progression of age-related macular degeneration (AMD) and reduced the risk of developing lung cancer.
The original AREDS clinical trial began in 1996 and found that a dietary supplement formulation of vitamin C and E, copper, zinc, and beta-carotene could significantly slow the progression of AMD. However, it was later shown that patients who smoked and took beta-carotene had a significant increase in the chance of developing lung cancer. Subsequently, AREDS2 was run from 2006 to 2012 and studied patients who took a new dietary formulation that replaced beta-carotene with lutein and zeaxanthin. Researchers found that the new formulation could reduce the risk of AMD progression by 26% and was not associated with an increased risk of lung cancer.
In this new report, researchers analyzed data from 3,882 of the original 4,203 patients enrolled in the AREDS2 trial. These patients were followed by telephone interview in a post-trial period from 2012 to 2018 to report any progression to late AMD and/or new diagnosis of lung cancer.
The investigators found that lutein and zeaxanthin had no significant association with lung cancer in the post-trial period and research subjects had an additional 20% reduced risk of progression to late AMD compared with those originally receiving beta-carotene. (NIH authors: E.Y. Chew, E. Agrón, T.D.L. Keenan, S. Vitale, and C. Weber, JAMA Ophthalmol June 2:e221640, 2022; DOI:10.1001/jamaophthalmol.2022.1640)
[BY AMRITA MANDAL, NICHD]
---
Cigarette use among U.S. adults with major depression and/or substance-use disorders decreased from 2006 to 2019, according to a recent study conducted by NIDA researchers and their colleagues at the Substance Abuse and Mental Health Services Administration. The reductions indicate the successes of public-health tobacco-control efforts for the general population as well as for people with psychiatric conditions.
The scientists analyzed data from more than 558,000 individuals, aged 18 years and older, who participated in the National Survey on Drug Use and Health. During the 14-year period, they found that smoking rates declined from 37.3% to 24.2% among adults with major depression, from 46.5% to 35.8% among adults with substance-use disorders, and from 50.7% to 37.0% among adults with co-occurring major depression and substance-use disorders.
The investigators also found that although adults with major depression were more likely to smoke cigarettes than adults without major depression, the difference in past-month self-reported smoking rates between the two groups narrowed during the study time frame.
Future research will need to include data on people at high risk of psychiatric disorders and cigarette smoking, such as individuals with schizophrenia or other serious and persistent mental illnesses. (NIH authors: B. Han, N.D. Volkow, C. Blanco, E.B. Einstein, and W.M. Compton, JAMA 16:1566–1576, 2022; DOI:10.1001/jama.2022.4790)
[BY VICTORIA TONG, OD]
This page was last updated on Thursday, June 30, 2022