The Training Page
FROM THE FELLOWS COMMITTEE
Are You on Twitter Yet?
Even if you're not on Twitter, you're likely still aware of its vast impact on public life. Twitter boasts more than 200 million active users including celebrities, politicians, and journalists. Among them is a thriving group of scientists who tweet about research and job openings and joke and commiserate about the quirks of scientific research. Twitter is particularly useful for early-career researchers who wish to promote their work and network with other scientists.
How to start? As an NIH trainee, when you make a Twitter account you should use your personal email address. You'll choose a unique Twitter handle (such as @girlscientist, used by Chris Gunter in the National Human Genome Research Institute) and a display name. Putting key terms into your Twitter bio (examples: virologist, Ph.D. student, health policy, etc.) enables Twitter's algorithms to connect you to users with similar interests. But feel free to add personality to your bio (examples: dog mom, Lakers fan, etc.) to make it more authentic.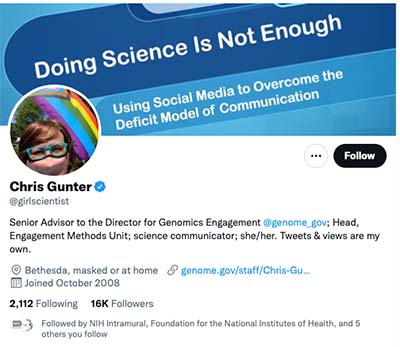 Should you list your NIH affiliation on personal social media accounts? The United States Office of Government Ethics makes it clear in their 2015 guidance that trainees and employees may list their NIH position in their Twitter bio, but encourages them to include a disclaimer (such as "All views are my own") indicating that their social media communications reflect only their personal views and do not necessarily represent the views of NIH, the Department of Health and Human Services, or the federal government. You must also be careful not to violate the Hatch Act, which refers to restrictions placed on certain political activities of government employees.
The Office of Intramural Training and Education (OITE) suggests, however, that to be especially safe, trainees can choose not to list their NIH affiliation at all. "Although omitting your NIH affiliation may seem like you are hindering networking, plenty of tweeters have been able to effectively use Twitter without an affiliation," said Lori Conlan, director of OITE's Office of Postdoctoral Services and Career Services Center. "And [they] also have the liberty to express their personal and political views."
Who to follow. You can curate your Twitter feed to focus on scientific content by being discerning about whom you follow. Use the search feature to find leaders in your field and follow them. You can also follow journals, magazines, and official NIH accounts to stay up to date on recent developments.
To broaden your network, you can follow popular Scientific Twitter hashtags such as #AcademicChatter, #WithAPhD, #AcademicLife, #ScholarSunday, and #scicomm. Just reading tweets that use these hashtags can give you a better sense of how other scientists use Twitter and enable you to find users you admire.
Early-career scientists and graduate students can feel isolated. Scientific Twitter can provide a virtual support network via the hashtags #PhDAdvice, #PhDChat, and #WriteThatPhD. There are also hashtags that provide support and discussion for women and other underrepresented groups in science such as #WomeninSTEM, #BlackAcademics, #BlackAndSTEM, #LatinaProfessor, #QueerSTEM, #TransInSTEM, and #WomenInAcademia.
What to tweet. Twitter is known for its strict character limit (280 characters). To be sure, Twitter values wit and pithiness, but it is also possible to link tweets together (called a thread) and share links to longer articles. That said, brevity isn't always a bad thing and it can be useful to practice sharing your ideas succinctly.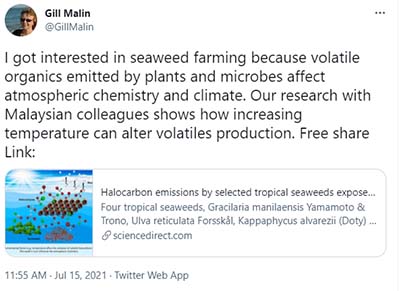 Share links to what you're reading, watching, or listening to. If you've found a journal article or podcast that is particularly interesting, share a link to it. Comment on why it was useful to you or the thoughts it prompted.
Share your research. Many scientists join Twitter to promote their own research. If you are presenting at a conference or have published something, tweet about it and be available to respond to comments. You may even find that your work is picked up by journalists who prowl Twitter looking for breaking news. Most conferences have their own hashtags, and you can live-tweet updates and share photos of posters, but first make sure that this practice is allowed by the conference's social media policies.
Share your experiences and advice. Some of the most popular tweets simply share relatable anecdotes, advice, and scientific "shower thoughts." Be genuine, humble, and open to conversation. Showing the person behind your research can be a great way to engage nonscientists. Feel free to discuss when things didn't go as planned, when life got in the way, or just what you're watching on Netflix this morning.
Be careful about what you tweet. Although humanizing science and authenticity are important, you should still be careful about what you tweet. A simple rule of thumb is to act as you would in any other public setting such as a conference or networking event, with the understanding that what you say publicly can be seen by anyone, forever. Gunter suggests "that if you think it might be controversial, you can save it as a draft for a few hours and think about it."
Overall, Twitter can revolutionize how you interact with science. For those who use it regularly, it can be a source of inspiration and support. Twitter networking allows you to broaden your perspectives. You may find that when you attend your next academic conference or job interview, you meet people that you already know. Your tweets may also inspire the next generation of researchers to pursue science, safe in the knowledge that NIH researchers are human too.
Check out this OITE video in which Chris Gunter (@girlscientist) offered tips on how to use Twitter successfully: https://www.youtube.com/watch?v=5EZ1JYGFmPQ. For more on the use of personal social media, see the NIH guidance, which includes links to items mentioned in this article, at https://employees.nih.gov/pages/social-media.
---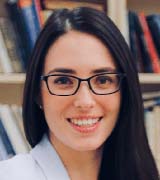 Alison Jane Martingano, who joined NIH in August 2020, is a postdoctoral fellow in the Immersive Stimulation Research Program, Social and Behavioral Research Branch, at the National Human Genome Research Institute. Her research involves using virtual reality to evaluate how providers communicate genomic concepts and show empathy during physician-patient interactions. She is the Outreach Liaison on the NIH Fellows Committee, is writing for and coordinating fellows' contributions to The NIH Catalyst Training Page, and is writing a "Postdoc Profiles" blog series for the Intramural Research Program website. Outside of work, she enjoys backyard campfires and playing board games.
This page was last updated on Monday, January 31, 2022