From the Annals of NIH History
NIH Volunteers During the 1960s Civil Rights Movement
Visiting Hospitals in the South to Certify Desegregation
While serving as a facilitator in the Oral History program in the Office of NIH History, I have met many accomplished NIH scientists. I have recorded the personal stories of scientists who volunteered in the mid-1960s (a turbulent period during the Civil Rights Movement) to travel to the Southern states to mitigate and help resolve the Jim-Crow-like incursions into the medical care of Black citizens. The recognized problems were that Black patients were hospitalized only in segregated and physically inadequate facilities, that the medical care offered to these individuals was substandard and outdated, and that there was refusal to recognize and support the limited number of Black physicians. Five young faculty members, all registered with the U.S. Public Health Service, responded to a call for volunteers to offer their services in confronting these difficult issues, despite the known dangers of such involvement at that time.
Background
Two Federal laws had been passed to rectify the situation. The first was the Hospital Survey and Construction Act of 1946, which provided funds for new construction of hospitals in an effort to provide better care for all Americans contingent upon the guarantee of equal treatment of people of all races, colors, creeds, or national origins. The second was the Civil Rights Act of 1964, which outlawed discrimination on the basis of race, color, religion, sex, or national origin; required equal access to public places and employment; and strengthened the enforcement of voting rights and the desegregation of schools. But neither law led to the desegregation of medical care and facilities.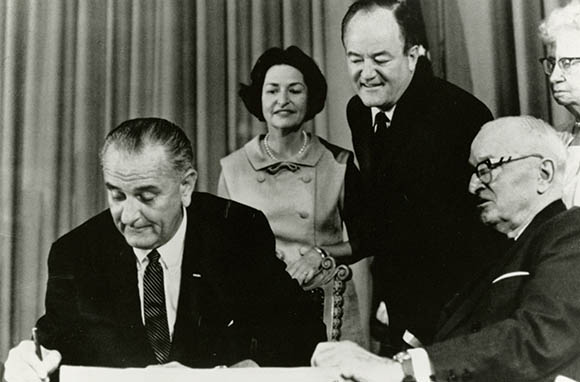 In 1965, the Medicare Act became law and provided federal oversight as well as an incentive to hospitals to integrate. Medicare funds would be withheld from hospitals that failed to comply with the new law and its explicit requirement of equal treatment and care for all Americans.
Call for Volunteers
President Lyndon Johnson, concerned about hospital compliance and failure to desegregate, sent some 700 federal workers into the South to do on-site surveillance and assess whether hospitals had complied with desegregation requirements.
Five Public Health Service officers who were NIH scientists volunteered: Stanley Rapoport, M.D., Paul Plotz, M.D., Norman Robbins, M.D., Ph.D., Jesse Roth, M.D., and Robert Perlman, M.D., Ph.D. Plotz and Roth were already active in the Civil Rights Movement and were members of the Medical Committee for Human Rights. Perlman, however, never received an assignment and was therefore unable to go.
The volunteers received several days of instruction to learn how to detect evidence of racial discrimination in hospitals. Then they were sent in pairs to evaluate hospitals in varying locales, focusing on the importance of desegregation of care. They first met with former patients and many knowledgeable community members to obtain information regarding segregation in each hospital, so they were knowledgeable and positioned to circumvent false information during their visits. Later in the 1960s and beyond, these physicians continued to combine their professional work with volunteering to help communities in need.
Following is a summary of the NIH scientists' experiences. To read more, go to https://history.nih.gov/display/history/Medicare+Hospital+Certification+Program+Oral+Histories.
---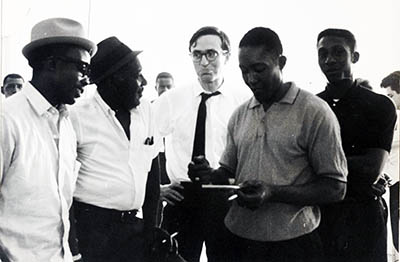 Stanley Rapoport, M.D. (National Institute of Mental Health; later National Institute on Aging; he specialized in understanding the blood-brain barrier) stimulated this project of assembling information from all who had gone to the South. After volunteering and waiting six months for approval, Rapoport was assigned in March 1965 to report on the circumstances in Bogalusa, Louisiana, a center of resistance in the Civil Rights Movement. He bravely went by himself, was sheltered in homes of members of the Deacons for Defense and Justice (an armed resistance force of Black citizens), evaluated the medical conditions, and saw the brutality by white citizens and the response by the Deacons. He was arrested for his participation. He submitted a highly regarded report on his findings to the Medical Committee for Human Rights and to the Congress of Racial Equality (an African American civil rights organization), which brought attention to, and service to deal with, these serious discriminatory concerns of citizens locally and throughout Louisiana. Just recently, Rapoport was appointed to the board of directors of the Robert Hicks Foundation, which is in the process of converting the house of a Bogalusa civil rights leader in which Rapoport stayed in 1965 into a museum.
Paul Plotz, M.D. (National Institute of Arthritis and Musculoskeletal and Skin Diseases; his research focused on understanding autoantibodies, autoimmune disease, and inflammatory muscle diseases) was assigned, in 1966, to rural hospitals along the Mississippi Gulf Coast and in the southwest corner of Tennessee, finding various forms of noncompliance at all sites. He was never injured, but was often followed by pickup trucks with rifles sticking out the windows. He also noted that the phones in his hotel were tapped. Among his other volunteer activities, he went with a group from NIH to the West African country of Liberia to help during the Ebola outbreak.
Norman Robbins, M.D., Ph.D. (National Institute of Neurologic Disorders and Strokes; studied neuromuscular synaptic plasticity) was assigned to Jackson, Mississippi, and surrounding areas after an extraordinary crash course in negotiation in Dallas, Texas. He was invited to attend the March Against Fear in 1966 (an attempt to walk from Memphis, Tennessee, to Jackson, Mississippi, to promote black voter registration and defy entrenched racism), described the brutality of the police, and was himself threatened at gunpoint when he offered medical help to an injured participant. He was impressed with the bravery of the Black individuals who were involved, was constantly badgered by trucks with exposed firearms, and found his phone lines monitored. Later on, he volunteered with nonprofits that were working on environmental, peace, social justice, and voting issues.
Jesse Roth, M.D. (National Institute of Diabetes and Digestive and Kidney Diseases; he elucidated much of what is known about the structure and intracellular mechanisms of the insulin receptor and other endocrine receptors, including adrenocorticotrophin, growth hormone, oxytocin, and insulin-like growth factor 2) inspected hospitals in West Virginia for compliance with the Medicare Act. He relied on reports from scouts who were hospital workers and in danger of losing their jobs if their employers knew what they were doing. His other volunteer activities included being a pro bono physician for Head Start programs in the Washington, D.C., area, manning a clinic in Anacostia, Maryland, helping to assure the fair distribution of food stamps in Alabama, and serving the injured and jailed during race riots Washington, D.C. (in 1968 after the assassination of Martin Luther King Jr.). https://history.nih.gov/display/history/Roth%2C+Jesse+2021
For more details, read the oral histories of each of these physicians at https://history.nih.gov/display/history/Medicare+Hospital+Certification+Program+Oral+Histories.
---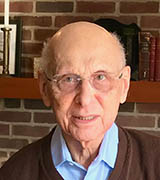 E. Gordon Margolin, M.D., a retired internist and nephrologist, has been a volunteer in the Office of NIH History and Stetten Museum since 2011. He interviews NIH scientists for oral histories, writes articles on NIH history for The NIH Catalyst, and helps the office in many other ways. Before moving to Bethesda, Maryland, in 2010, he was the director of medicine at Cincinnati Jewish Hospital and a professor of medicine, specializing (in later years) in geriatrics, at the University of Cincinnati. Outside of his volunteer activities, he enjoys playing bridge, reading novels (historical and mystery), and exchanging views with his two adult grandchildren.
This page was last updated on Monday, January 31, 2022