News You Can Use
The NIEHS Personalized Environment and Genes Study Focuses on Gene-Environment Interactions
A National Institute of Environmental Health Sciences (NIEHS) initiative called the Personalized Environment and Genes Study (PEGS) integrates genetic and environmental data to understand disease etiology, identify disease risk factors, and improve disease prevention. PEGS merges genetics data with study participants' in-depth health history, including information about environmental exposures. The effort is unique because scientists can eventually follow up with individuals who donated biological samples and completed surveys, potentially providing them with tailored feedback about their disease risk factors.
"The combination of state-of-the art genetic analysis and in-depth information on participants' medical conditions and environmental exposures will allow researchers to define environmental risks in a way that has never before been possible," said NIEHS Clinical Director and PEGS co-PI Janet Hall.
PEGS began in 2002 as the NIEHS Environmental Polymorphisms Registry (EPR), an effort that collected DNA samples from nearly 20,000 people living in North Carolina. The goal of EPR was to determine whether genes associated with disease in mice were also linked to disease in humans and whether polymorphisms, or small variations in these genes, may increase the risk of negative health outcomes in people. Scientific advances and new research methods have allowed researchers to expand the original EPR effort into PEGS.
Hall and co-PI Alison Motsinger-Reif, head of the NIEHS Biostatistics and Computational Biology Branch, created a database that provides researchers access to aggregate and summary information. Although NIEHS senior investigator Perry Blackshear was heavily involved in starting EPR, other colleagues helped develop it into its current form. Charles Schmitt, director of the NIEHS Office of Data Science, and David Fargo, director of Environmental Science Cyberinfrastructure at NIEHS, played critical roles in transitioning EPR to PEGS as part of the PEGS Executive Leadership Committee. The study's leadership now includes experts in medicine, genetics, genomics, data science, and other fields.
"Integrating and analyzing this variety of data requires the development of new computational methods that can be used by the broader research community," said Motsinger-Reif.
Using PEGS data, scientists will be able to:
Identify novel genetic and environmental factors that increase risk of common diseases, such as diabetes, heart disease, stroke, multiple sclerosis, psoriasis, rheumatoid arthritis, allergies, asthma, and cancer.
Understand how multiple genetic and environmental factors jointly increase disease risk.
Use data in combination with clinical information to improve disease-risk prediction.
Discover differences in risk factors for people of different ages, races, or ethnicities.
Enhance knowledge about the causes and mechanisms of various diseases.
PEGS is unlike other ongoing studies, according to Hall, because of its breadth of information and the fact that new information is added continually. For example, the study will soon have data on epigenetic changes, the modifications to DNA that affect gene expression without altering the underlying genetic code.
Many scientists have used PEGS in their research. One of them is Dmitry Gordenin, head of the NIEHS Mechanisms of Genome Dynamics Group. Gordenin and his team measured the various types of DNA changes that arise across all genes in human skin cells. They found that even skin normally shielded from the sun had mutations from ultraviolet light. The findings were published in the journal PLoS Genetics (PLoS Genet 17:e1009302, 2021).
"The success of our recent study would not be possible without specimens from individuals recruited through PEGS," said Gordenin. "Ongoing whole-genome sequencing of thousands of PEGS DNAs will identify additional people that have gene variants that could promote genome instability."
NIEHS Scientific Director Darryl Zeldin has also used the PEGS database. He likes another important feature of the study.
"Investigators have the ability to call participants back to the clinic for follow-up studies to test specific hypotheses of interest," Zeldin said. "Most other prospective cohorts lack the ability to do this."
Motsinger-Reif added there are other groups collecting the kinds of data that researchers will be able to access through PEGS, but not necessarily all together. "We look forward to new partnerships using this data," she said.
PEGS welcomes collaborations with intramural researchers from all NIH institutes and centers as well as with outside researchers who wish to leverage PEGS data in their work. All projects using these data are conducted as collaborations with PEGS investigators. For details, visit the PEGS website (https://www.niehs.nih.gov/research/clinical/studies/pegs/index.cfm) or contact Janet Hall (janet.hall@nih.gov) or Alison Motsinger-Reif (alison.motsinger-reif@nih.gov).
---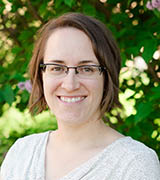 Kelley Christensen is a contract writer and editor for the NIEHS Office of Communications and Public Liaison. Outside of work, she enjoys hiking, skiing, gardening, knitting, and devouring science fiction novels.
This page was last updated on Monday, January 31, 2022