From the Annals of NIH History: COVID-19 Exhibit
Making History
NIH and COVID-19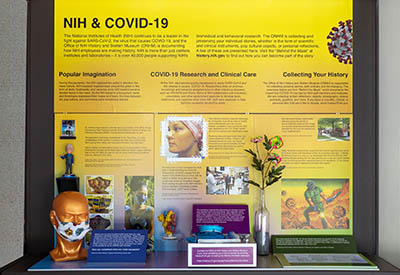 The COVID-19 pandemic has highlighted how NIH employees make history every day. In Building 31, the Office of NIH History and Stetten Museum (ONHM) has installed a new exhibit, "NIH & COVID-19," that showcases NIH's role in the fight against COVID-19. ONHM, which has always sought to record, preserve, and interpret NIH's stories for future generations, now requests your help in its continuing efforts to compile a COVID-19 history.
The "NIH & COVID-19" display features a sampling of objects, images, and interviews (personal and professional reflections) collected through ONHM's "Behind the Mask: Real Stories from NIH Staff About Life During the COVID-19 Pandemic" initiative.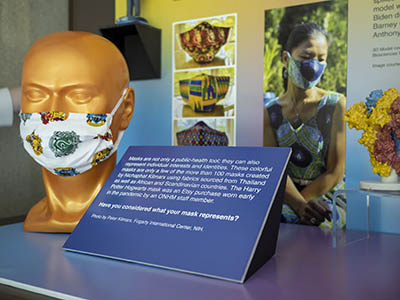 ONHM's combined object and "Behind the Mask" collection has already created a rich historical resource. There are items representing the growing public perception of NIH, including bobbleheads and baseball cards featuring pop-culture icon Anthony Fauci, director of the National Institute of Allergy and Infectious Diseases. There are also objects, documents, videos, and diagrams from critically important COVID-19 research, testing, treatment, vaccine, and outreach programs. The science and public health stories are well known to the public, but the ONHM has also sought to record the everyday stories of NIH employees. Although daily moments may feel mundane, accounts of telework, social isolation, personal struggles, and community triumphs all contribute to a richer understanding of the COVID-19 pandemic.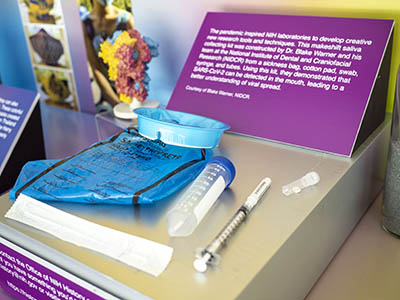 The exhibit splits objects from these collection into three primary categories: pop culture, medical, and personal. The Fauci bobbleheads and baseball cards reflect the sudden media interest in NIH leadership. A saliva-collecting kit constructed by Blake Warner's laboratory (National Institute of Dental and Craniofacial Research) exemplifies the innovative methods used to advance SARS-CoV-2 research. The kit—fashioned from a sickness bag, rubber band, cotton pad, tubes, swab, and syringe—was used to demonstrate that SARS-CoV-2 could be detected in the mouth.
Also included in the display are personal objects and images created by NIH employees, such as former NIH nutritionist Adam Sanchez's handcrafted flowers made from Clinical Center COVID-19 screening tags. Other employees submitted photographs and reflections that contemplated the lasting impact of the pandemic. Janice Solomon (Office of the Director), who submitted a photograph of a socially distanced birthday party attended by her neighborhood fire department, wrote, "Fifty years from now, will tourists want to see our calendars and personal effects from the day we left in March 2020?" Yes, and the Stetten Museum wants to prove it.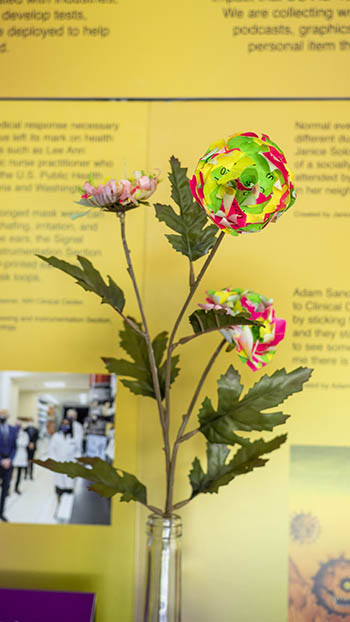 COVID-19 is unique in that it affects the NIH at all levels, nationally, locally, and individually. The ONHM seeks to collect equally from these areas, recording everything from vaccine development to campus social distancing to your telework setup.
We are now planning our online exhibit, which will dig deeper into the diverse and complex relationship between the NIH and COVID-19. While the battle is not over, we hope our efforts will chronicle the hard work and dedication shown by all NIH employees, contractors, and trainees over the past year and a half. If you would like to share your experiences or submit your objects, research materials, photos, or documents to ONHM, please contact history@nih.gov or visit https://history.nih.gov/display/history/Behind+the+Mask.
---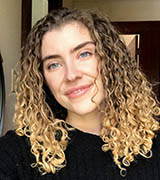 Devon Valera, who has a B.S. in biopsychology from Tufts University (Boston) and is currently getting her master's in museum studies at George Washington University (Washington, D.C.), is a Pathways curatorial intern in ONHM. She is helping to identify objects in collections to be highlighted for virtual and physical exhibits and researches the history of medical objects, individuals, and laboratories. Outside of work, she likes to read, knit, hike, and spend time with her cat.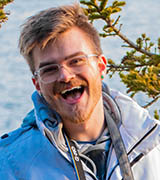 Mark Riewestahl, an exhibit designer in the ONHM, holds a B.A. in human ecology from the College of the Atlantic (Bar Harbor, Maine). He designs and fabricates physical and virtual historical exhibits focusing on medical history. Outside of work, he enjoys glassblowing, gardening, and visiting museums.
This page was last updated on Tuesday, February 1, 2022