COVID-19 Timeline at NIH (July-August 2021)
COVID-19 Research and Activities at NIH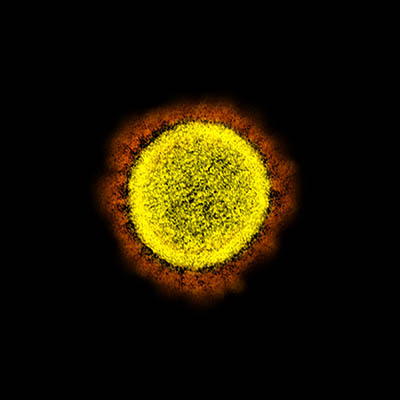 July 2: NIH funds five additional projects to identify ways of safely returning students and staff to in-person school in areas with vulnerable and underserved populations. The awards are part of the NIH Rapid Acceleration of Diagnostics Underserved Populations (RADx-UP) program.
July 5: NIH Clinical Center CEO Jim Gilman updates the NIH Clinical Center visitor policy: Adult inpatients may have one adult visitor at any given time during hospital visiting hours and pediatric inpatients may have up to two adult visitors; inpatients at the end of life may have two adult visitors; adult outpatients (including those undergoing procedures) may have one adult visitor accompany them and pediatric outpatients may have up to two adult visitors.
July 6: The Employee Asymptomatic Testing Center changes its days of operation to Tuesdays and Fridays. All employees are eligible to be tested for SARS-CoV-2 at the fifth floor of the Clinical Center.
July 8: An NIH-supported study finds that nanobodies—specialized antibodies produced by the immune systems of llamas, alpacas, and camels–can be used to effectively neutralize SARS-CoV-2 variants. (Nature 595:278–282, 2021; DOI:10.1038/s41586-021-03676-z)
July 8: The FAES Coffee Bar and NIH Federal Credit Union Branch reopen in Building 10.
July 8: An NIH-led study finds that strain placed on hospitals during surges in COVID-19 caseloads between March and August 2020 may have been responsible for one in four deaths and diminished benefits gained from emerging treatments. The findings suggest that bolstering preventative measures and supporting surging hospitals could save lives. (Ann Intern Med 2021; DOI:10.7326/M21-1213)
July 9: In his all-staff email, NIH Director Francis Collins updates staff on statements issued by Johnson & Johnson and Pfizer that reported both of their vaccines are effective against current SARS-CoV-2 variants, including the highly contagious delta variant. Additionally, the NIH RADx-UP program announced new awards as the second installment of the Safe Return to School Diagnostic Testing Initiative, which addresses the needs of children with unequal access to COVID testing as well as those facing barriers to attending school remotely.
July 16: NIH Director Francis Collins highlights a new NIH-supported study that found the protective effects from mRNA vaccines against COVID-19 may last for years. (Nature 2021; DOI:10.1038/s41586-021-03738-2)
July 20: A study funded in part by NIDA finds that more than 1.5 million children around the world are estimated to have lost at least one caregiver who lived with them due to death related to COVID-19 during the first 14 months of the pandemic. (Lancet 2021; DOI:10.1016/S0140-6736(21)01253-8)
July 20: NIH Director Francis Collins highlights an international study that identified gene variants that may influence who becomes infected with SARS-CoV-2 and how sick they will become. (Nature 2021; DOI:10.1038/s41586-021-03767)
July 20: President Joseph Biden signs an executive order requiring all federal employees, contractors, and visitors to wear masks and physically distance when on government property.
July 23: In his all-staff email, NIH Director Francis Collins points to efforts to fight misinformation about COVID-19 and vaccines, highlighting recent estimates that the delta variant now accounts for 83% of all COVID-19 cases and that 99.5% of COVID-related deaths occur in unvaccinated people. NIH continues to operate in a state of maximum telework, and Group C staff are not yet approved to return to the physical workplace.
July 26: HHS and the Department of Justice jointly publish guidance on how disability nondiscrimination laws apply to people with long COVID and other post-COVID conditions.
July 27: Given new evidence on the delta variant, the CDC updates guidance on masks: It is recommended that fully vaccinated people wear a mask in public indoor settings in areas of substantial or high transmission. Additional recommendations include universal indoor masking for all teachers, staff, students, and visitors to schools, regardless of vaccination status.
July 28: After the CDC masking update, HHS announces that all employees, contractors, and visitors, regardless of their vaccination status, will be required to wear masks when in HHS facilities. NIH's indoor masking requirement has remained unchanged throughout the pandemic.
July 29: President Joseph Biden announces that all federal employees and contractors must be vaccinated against COVID-19 or be required to be tested once or twice weekly.
July 29: NIAID researchers demonstrate proof of aerosol transmission of SARS-CoV-2 in a hamster model. (Preprint on BioRxiv 2021; DOI:10.1101/2021.07.26.453518)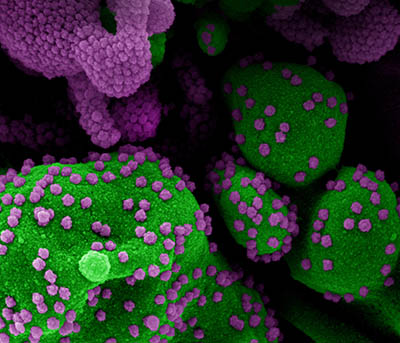 August 4: A worldwide clinical trial, supported in part by NHLBI, finds that full-dose blood thinners reduce the need for organ support in moderately ill COVID-19 patients but not in critically ill patients. (N Engl J Med 2021; DOI:10.1056/NEJMoa2103417; N Engl J Med 2021; DOI:10.1056/NEJMe2111151)
August 5: The Office of Research Services announces new food service additions this month to the Bethesda NIH Campus: Daily breakfast will be served at the Eurest food trailer; Chef's Tables in Building 35 will offer made-to-order lunchtime specials Tuesdays, Wednesdays, and Thursdays. The outdoor barbecue will return on the south lawn of Building 10 and continue every other Wednesday.
August 6: In his all-staff email, NIH Director Francis Collins announces a virtual Town Hall on September 10 to update staff on the changing pandemic landscape as the delta variant causes a rise in COVID-19 cases. He reiterates current vaccine effectiveness and federal vaccine requirements as well as recent research released earlier this week.
August 6: A panel of experts convened by NIH recommends standardized criteria to define infection of the placenta with SARS-CoV-2, the virus that causes COVID-19. The recommendations aim to help streamline research on SARS-CoV-2 infection during pregnancy and optimize clinical care. (Am J Obstet Gynecol 2021; DOI:10.1016/j.ajog.2021.07.029)
August 10: A NIAID-led research team finds that a nasal spray of the Oxford-AstraZeneca COVID-19 vaccine protected hamsters and monkeys against serious disease and reduced the amount of virus in the nose. (Sci Transl Med 2021; eabh0755 DOI:10.1126/scitranslmed.abh0755)
August 10: NIAID launches a pilot study to assess the antibody response to a third dose of an authorized COVID-19 mRNA vaccine in kidney-transplant recipients who did not respond to two doses of the Moderna or Pfizer-BioNTech COVID-19 vaccine.
August 12: The FDA amends the emergency-use authorizations for both the Pfizer-BioNTech and Moderna COVID-19 vaccines to allow for an additional dose in certain immunocompromised individuals. The authorization applies to solid organ transplant recipients or those who are diagnosed with conditions that are considered to have an equivalent level of immunocompromise.
August 12: HHS announces a mandatory COVID-19 vaccination policy for all HHS staff who have contact or potential contact with patients. At NIH, the policy covers everyone who works inside Building 10 at the Bethesda campus and all clinical sites in other locations.
August 16: The Building 10-B1 Cafeteria and Dining Room on the Bethesda campus reopens. All diners are asked to comply with the current Clinical Center COVID-19 safety guidelines.
August 16: The Employee Asymptomatic Testing Clinic increases its operations to three days a week on Mondays, Tuesdays, and Fridays.
August 16: NEI and NIDCR researchers develop a faster COVID-19 test using direct RNA detection. (Preprint ISCIENCE 2021; DOI:10.1016/j.isci.2021.102960.)
August 17: NIAID scientists publish a study that details how different routes of SARS-CoV-2 virus exposure are linked to disease severity. The research team finds that airborne transmission is associated with more-severe disease and is markedly more efficient than exposure from contaminated surface contact. (Nat Comm 12:article number 4985, 2021; DOI:10.1038/s41467-021-25156-8)
August 18: An NHLBI-supported study finds that COVID-19 convalescent plasma did not prevent disease progression in a high-risk group of outpatients with COVID-19 when administered within the first week of their symptoms. (N Engl J Med 2021; DOI:10.1056/NEJMoa2103784)
August 18: NIH Director Francis Collins and NIAID Director Anthony Fauci join several HHS public health and medical experts to announce the need for booster shots to maximize vaccine-induced protection and prolong durability. Individuals will be eligible for a third dose of the Pfizer and Moderna mRNA vaccines starting 8 months after receiving their second dose.
August 20: In his all-staff email, NIH Director Francis Collins updates staff on this week's vaccine booster recommendations. He announces that the Safer Federal Workforce Task Force has approved the voluntary return of NIH staff who perform critical laboratory and clinical activities that must be done on site. Due to the surge in COVID-19 cases from the delta variant, the NIH Coronavirus Response and Recovery Team has put all non-mission-critical travel on hold. He ends with a note of gratitude to staff and volunteers at the Office of Research Services and Occupational Medical Service for their commitment to keep the NIH family safe during the pandemic.
August 23: The FDA approves the Pfizer-BioNTech COVID-19 vaccine, which will now be marketed as Comirnaty, for the prevention of COVID-19 disease in individuals 16 years of age and older.
August 27: NIAID supports a phase 2 clinical trial to assess antibody response to an extra dose of an authorized or approved COVID-19 vaccine in people with autoimmune disease. The trial will enroll individuals who did not respond to an original COVID-19 vaccine regimen and will investigate whether pausing immunosuppressive therapy for autoimmune disease improves the antibody response to an extra dose of a COVID-19 vaccine.
August 30: NIH opens the application process (August 30–September 3) to allow federal employees, fellows, and trainees to apply to voluntarily return to the physical workspace if they perform laboratory and clinical activities that must be done on site (and they are not already reporting on site).
August 31: HHS Secretary Xavier Becerra and Deputy Secretary Andrea Palm host a virtual Town Hall for the HHS community to answer frequently asked questions about the evolving COVID-19 pandemic and how it will affect the future workplace. They are joined by NIH Director Francis Collins, CDC Director Rochelle Walensky, FDA Acting Commissioner Janet Woodcock, and HHS Secretary of Administration Cheryl Campbell.
This page was last updated on Tuesday, February 1, 2022