News Briefs
Congressional Visit
Eight U.S. Senators Visit NIH in May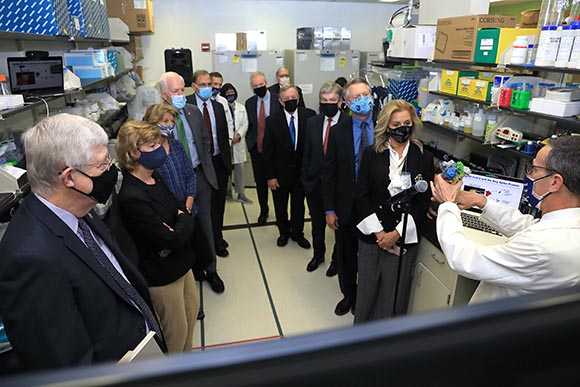 A bipartisan contingent of United States senators and staff members visited NIH on May 17, 2021, for science briefings, a lab tour, and biotech demonstration. The group included U.S. Senators Tammy Baldwin (D-Wisconsin), Roy Blunt (R-Missouri), John Boozman (R-Arkansas), John Cornyn (R-Texas), Dick Durbin (D-Illinois), Roger Marshall (R-Kansas), Lisa Murkowski (R-Alaska), and Chris Van Hollen (D-Maryland). Many are members of the appropriations committee.
NIH director Francis Collins and National Institute of Allergy and Infectious Diseases Director Anthony Fauci welcomed the group at the Vaccine Research Center (VRC). A tour of a VRC lab, a demonstration of Rapid Acceleration of Diagnostics (RADx) technology, a briefing on mental health amid the pandemic, and a discussion of the potential "Advanced Research Projects Agency–Health" (ARPA-H) were packed into the afternoon. Senators and staff members were separated into two groups to facilitate occupancy in small spaces.
For the lab tour, VRC Director John Mascola, VRC Deputy Director Richard Koup, who is also chief of the Immunology Laboratory, and Nancy Sullivan, chief of the biodefense research section, joined in a discussion about vaccine development.
In a tent erected not far from the VRC, National Institute of Biomedical Imaging and Bioengineering Director Bruce Tromberg provided an overview of RADx and walked the delegation through several technologies including COVID-19 at-home tests, point-of-care tests, and lab tests. He highlighted efforts developed via RADx over the past year and showed a large sampling of new tests and products from 32 different companies. Each senator and staffer received a box of two at-home tests they could take with them.
In a large conference room in the Porter Neuroscience Research Center (Building 35), National Institute of Mental Health Director Josh Gordon and Deputy Clinical Director Joyce Chung discussed mental health and COVID-19. Gordon provided an overview, with Chung presenting on intramural research efforts, collaborations, and preliminary findings on the impact of the pandemic on mental health.
Collins briefly discussed ARPA-H, a potential new health-research component devoted to scientific breakthroughs that would be housed within NIH. President Joe Biden proposed creating ARPA-H in a recent speech to Congress. Collins also talked about what the senators would see during their visit, which included several presentations on NIH's multifaceted response to the COVID-19 pandemic.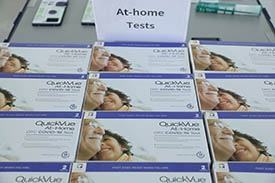 Afterward, on social media, Senator Blunt posted a message: "Thank you to National Institutes of Health (NIH) Director Dr. Francis Collins [and] researchers for giving us a terrific tour [and] presentation of their latest work to save lives. Because of medical researchers' ingenuity [and] drive, we are on the edge of finishing the fight against Covid [and] on a faster timeline than we thought possible a year ago."
---
This article was adapted from one that appeared in the June 11, 2021, issue of the NIH Record.
This page was last updated on Thursday, February 3, 2022